These Baileys Irish Cream Cheese Swirl Brownies have a Baileys cream cheese swirl and are finished with and Irish Cream glaze.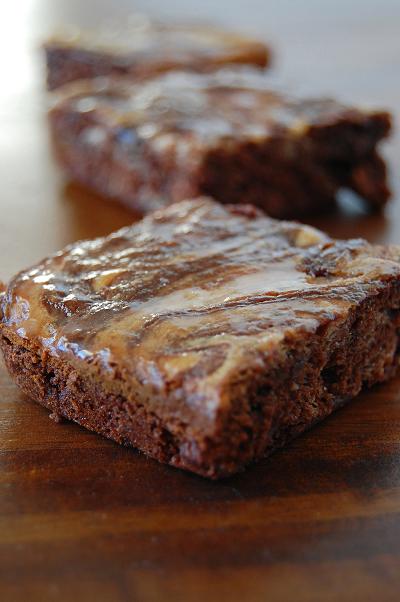 First off let me say that this post will most likely stir some people in the wrong way.
So feel free to speak your mind but do so respectfully and with a real email address (no real one, your post goes bye-bye).
So other than the Person of Size comment, the other thing that has been bugging me is the word… chef.
It seems everyone is one now, or so they think.
People throw this word around a lot.
But 90% of them who are throwing it around aren't actually chefs.
Case in point.
The other week when we were at a gathering, a man turns to me and says, "I heard you made the cake, it's really good" and I replied back that "yes, I did, thank you".
He then told me, my "wife is a gourmet chef".
I said, "oh really, where does she work"?
He went on to tell me that she doesn't actually work in a kitchen that she was a stay at home mom.
I told him then his wife was a gourmet cook, not a gourmet chef.
The man seemed very put out.
"Well, she's really good, so she is a chef".
Ugh. *I need to clarify that this is a Foodie group.
We meet up solely about food.
And so, yes, he should have know the difference.
A chef is a person who cooks professionally.
Professionally.
Heck, I got me some pastry schooling and I don't call myself a chef.
I am an excellent baker and a good cook.
That is what I am.
If it annoys me I can only imagine how annoyed real chefs get.
There are a lot of blogs that use the word chef as well.
I see amateur chef a lot.
Because when I get a headache and I diagnose myself and give myself aspirin, I am now an amateur doctor.
I stopped my rabbit from bleeding the other day when he broke off his nail, I am an amateur veterinarian.
When I was using my blowtorch and my meringue caught on fire and I blew it out, that makes me an amateur firefighter.
I think you see where I am going with this.
Just because you cook that doesn't make you a chef.
In non-related news my adorable hubby has been feeling a little under the weather as of late.
Can't seem to shake whatever icks have come his way.
So, me being nice, I decided to make him a treat.
I am chocolate chip cookie making out so I went for brownies.
My husband is a big fan of Bailey's Irish Cream and so I thought I would throw that into the mix of some cream cheese brownies to make theme a little more special…and they are.
And with that I am off to watch a movie and practice being a amateur movie critic.
Last but not least…it's a great time to order my cookbook.
Want more recipes? Try these:
Hot Chocolate Marshmallow Brownie Bars
Chocolate Nougat Sprinkle Brownies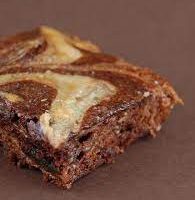 Baileys Irish Cream Cheese Swirl Brownies
Ingredients
For the Swirl:
3 ounces cream cheese, room temperature
2 TBSP unsalted butter, room temperature
¼ cup sugar
1 large egg
1 TBSP all purpose flour
2 TBSP Bailey's Irish Cream
For the Brownies:
6 ounces sweet baking chocolate (I used semisweet), chopped
3 TBSP unsalted butter, room temperature
½ cup sugar
2 large eggs
½ cup all purpose flour
½ tsp baking powder
¼ tsp salt
2 tsp vanilla extract
1 cup semisweet chocolate chips
For the Glaze:
4 ounces sifted powdered sugar
1 TBSP Bailey's Irish Cream
milk to thin out (amount will vary)
Instructions
Preheat oven to 350°F.
Lightly butter 8-inch square nonstick baking pan.
For the Swirl:
Using electric mixer, beat cream cheese and butter in medium bowl until light and fluffy.
Gradually add sugar and beat until well blended.
Beat in egg.
Mix in flour, Irish Cream, and vanilla.
Set mixture aside.
For the Brownie Batter:
Stir baking chocolate and butter in heavy small saucepan over low heat until smooth. Cool slightly.
Using electric mixer, beat sugar and eggs in large bowl until slightly thickened, about 2 minutes.
Mix in flour, baking powder and salt.
Mix in chocolate mixture and extracts.
Stir in chocolate chips.
Spread half of chocolate batter (about 1 1/4 cups) in prepared pan.
Using rubber spatula, spread cream cheese mixture over chocolate batter.
Spoon remaining chocolate batter over top of cream cheese mixture.
Using tip of knife, gently swirl through batter, forming marble design.
Bake brownies until tester inserted into center comes out with a few moist crumbs attached, about 30 minutes.
Make glaze.
Combine powdered sugar and Irish cream.
If too thick thin out with milk.
While still warm brush (using a pastry brush) glaze over brownies.
Let sit for 15 minutes.
Cut into squares.