These Snickerdoodle Cinnamon Sugar Blondies turn the beloved cookie into a cinnamon sugary soft and chewy blondie.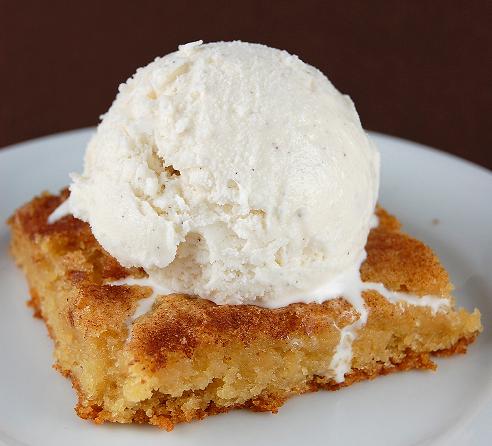 Sometimes I get little polls sent to me on email or via Facebook.
They ask questions, sometimes silly ones, about your life so that people can get to know you better.
I am always stumped by the question, "what actress would play you in a movie about your life?"
First off, if someone made a movie about my life it would either 1, go straight to DVD or 2, become a made for TV movie on either Lifetime or the Hallmark Channel.
So that really cuts down on my actress choice.
Because really, does Kate Winslet want to be in a made for TV movie, I think not.
And though if I were picking a body to play me I would choose Kate Winslet, the reality is (other than she looks nothing like me) is that as lovely as she is as a person, she is not quirky enough to play me.
Let's face it, I really need someone who is a little off center.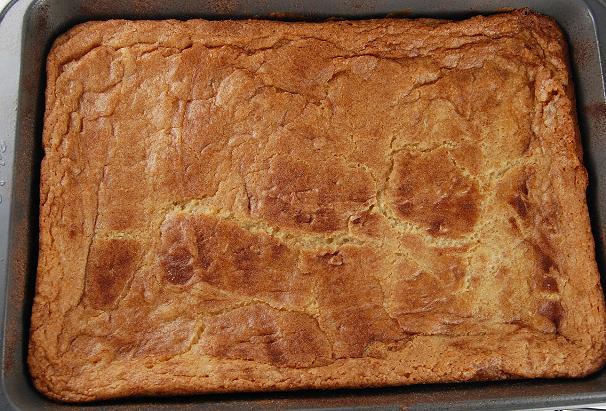 In a face recognition program I match up with Hayden Panettiere (the cheerleader from Heroes).
She would so have to pack on some serious pounds ala Renee Zellweger for Bridget Jones's Diary to play me.
She is far too famous now to pack on the pounds for a made for TV movie.
They don't give out Oscars for that.
And now a days the only reason to show yourself naked (tastefully) or gain weight is to try and get and Oscar.
Oh well, I guess I still can't answer that question.
What about you?
Who would play you in a movie of your life?
Speaking of things that should be in a movie.
This super yummy Snickerdoodle Cinnamon Sugar Blondie.
I had a reader write me and tell me that though she was a fan of the refund muffin she would like for me to make a new Snickerdoodle baked good.
So off I went.
These are something I so wish I didn't make.
I know that the pan, the whole pan, will be going in my stomach.
No amount of gym time will be making up for me eating the whole pan, but darn it, these are good.
Especially warm, with slightly melty ice cream.
P.S. It's a great day to buy my cookbook Holy Sweet!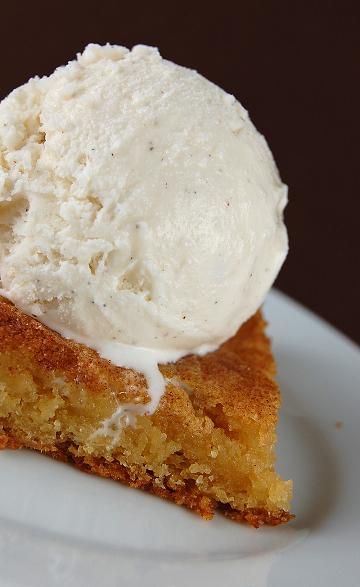 Want More Bar Recipes?
Birthday Cake Batter Cereal Blondies
Chocolate Chunk Churro Cookie Bars
Dried Cherry-Chocolate-Cashew Blondies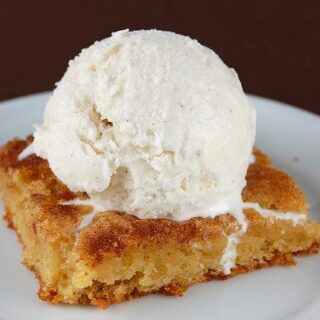 Snickerdoodle Cinnamon Sugar Blondies
Ingredients
8 ounces (two sticks) unsalted butter, at room temperature
1 cup granulated sugar
1 cup loosely packed light brown sugar
3 ounces Mascarpone cheese
2 eggs
1 tsp vanilla extract
½ tsp baking powder
1 tsp baking soda
pinch of salt
¾ tsp cream of tartar
¼ tsp freshly grated nutmeg
2 cups all-purpose flour
Cinnamon Sugar for coating (about 1/3 cup)
Instructions
Preheat oven to 350F.
Butter a 9 by 13-inch pan.
Sprinkle cinnamon sugar and move pan around to make sure that the bottom and sides are coated. Set aside.
In a medium bowl, sift together the flour, baking powder, baking soda, salt, nutmeg, and cream of tartar.
Using an stand mixer, cream together the butter and sugars.
Beat for three minutes.
Scrape down the bowl.
Add the Mascarpone cheese and beat until fully incorporated.
Add eggs, one at a time, scraping down the bowl after each addition.
Add the vanilla and beat for another 30 seconds.
On low speed add the sifted flour mixture.
Mix until fully incorporated.
Spread mixture evenly into prepared pan.
This will be hard as it is a thick batter. I found it easiest to just wet my hands a little and press the batter into the pan. Then even it out afterwards with a spatula.
Sprinkle more cinnamon sugar on top of the batter.
Bake for 20-25 minutes.Remove from oven and let cool on a wire rack for 5 minutes.
Cut into squares and serve.
I like mine warm with ice cream.