This Angel Food Cake and Honey Tangerine Bavarian Trifle has layers of cake, Bavarian, candied orange peel and tangerine caramel sauce.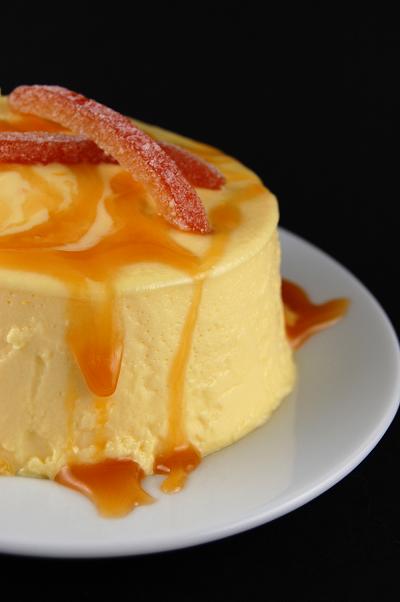 I was always more of a play sports kind of girl than a go to the gym kind of girl.
Gyms always intimidated me and so I avoided them.
But after sitting around on my butt too much in my early 20's come age 24 I decided I would start going.
To cut down on the intimidation factor I joined an all female gym.
It was great.
Still the greatest gym I ever belonged to because they literally had a class going every hour, either water aerobic or land.
They had trainers in the gym that helped you, not just wiped down the equipment.
And everyone was friendly.
I miss that gym.
At the time I was teaching at the time most of my friends were females (elementary education is a predominantly female occupation).
So I worked all day with women and then I went and worked out with women.
My dad feared for some odd reason that I would never meet a guy (I wasn't really dating anyone at the time).
So my dad has this idea for me to join a co-ed gym.
He would pay the start up fee and then I would pay it monthly (it was only $12).
I still worked out at the other gym as I was an employee (water aerobics instructor) and got gym use for free.
The first time I went there it was a whole other world.
All the girls were in cute clothing.
Wearing makeup and earrings.
Earrings to run on the treadmill?
WTF?
I soon learned that most of those ladies weren't there to be working out.
In fact, most people weren't.
It was like a giant meat market.
Certainly my dad would be happy.
I thought for sure no one would be bothering me as I was not in cute clothes, unless an oversized sweatshirt that said Just Beer Me and sweatpants were cute.
No make up and certainly no hoop earrings.
And I was actually sweating on the treadmill.
A lot.
Kind of grossly a lot.
But nonetheless that did not stop the creepy guys from making there move.
Nor did they catch on when you turned up your headphones, making sure they saw it and continued to stare at the TV screen.
Now, not all the guys were creepy, just the ones picking up on me. 😉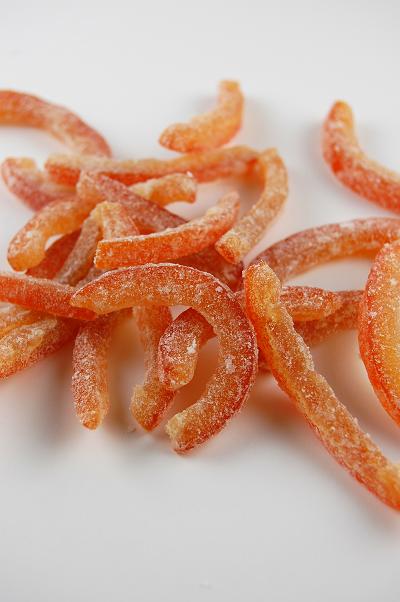 And as much as the women dressed up the men pranced around like peacocks as well.
I was not used to having eye candy in the gym.
It was kind of distracting.
So distracting, in fact, that I injured myself.
I was in the back row of the treadmills.
In front of me were the bikes.
We along comes a very attractive man, with one of the greatest butts I had ever seen, wearing bike shorts.
He gets on the bike and starts pedaling away.
Since he was right there in my line of sight I couldn't help but stare at his butt.
Watching each butt cheek going up, down, up, down. It was all so mesmerizing.
So mesmerizing, that I was not paying attention and flew right off the treadmill.
I chose the treadmill next to the wall and therefore slammed myself into the wall.
It was not my finest moments (thank God You Tube did not exist back then).
From that point on I learned the valuable lesson of stare at the TV or your feet and not much else! 🙂
But all that exercising does make me extra hungry.
Since my reader wanted angel food cake for a healthier option, I made it.
Of course the same problem that arose with the Pavlovas happened with these.
Leftover yolks.
This time I made a Bavarian using my honey tangerines that were out at my store the other day.
If you can't get honey tangerines, regular tangerines or oranges are just fine.
Then I turned that into Angel Food Cake and Honey Tangerine Bavarian Trifle.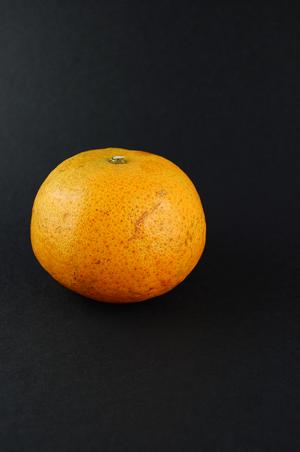 Tips for making Angel Food Cake:
Do NOT grease the pan. You will be tempted to but don't.
Separate the egg yolks from the egg whites while eggs are fresh out of fridge and cold.
Be sure that NO egg yolk is in the egg whites or your whites will not whip up.
Be sure that NO egg yolk is in the egg whites or your whites will not whip up.
Save the egg yolks for making key lime pie or whatever you want.
Once separated leave the egg whites out to reach room temperature.
This will give you higher volume.
Don't overbeat the egg whites.
While you want them stiff you don't want them dry.
Make sure your flour is sifted to make it lighter or else it will weigh down the batter.
Gently fold in the batter.
Carefully transfer the batter (I use an ice cream scoop) to the ungreased pan.
P.S. It's a great day to buy my cookbook.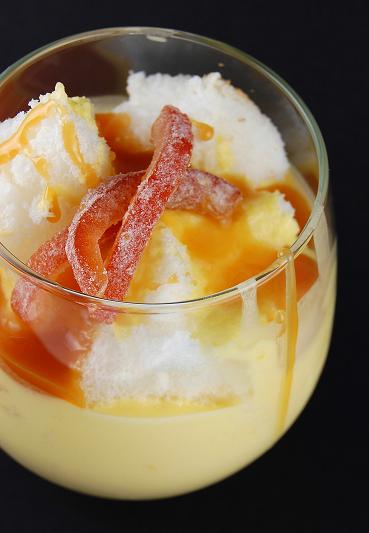 Want More Angel Food Cake Recipes?
Ruby Red Grapefruit Glazed Angel Food Cake
Cherry Cheesecake Angel Dessert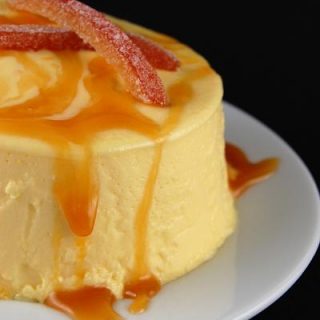 Angel Food Cake and Honey Tangerine Bavarian Trifle
Ingredients
angel food cake
honey tangerine Bavarian
candied orange peels ( get the great recipe over on Use Real Butter)
honey tangerine caramel sauce
For the Angel Food Cake:
1 ¾ cups superfine sugar
¼ tsp salt
1 cup cake flour, sifted
12 egg whites (the closer to room temperature the better)
1/3 cup warm water
1 tsp orange extract, or extract of your choice
1 ½ tsp cream of tartar
For the Honey Tangerine Bavarian:
1 ¼ cups honey tangerine juice
zest of one tangerine
1 (¼ -ounces) envelope unflavored gelatin
8 large egg yolks
For the Honey Tangerine Caramel Sauce:
1 ¼ cups honey tangerine juice
zest of 1 tangerine (using a vegetable peeler, it needs to be large enough to remove afterwords)
1 ½ cups sugar
¼ cup water
1 TBSP fresh lemon juice
¼ cup sugar
1 TBSP fresh lemon juice
1 cup chilled heavy cream
Instructions
For the Angel Food Cake:
Preheat oven to 350 degrees F.
Sift half of the sugar with the salt the cake flour, setting the remaining sugar aside.
Using a stand mixer using the whisk attachment add egg whites, water, orange extract, and cream of tartar.
Whisk on low for two minutes.
Sift in the remaining sugar, beating continuously at medium speed.
Once you have reached medium peaks, sift enough of the flour mixture to dust the top of the foam.
Gently fold in the flour mixture.
Continue doing this until all of the flour mixture is incorporated.
Carefully spoon mixture into an ungreased tube pan.
Bake for 35 minutes before checking for doneness with a wooden skewer. (When inserted halfway between the inner and outer wall, the skewer should come out dry).
Cool upside down on cooling rack for at least an hour before removing from pan.
For the Honey Tangerine Bavarian:
Sprinkle gelatin over ¼ cup tangerine juice in a small bowl and let stand about 5 minutes.
Whisk together yolks, sugar, lemon juice, and remaining cup tangerine juice in a heavy medium saucepan, then cook over medium-low heat, whisking constantly, until mixture just comes to a simmer (do not let boil).
Remove from heat, then whisk in gelatin mixture until completely dissolved.
Transfer to a metal bowl and chill in an ice bath, stirring frequently, until mixture has thickened to consistency of raw egg whites.
Remove from ice bath.
Meanwhile, beat cream with zest until it just holds soft peaks.
Stir one third of whipped cream into yolk mixture to lighten, then fold in remaining cream gently but thoroughly.
To assemble the Trifle:
 Tear a few pieces of angel food cake and place at bottom of serving dish.
Cover with 4 TBSP of Bavarian.
Add a few more pieces of cake.
Then top with 4 TBSP.
Repeat this process until you have reached the top of the serving dish.
Repeat until all of your serving dishes are filled (this makes about 6).
Cover with plastic wrap and place in refrigerator and chill for 4 hours.
Top with caramel and orange peels.
If you would like to do a mold (like in the first photo), simply grease a mold.
Pour the Bavarian in half way.
Add a piece of angel food cake in the middle and press down.
Cover with Bavarian until you reach the top.
Cover with plastic wrap and refrigerate for 4 hours. Unmold and serve with caramel.
For the Honey Tangerine Caramel Sauce:
Bring sugar, water, and zest to a boil in a small heavy saucepan over medium heat, stirring until sugar has dissolved, then wash down any sugar crystals from side of pan with a pastry brush dipped in cold water.
Boil, without stirring, until sugar is deep amber.
Remove from heat, then carefully add tangerine juice (mixture will bubble and steam vigorously) and simmer, stirring, until caramel has dissolved, 1 to 2 minutes.
Stir in lemon juice and a pinch of salt, then remove from heat and cool.
Chill, covered, until ready to serve (sauce will thicken slightly).