This Puff Pastry Peach Tart has a puff pastry base, creamy diplomat cream, fresh peaches topped with apricot jam and sliced almonds.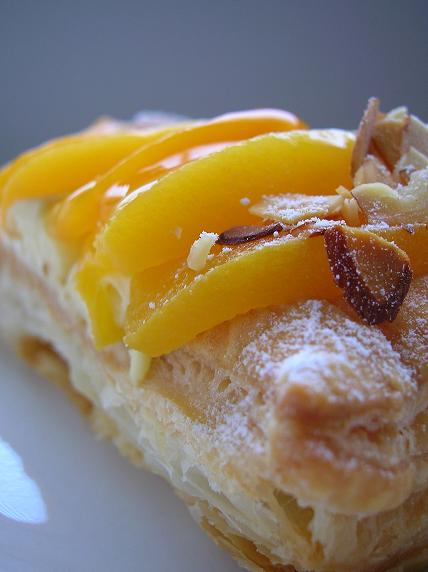 Check.
Check.
Check.
The need to clean out my refrigerator and my freezer had me come up with this tart.
Other than feeling guilty about being a little like the evildoer Sandra Lee over on the Food Network, this tart turned out very tasty.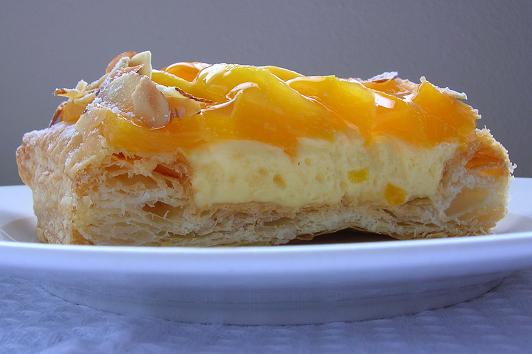 You don't need to use peaches, any fruit would do.
You could get fancy and do a variety of fruits if you so desired.
Blueberries, kiwi, peaches, raspberries and strawberries are what I see most often.
It's a beautiful sunny day out here in the Pacific Northwest, so I am going to take full advantage of it and do what I love best when it is warm outside.
Stay inside and watch the Stanley Cup Playoffs.
Anaheim is winning the series by the way, just as I predicted.
I doubt the Cup will be making its way back to Canada this year.
Sigh.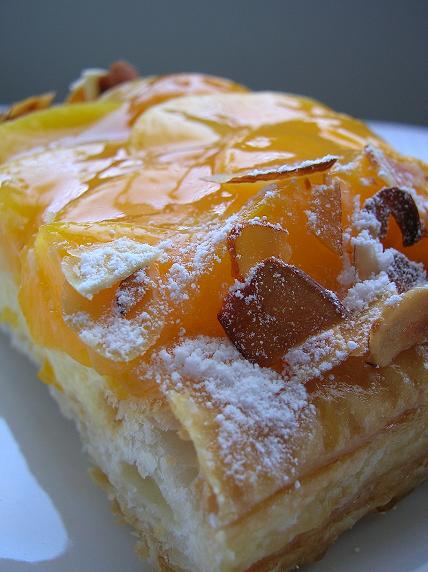 So you are going to look at the recipe and go wow, that's too involved.
And I'm not going to lie…it takes a while.
But you can take a shortcut and just use store bought puff pastry. I won't tell. 🙂
Or you can use rough puff.
The recipe I give here though is for full puff pastry. If you have never had diplomat cream you are going to love it.
It's better than straight pastry cream in my opinion.
While I used peaches, this recipe works great with any fresh fruit.
So feel free to use whatever fruit you like best.
P.S. It's a great day to buy my cookbook Holy Sweet!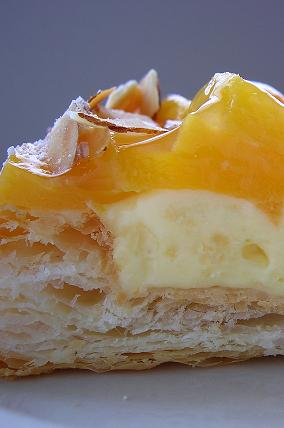 Want More Tart Recipes?
Pistachio Dried Cranberry Caramel Tart
Mini Bailey's Irish Cream Mocha Cheesecake Tarts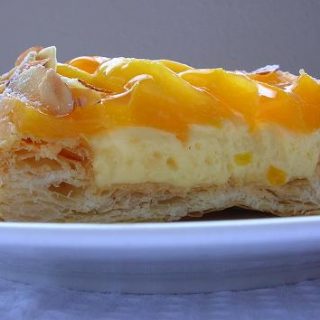 Puff Pastry Peach Tart
Ingredients
What You Need:
One sheet of store bought puff pastry(rolled out to be 9 by 16-inch) OR one 9 by 16-inch rolled out puff pastry
2 cups Diplomat Cream or pastry cream
5-6 medium peaches, peeled and sliced
apricot jam (for glaze)
toasted almond slices (for garnish)
powdered sugar (for garnish)
For the Puff Pastry:
Puff Pastry:
Makes about 2 1/2 pounds.
3 cups all-purpose flour, plus more for work surface
3/4 cup cake flour
1 1/2 teaspoons salt
4 tablespoons unsalted butter, cut into 1/2-inch pieces, well chilled
1 1/4 cups cold water
1 tablespoon all-purpose flour
1 3/4 cups (3 1/2 sticks) unsalted butter, well-chilled
For the Saint Honore Cream (Rapid Chiboust or Diplomat Cream):
1 envelope (2 1/4 tsp) unflavored gelatin
1/4 cup cold water
1/2 cup + 2 Tablespoons sugar
½ cup all-purpose flour
1/4 teaspoon salt
5 egg yolks
2 cups whole milk
1 Tb. rum
¼ cup whipping cream
3 egg whites
dash of salt
1/2 cup granulated sugar
Instructions
For the Puff Pastry:
Make the dough package: In a large mixing bowl, combine both flours with the salt.
Scatter butter pieces over the flour mixture; using your fingers or a pastry cutter, incorporate butter until mixture resembles coarse meal.
Form a well in center of mixture, and pour the water into well. Using your hands, gradually draw flour mixture over the water, covering and gathering until mixture is well blended and begins to come together.
Gently knead mixture in the bowl just until it comes together to form a dough, about 15 seconds.
Pat dough into a rough ball, and turn out onto a piece of plastic wrap.
Wrap tightly, and place in refrigerator to chill 1 hour.
Make the butter package: Sprinkle 1/2 tablespoon flour on a sheet of waxed or parchment paper.
Place uncut sticks of butter on top, and sprinkle with remaining 1/2 tablespoon flour.
Top with another sheet of paper; using a rolling pin, pound butter to soften and flatten to about 1/2 inch.
Remove top sheet of paper, and fold butter package in half onto itself.
Replace top sheet of paper, and pound again until butter is about A inch thick.
Repeat process two or three times, or until butter becomes quite pliable.
Using your hands, shape butter package into a 6-inch square.
Wrap well in plastic wrap, and place in refrigerator until it is chilled but not hardened, no more than 10 minutes.
Assemble and roll the dough:
Remove dough package from refrigerator, and place on a lightly floured work surface.
Using a rolling pin, gently roll dough into a 9-inch round.
Remove butter package from refrigerator, and place it in the center of the dough round.
Using a paring knife or bench scraper, lightly score the dough to outline the butter square; remove butter, and set it aside.
Starting from each side of the center square, gently roll out dough with the rolling pin, forming four flaps, each 4 to 5 inches long; do not touch the raised square in the center of the dough.
Replace butter package on the center square.
Fold flaps of dough over the butter package so that it is completely enclosed.
Press with your hands to seal.
Using the rolling pin, press down on the dough at regular intervals, repeating and covering the entire surface area, until it is about 1 inch thick.
Gently roll out the dough into a large rectangle, about 9 by 20 inches, with one of the short sides closest to you.
Be careful not to press too hard around the edges, and keep the corners even as you roll out the dough by squaring them with the side of the rolling pin or your hands.
Brush off any excess flour.
Starting at the near end, fold the rectangle in thirds as you would a business letter; this completes the first single turn.
Wrap in plastic wrap; place in refrigerator 45 to 60 minutes.
Remove dough from refrigerator, and repeat process giving it five more single turns.
Always start with the flap opening on the right as if it were a book.
Mark the dough with your knuckle each time you complete a turn to help you keep track.
Chill 1 hour between each turn.
After the sixth and final turn, wrap dough in plastic wrap; refrigerate at least 4 hours or overnight before using.
For the Diplomat Cream:
Soak the gelatin in the 1/4 cup of cold water.
Put the sugar, flour, and salt into a saucepan and stir together with a whisk.
Add the yolks and enough milk to make a paste. Whisk in the remainder of the milk.
Place over low heat and stirring constantly, cook until thick.
Remove from heat and stir in the rum and the gelatin.
Stir until the gelatin is completely dissolved.
Stir in the whipping cream.
Set the mixing bowl in cold water and stir until the cream is cool.
Place the egg whites in a clean bowl and using clean beaters, whip them with the dash of salt.
As soon as the whites begin to stiffen, gradually add the 1/2 cup of sugar and beat until they are very stiff.
Fold the egg whites into the cooled cream.
To Assemble:
Roll out puff pastry dough to a 9 by 16 inch rectangle.
Have the long side facing you.
Fold over one side of the long side about an inch and a half.
Repeat this on the other side of the long side.
Place onto a baking sheet.
Place parchment paper down on the part of the pastry that was not folded over.
Place beans or pie weights on top of that. The goal is to only get the folded over ends to puff up(see photos).
Bake at 400F for about 10 minutes…watch it at about the 8 minute mark. Look for it to be golden brown. Let cool completely.
Once puff pastry is cool spread Diplomat cream into the "valley" of the pastry. DO NOT spread onto the puffed up sides.
Place sliced peaches in a pattern of your choice on top of the Diplomat cream.
Heat about a cup of apricot jam in a saucepan for just a few minutes so that it becomes syrupy.
Take pasty brush and brush the jam onto both the peaches and the top of the puff pastry(this will help the almond slices stick better).
Sprinkle almond slices onto the puff pastry as well as some powdered sugar.
Place in refrigerator for at least 30 minutes.
Best if eaten that day.
When ready to serve, slice cake into 2-3 inch slices.