This Raspberry Honey Ice Cream uses fresh raspberries and local raspberry honey which I then turned into floats using cream soda.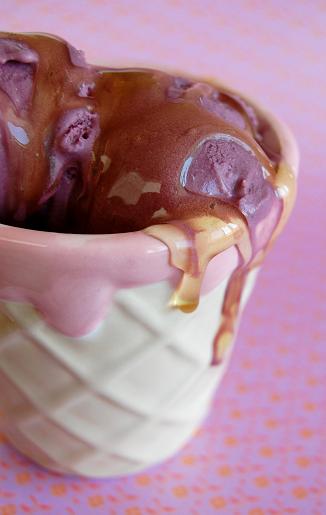 I am super bad when it comes to things like being tagged or being nominated for blog awards.
I lack follow through.
Which is odd, because elsewhere in my life I am pretty good with the follow through.
I've been nominated for the Excellent Award several times over.
It's not that I don't greatly appreciate it (because I do!), it's that I hate having to single out people.
I think this goes back to my teaching days where you are taught not to have favorites.
For, as lame as this sounds, I think that anyone who takes the time to write a food blog is pretty darn excellent.
Now granted some are more polished than others.
Some bloggers(cough, cough) spend a little more time than what they probably should on theirs…guilty as charged.
But we all started somewhere.
We all created a very friendly and supportive food blog world.
And that too me is excellent.
It's far too warm around these parts.
The oven is seeing very little action…Summer vacation if you will.
So out came the ice cream maker to make Raspberry Honey Ice Cream.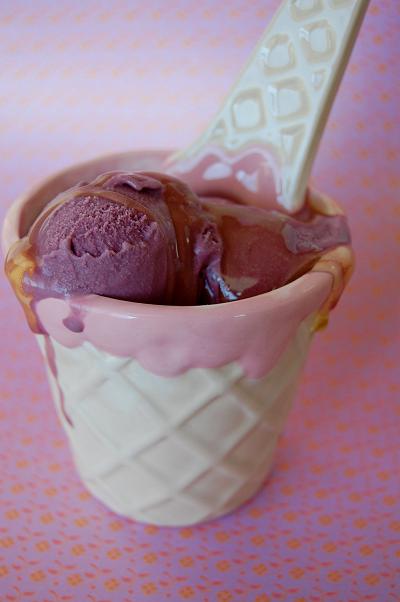 Raspberries are on sale everywhere lately so I went for those.
I also went for honey thanks to the Food Network.
Now, normally I am not a fan of the non-cooking shows on the FN, but I got sucked into one the other day called How'd That Get On My Plate?
The subject was honey.
I sat there watching how honey was made and harvested and the many different ways that it was used.
One was cream soda.
I do not know how I have gone this long without knowing that cream soda is flavored with honey.
So that got me thinking about making a ice cream float with it.
Which got me thinking that the ice cream I would use for it should have honey in it as well.
The honey is from Anna's Honey, right here in Washington State.
The cream soda is Thomas Kemper (another Pacific Northwest product).
The float turned out way more yummy than I could have hoped.
You could even say it was excellent.
And as always it's a great day to buy my cookbook.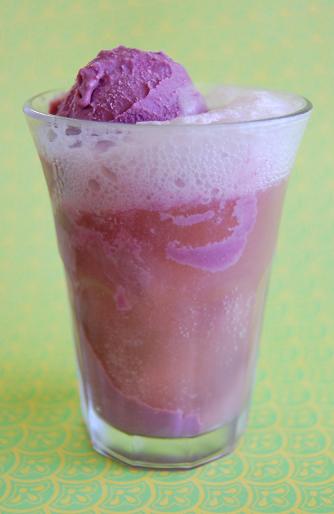 Want More Ice Cream Recipes?
Pineapple Upside Down Cake Ice Cream
Peanut Butter and Pretzel No-Churn Ice Cream
Circus Animal Cookie Ice Cream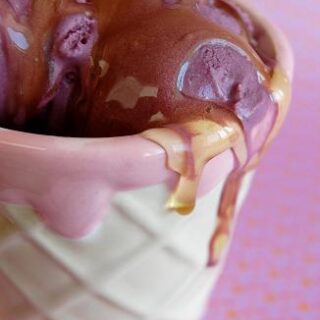 Raspberry Honey Ice Cream
Ingredients
For the Ice Cream:
1 quart raspberries
1/3 cup raspberry honey(or any honey will do)
2 cups heavy cream
1 cup half and half
1 tsp lemon juice
1- 1 ½ cups sugar(depending on how sweet your berries are)
3 egg yolks
¼ tsp salt
For the Raspberry Honey Ice Cream Floats:
Three scoops Raspberry Honey Ice Cream( more or less depending on the size of your glass)
1 cup cream soda (I used Thomas Kemper)
1 TBSP raspberry honey (or any honey will do)
Instructions
For the Ice Cream:
Add the yolks, sugar, and honey to a medium-size bowl.
Whisk together and then set aside.
Using a double boiler over medium-low heat, add the half and half, cream, raspberries and salt.
Regularly whisk the mixture, heating until the temperature reaches approximately 145F. The mixture should begin to turn purple.
Once the cream mixture has reached the desired temperature, slowly add about half of the mixture to the eggs and sugar while whisking vigorously.
This will prevent the eggs from curdling.
Once the eggs and cream have been thoroughly integrated, pour back the egg mix into the remaining cream.
Whisk constantly and slowly as the mix rises in temperature.
Once the temperature has reached 165-170F or when the mix evenly coats the back of a spoon.
Remove from heat and add the lime juice and vanilla.
Whisk them in completely and run through a sieve to remove any raspberries seeds.
Move to a new container to cool.
The mix can be placed in the freezer for 2 to 3 hours or, preferably, into the refrigerator overnight.
Churn according to your ice cream makers instructions.
After churning, place in freezer to firm up. I recommend placing a seal of plastic wrap tight against the ice cream after making it to prevent a skin from forming on the ice creams surface.
Serve once firm enough.
For the Floats:
Take glass.
Place one scoop of ice cream at the bottom of glass.
Pour in honey.
Add next two scoops.
Pour soda over ice cream and enjoy.