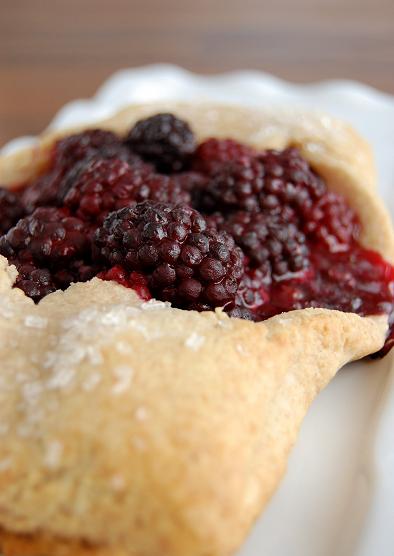 Upon moving to the Pacific Northwest I discovered many a food I didn't know existed. Geoduck being one, but they can keep those. Types of apples I had never seen. Types of cherries I had never seen. And types of berries I had never seen. The first time I went over to a friends house for dinner she asked if I was allergic to marionberries. I had no idea if I was(luckily I had meds to take just in case). When she told me they were a type of blackberry(I'm not allergic to those), I threw caution to the wind and ate it. It was good. A little tart, but I must say that every marionberry baked good I have had has been on the tart side, so I am guessing that is the way they get made. I being more a fan of sweet than tart made sure to add lots of sugar to my galette.
Speaking of allergies, were were to make Double Crusted Blueberry Pie. Being that I am allergic to blueberries(well, the raw ones) I steered clear of those. And since I am anti making pie crust I just went  with the free form. I also added a little graham flour to the pie crust to give it a more wholesome flavor. I liked it. If you are craving blueberries or you just can't get marionberries where you are from then head on over to South in Your Mouth to get the real recipe and check out the other TWD bakers.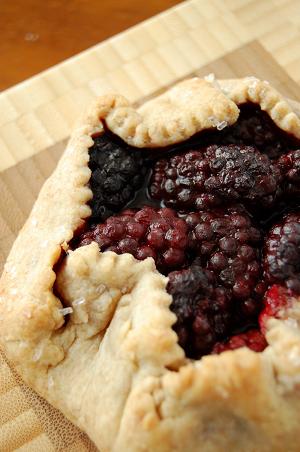 Marionberry Galette
3 pints (6 cups) fresh marionberries
1 cup sugar
1/3 cup brown sugar
2 Tablespoon cornstarch
1/4 teaspoon nutmeg
2 Tablespoon lemon juice
Gently toss berries with sugars, cornstarch, nutmeg and lemon juice.
1 cup all-purpose flour
1/2 cup graham flour
1 tablespoon granulated sugar
1/4 teaspoon salt
1/2 cup (1/4 lb.) plus 2 tablespoons cold butter
1 large egg yolk, lightly beaten
In a food processor or large bowl, combine flours, granulated sugar, and salt. Cut ½  cup butter into pieces and add to flour mixture; pulse motor, cut in with a pastry blender, or rub in with your fingers until mixture resembles coarse meal. With motor running (or stirring with a fork after each addition), add egg yolk and 3 to 4 tablespoons cold water, 1 tablespoon at a time; process or stir just until mixture comes together in a ball. Form dough into a flat disk, wrap in plastic wrap, and chill until firm but still pliable, about 1 hour.
Unwrap dough. On a lightly floured surface, with a lightly floured rolling pin, roll into a round about 15 inches in diameter. Line a 12- by 15-inch baking sheet with cooking parchment (or butter the sheet well) and carefully transfer dough round to sheet (edges will hang over sheet).
Pour marionberry mixture onto center of pastry, mounding wedges in a circle about 8 inches wide and 2 inches high. Gently fold edges of dough over berries, pleating as you go, leaving an opening about 4 inches wide in the center. Brush pastry all over with beaten egg.
Bake in 375° oven 40 to 45 minutes(if you are making smaller ones then 30-35 minutes) . Transfer galette (with parchment, if using) to a wire rack to cool. Transfer to a large plate, gently pulling parchment from under galette.
Adapted from Sunset Magazine, September 2003