Mixed Berry Angel Food Cake Brulee is a light dessert made with Angel Food Cake, berries, and a sour cream topping…all bruleed.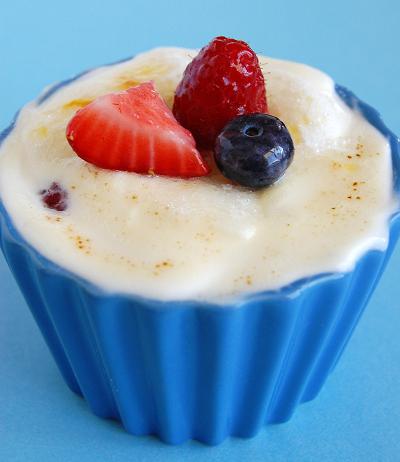 I would love to report that I am healthy but that would be a downright lie.
I continue to suffer.
Lucky me.
I am hoping that it will be gone by my birthday(about a week and a half)…surely that is not asking that much of my body.
Even though I was sick, I ended up going to a cooking class last week.
It was already paid for and it was by one of my favorite cookbook authors, Greg Atkinson.
We had a lovely menu of mango and avocado salad, slow cooked halibut with spring veggies, and a strawberry brulee.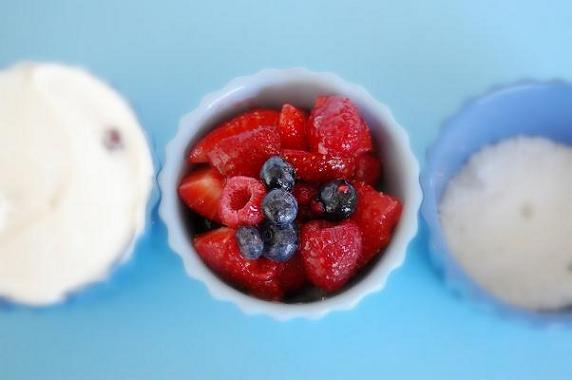 Knowing that this week's Tuesdays With Dorie recipe was a Mixed Berry Cobbler(chosen by Beth of Our Sweet Life) I had planned on making a cobbler bottom.
And filling it with mixed berries and then doing the whipped cream/sour cream mixture on top.
But then I got to thinking that the cobbler bottom would be too heavy for this dessert.
So I went in a whole new direction, angel food cake.
By doing that the recipe still remained refreshing, like what I had at the cooking class.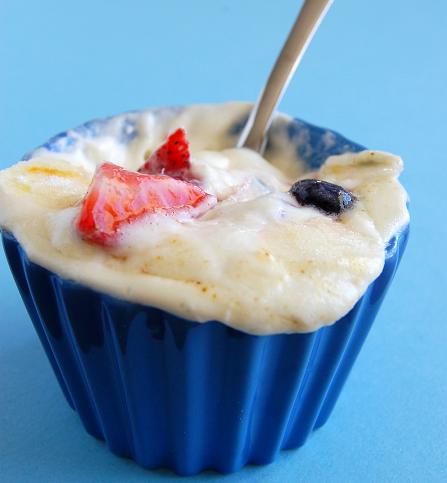 If you are going to make this I beg you not to use low fat or fat free sour cream.
I mean, the angel food cake is practically nothing as are the berries, so you can stand to have some extra calories in the topping!
You can make this with whatever fruit you want.
I make this dessert almost weekly during the spring and summer time.
To see the real deal(meaning the actual cobbler), head on over to the Tuesday's With Dorie website.
It's a great day to buy my cookbook.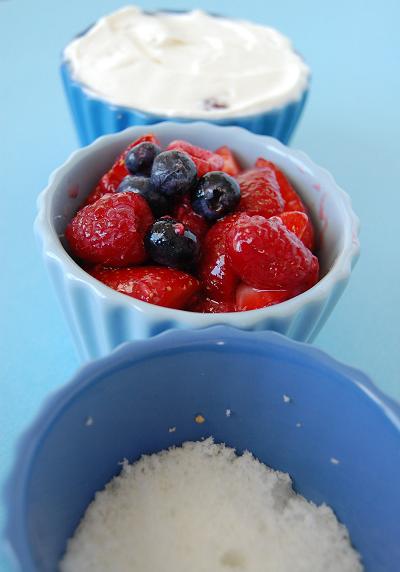 Want More Angel Food Cake Recipes?
Ruby Red Grapefruit Glazed Angel Food Cake
Cherry Cheesecake Angel Dessert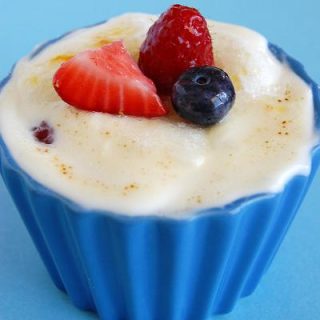 Mixed Berry Angel Food Cake Brulee
Ingredients
What you Need:
Angel Food Cupcakes
Mixed Berry Filling
Cream Topping
For Angel Food Cupcakes:
1 1/3 cups egg whites (approximately 10 large eggs)
1 1/3 teaspoons cream of tartar
1/4 teaspoon salt
1 1/2 cups granulated sugar, put through sifter twice
1 teaspoon vanilla
1 cup cake flour, sifted before measuring
For the Fruit Filling:
1 pint strawberries, hulled and split
½ pint blueberries, washed and dried
½ pint raspberries, washed and dried
1 TBSP lemon juice
2 TBSP granulated sugar
For the Topping:
½ cup heavy whipping cream
2 TBSP powdered sugar
1 tsp lemon juice
1 tsp vanilla extract
½ cup natural sour cream(I like Nancy's Organic)
¼ cup granulated sugar, for sprinkling on top
Instructions
For the Angel Food Cupcakes:
Beat egg whites; add cream of tartar and salt when eggs are frothy.
Continue beating until egg whites stand in peaks.
Gradually beat in 1 cup of granulated sugar.
Fold in vanilla.
Sift the sifted and measured flour three more times; mix with remaining 1/2 cup of sugar.
Fold flour mixture gently into batter until well incorporated.Using a small ice cream scoop or large tablespoon, fill muffin cups about 2/3 to 3/4 full.
Bake(at 350F) for about 15 to 17 minutes, or until lightly browned. Cool for 5 minutes in pan on rack.
Remove cupcakes to a rack to cool completely.
Cut the top off of the angel food cupcakes(go ahead and just eat that yourself ).
Take the bottom of the cupcake and horizontally cut it in two so that you can fit it into a ramekin.
Place angel food cake piece at the bottom of a 4-ounce ovenproof ramekin.
For the Fruit Filling:
In a small bowl combine the berries, lemon juice and granulated sugar.
Distribute the mixture evenly among the ramekins over the angel food cake.
For the Topping:
In a separate bowl, whip the cream until it is stiff.
Stir in the powdered sugar, the lemon juice and the vanilla extract.
Gently fold in the sour cream.
Distribute the cream mixture evenly over the berries and with the straight side of a rubber spatula or a butter knife, flatten the cream on top of the berries.Light a small butane or propane torch.
Working with one dish at a time, sprinkle about 2 tsp of sugar over the top of the whipped cream mixture and run the flame of the lit torch over the sugar until it bubbles up and turns brown.
The sugar will form a thin layer of brown caramel over the surface of the cream.
Serve at once.