These New York Style Crumb Cakes are made in honor of the Hostess crumb cakes I ate growing up as a kid only much better.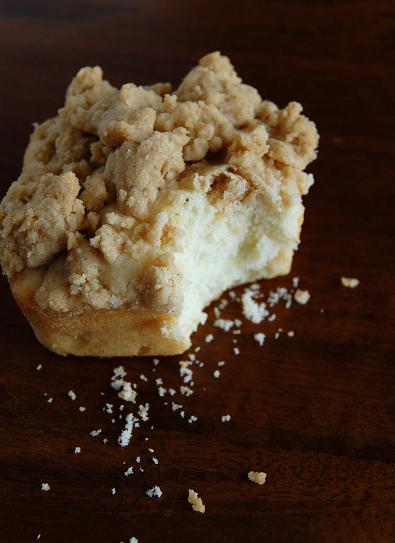 I've had the sinus infection to end all sinus infections for the last two weeks.
I've been a sad little looking creature, wandering the halls of our house in my faded penguin pj's with my greasy looking sick hair and Kleenex stuffed up my nose.
A sight that is no doubt beyond sexy to my husband. Ha. 😛
It is times like these that I am happy that I have "reserves" saved up from when I have been in a baking mood.
For obvious reasons, little baking has been done in the last two weeks.
Cooking neither.
Awhile back now I was on the lookout for Hostess Crumb Cakes.
I loved them as a kid.
Come to find out, just like almost all things I love, they no longer make them.
While I can still have my chocolate (chocolate-like) Donettes (yes, for some reason I love them), there are no crumb cakes.
I thought for sure I could figure out how to make them.
One Saturday morning while watching PBS, America's Test Kitchen had on New York Style Crumb Cake.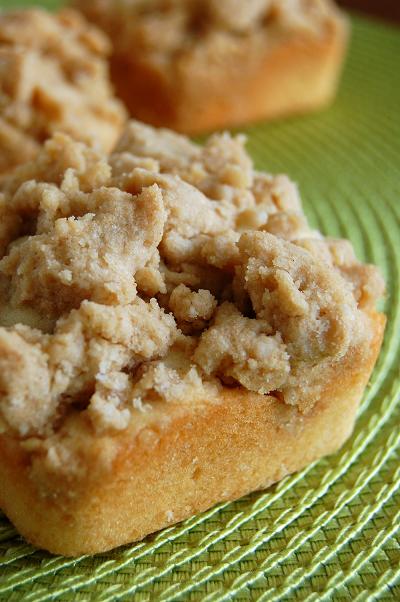 It looked similar to the Hostess version and I decided that I would make my own.
The recipe is for it to be in a pan, but I made mine in a muffin pan (my new square muffin pan I found).
So that they could be New York Style Crumb Cakes.
They were not really that close in flavor to the Hostess ones, and of course that could be the lack of preservatives and additives in the Hostess ones ( 😛 ), but it did have a good flavor.
I might add a little sour cream next time as they were a tad on the dry side.
So the quest still continues to recreate my crumb cakes of my childhood but these will do in the meantime.
It's a great day to order my cookbook.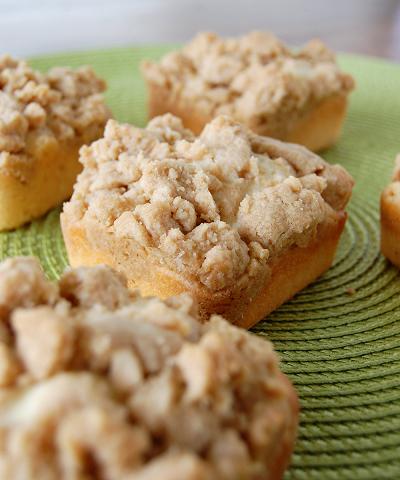 Want More Crumb Topped Recipes?
Creamsicle Crumb Topped Cinnamon Rolls
Cranberry White Chocolate Chip Crumb Topped Muffins
Oatmeal Crumble Caramel Apple Pie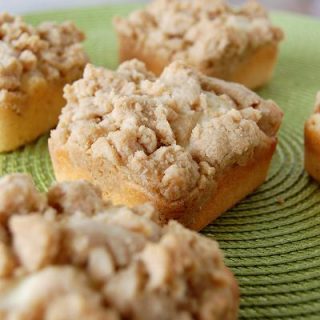 New York Style Crumb Cakes
Ingredients
For the Crumb Topping:
1/3 cup granulated sugar
1/3 cup dark brown sugar
¾ tsp ground cinnamon
1/8 tsp salt
8 TBSP unsalted butter (1 stick), melted and still warm
1 ¾ cups cake flour
For the Cake:
1 ¼ cups cake flour
½ cup granulated sugar
¼ tsp baking soda
¼ tsp salt
6 TBSP unsalted butter (3/4 stick), cut into 6 pieces, softened but still cool
1 large egg
1 large egg yolk
1 tsp vanilla extract
1/3 cup buttermilk
Instructions
For the Crumb Topping:
Whisk sugars, cinnamon, salt, and butter in medium bowl to combine.
Add flour and stir with rubber spatula or wooden spoon until mixture resembles thick, cohesive dough; set aside to cool to room temperature, 10 to 15 minutes.
For the Cakes:
Adjust oven rack to upper-middle position and heat oven to 325 degrees. Cut 16-inch length parchment paper or aluminum foil and fold lengthwise to 7-inch width.
Spray 8-inch square baking dish with nonstick cooking spray and fit parchment into dish, pushing it into corners and up sides; allow excess to overhang edges of dish.
Since I made individual ones, I used a muffin pan(my square one). Just butter and flour(or use baking spray).
In bowl of standing mixer fitted with paddle attachment, mix flour, sugar, baking soda, and salt on low speed to combine.
With mixer running at low speed, add butter one piece at a time; continue beating until mixture resembles moist crumbs, with no visible butter chunks remaining, 1 to 2 minutes.
Add egg, yolk, vanilla, and buttermilk; beat on medium-high speed until light and fluffy, about 1 minute, scraping once if necessary.
Transfer batter to baking pan(or muffin pan if you are doing individual); using rubber spatula, spread batter into even layer.
Break apart crumb topping into large pea-sized pieces and spread in even layer over batter, beginning with edges and then working toward center.
Bake until crumbs are golden and wooden skewer inserted into center of cake comes out clean, 35 to 40 minutes (the individual ones only take about 22 minutes…watch them closely).
Cool on wire rack at least 30 minutes.
Remove cake from pan or from muffin tins.