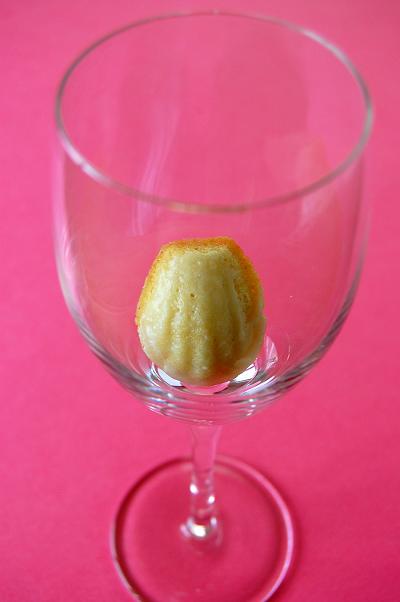 I do not hide my disdain for hot weather. So you can imagine how very unhappy I was this weekend when our outdoor thermometer read 92F. No, no, no. I pay extra money to live in a temperate climate here people. They don't put air conditioning in our homes for a reason. So the days leading up to that were less than pleasant and no cooking or baking were done.
The deadline for Tuesdays with Dorie was breathing down my neck but all I wanted to do was sit around with the fan on me and drink fruity cocktails. My friend T back in Arizona made the best Sangria each Summer. Unlike normal Sangria, this one was made with white wine and peaches. It was made especially for me since I can't have red wine(it triggers migraines 🙁 ). It was basically white wine(usually Pinot Gris), orange and lemon slices, club soda, sugar and sliced peaches. It did a great job of chasing the heat away.
Having that Sangria on my mind, I decided that I would translate that somehow into my madeleines(this weeks pick by Tara of Smells Like Home). I diced up the peaches and let them swim around in white wine for a while. Added some orange and lemon zest to the batter and tried to think cool thoughts. Though not nearly as refreshing as the Sangria, the flavors were there and made me long for a glass of my friends concoction even more. 🙁
The good news is the tides are already changing and the raining cooler weather is rolling in…which is good because I've got baking to be done!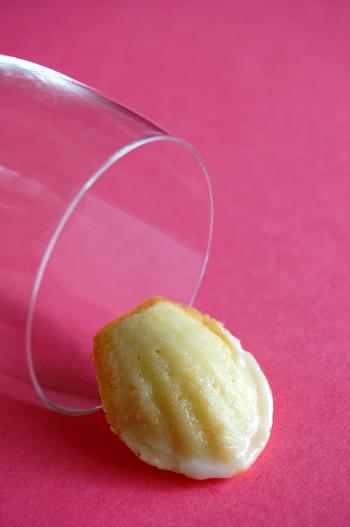 White Peach Sangria Madeleines
2/3 cup all-purpose flour
¾ teaspoon baking powder
Pinch of salt
½ cup sugar
Grated zest of ½ an lemon
Grated zest of ½ an orange
1 white peach, peeled and diced to 1/8-inch cubes
2 TBSP Pinto Gris(or other white wine)
2 large eggs, at room temperature
1 teaspoons pure vanilla extract
6 TBSP unsalted butter, melted and cooled
Place peach pieces in a small bowl. Pour in wine and toss. Allow to macerate for at least one hour. Drain any excess wine from the peaches. Set aside.
Whisk together the flour, baking powder and salt. Set aside.
Working in a mixer bowl, or in a large bowl, rub the sugar and lemon and orange zest together with your fingertips until the sugar is moist and fragrant. Add the eggs to the bowl. Working with the whisk attachment, or with a hand mixer, beat the eggs and sugar together on medium-high speed until pale, thick and light, 2 to 3 minutes. Beat in the vanilla. With a rubber spatula, very gently fold in the dry ingredients, followed by the melted butter. Fold in peaches. Press a piece of plastic wrap against the surface of the batter and refrigerate it for at least 3 hours, or for up to 2 days. This long chill period will help the batter form the hump that is characteristic of madeleines. (For convenience, you can spoon the batter into the madeleine molds, cover and refrigerate, then bake the cookies directly from the fridge; see below for instructions on prepping the pans.)
GETTING READY TO BAKE: Center a rack in the oven and preheat the oven to 400 degrees F. Butter 12 full-size madeleine molds, or up to 36 mini madeleine molds, dust the insides with flour and tap out the excess. Or, if you have a nonstick pan (or pans), give it a light coating of vegetable cooking spray. If you have a silicone pan, no prep is needed. Place the pan(s) on a baking sheet.
Spoon the batter into the molds, filling each one almost to the top. Don't worry about spreading the batter evenly, the oven's heat will take care of that. Bake large madeleines for 11 to 13 minutes, and minis for 8 to 10 minutes, or until they are golden and the tops spring back when touched. Remove the pan(s) from the oven and release the madeleines from the molds by rapping the edge of the pan against the counter(right after they come out of the oven). Gently pry any recalcitrant madeleines from the pan using your fingers or a butter knife. Transfer the cookies to a rack to cool to just warm or to room temperature.
If you are making minis and have more batter, bake the next batch(es), making certain that you cool, then properly prepare the pan(s) before baking.
Peach Glaze:
1 cup powdered sugar
3 TBSP peach juice
Whisk together until incorporated.
Dip one side of Madeleines into glaze and let set up before serving.
Source: Adapted from Baking From My Home to Yours by Dorie Greenspan