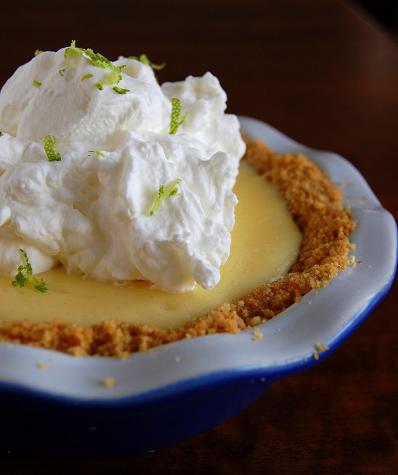 So on our "camping" trip to Portland we ate a place that I found on Chowhound. It had lots of positive comments and it was only about 3 blocks from our hotel, um I mean campsite. I wont go into a review of the restaurant as I will have that up on my other blog in about a month. Other blog? Yep, crazy Peabody will have yet another food blog starting June 1st. Now I will give you many more details in an upcoming post(I'm having a giveaway) but it is called Northwest Noshings. It is all things Northwest food. From restaurant reviews to Northwest cooking…and there will be no baking on it. Enough of that for now.
So the restaurant specializes in comfort food and the minute I saw the menu I spied the word Key Lime Pie and was a happy girl. For key lime(as long time readers know) is one of my all time favorites. It was completely old school, graham cracker crust with tangy key lime filling and whipped cream pilled sky high. It was heavenly. I craved it the rest of the weekend. That craving never went away and so I decided the best thing to do would be to make it. I needed to see if the bad ju-ju was gone anyway.
For my version though I did not go old school. My crust has coconut and pecans in it and my key lime filling has mascarpone cheese in it which produces a lighter texture. It has made for a wonderful breakfast, lunch and mid-afternoon snack so far today. 😛
You will all be happy to know that my ju-ju has swung back towards the good end. I had no problems with this concoction as it did cooperate all around. 🙂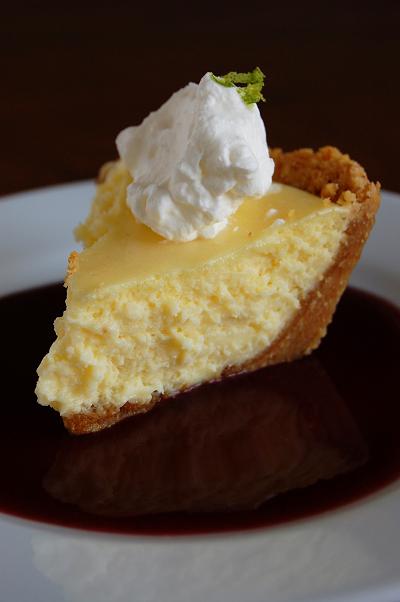 Peabody's Camping Key Lime Pie with Coconut-Pecan Graham Cracker Crust
1/2 cup key lime juice, fresh if possible
1/4 cup heavy whipping cream
1/3 cup Mascarpone cheese, room temperature
1 can (14 ounces) sweetened condensed milk
1 to 2 teaspoons finely grated lime or key lime zest, divided
5 egg yolks
whipped cream, for garnish
1 coconut-pecan graham cracker pie shell(recipe follows)
Whisk sweetened condensed milk with the egg yolks. Whisk in Mascarpone cheese. Stir in whipping cream and lime juice. Stir in 1 to 1 1/2 teaspoons lime zest. Pour into a prepared graham cracker crust and bake at 325° for 15 to 20 minutes.
Coconut-Pecan Graham Cracker Crust
1 ¾ cups crushed graham cracker crumbs
1/3 cup sweetened coconut flakes
1/3 cup sugar
1/3 cup pecans
7-8 TBSP melted butter
In a food processor, blend together graham cracker crumbs, coconut, sugar and pecans. You want to make sure that none of the coconut is visible. Add about 7 TBSP melted butter. Pulse a few times. If it seems like it needs more butter add the remaining TBSP. Pour contents into a pie pan and press to form a shell. I used 4 mini pie shells.
Bake crust for 10 minutes at 400F. If you are using the mini pie pans, prebaking is not necessary.
I served my pie with whipped cream, a little leftover lime zest and plated with some of Fran's Raspberry Sauce.