This Blackberry and Lime Tart has a sweet dough crust filled one side with lime cream and the other with a fresh blackberry lime cream.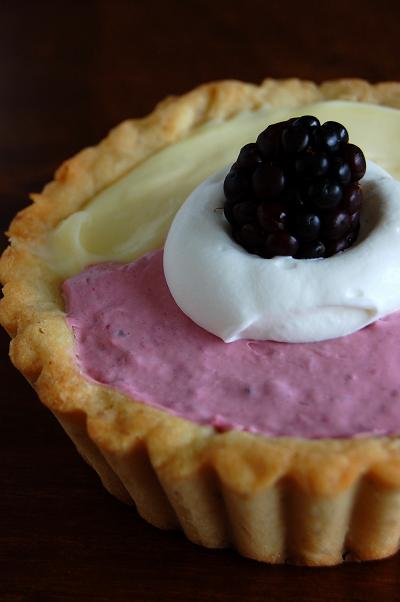 There are very few times when I get judgmental in life.
Having dessert in a restaurant is one of them.
Oh I don't mean your mom and pop type place, I mean any place that actually has a pastry chef on staff.
I went to lunch with my friend J the other day.
She ordered a blackberry and lime tart (I went for the peach cobbler with spiced bourbon ice cream).
When it came out it looked throw together as if we had come at the mad rush time and had not actually ordered it at 2 pm when us and six other people are in the restaurant.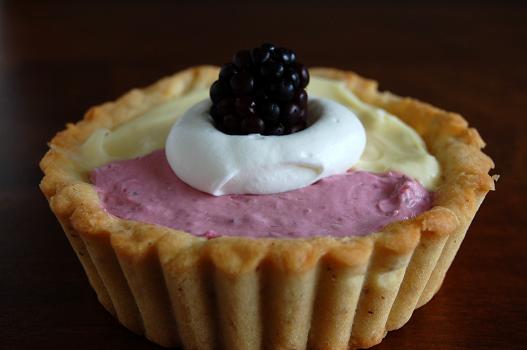 This bothered me immensely.
You see, if we were at someone's home, I probably would not have noticed.
But this, this is a restaurant, one I frequent often.
And I hold restaurants in a different standard.
J, actually liked the taste of the tart very much, but food snob me just could really not get past the presentation.
I mean the tart cream was smeared everywhere and down the sides all glopped up.
I'm quite sure that my 3 year neighbor could have put it together better.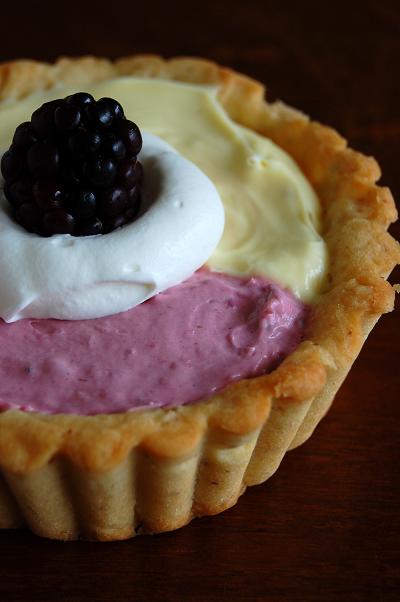 Coming home after lunch it was still bugging me.
So when I saw that we were doing the lemon cream tart for Tuesday's with Dorie, I knew that instead I wanted to try my hand at the Blackberry and Lime Tart.
There really aren't that many modifications.
I used lime juice instead of lemon and did not discard my zest.
When the lime cream was done, I simply took out half of it and added 10 blackberries(fresh ones) to the blender and let them whirl with the remaining half of the lime cream.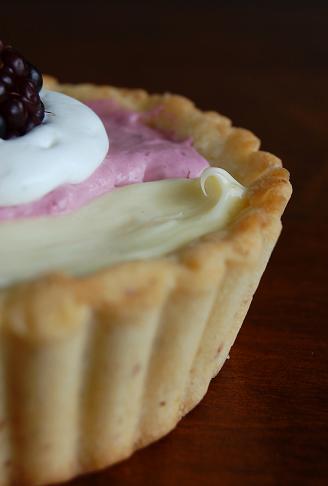 Simple as that.
Not being a huge tart/pie fan I must say that I really enjoyed this tart.
Of course it could be the LARGE quantities of butter that is used that won me over.
I would definitely make this again, as well as serve it to others.
Thanks to Mary of Starting From Scratch for this great pick! See all the other TWD participants here.
P.S. It's a great day to buy my cookbook Holy Sweet!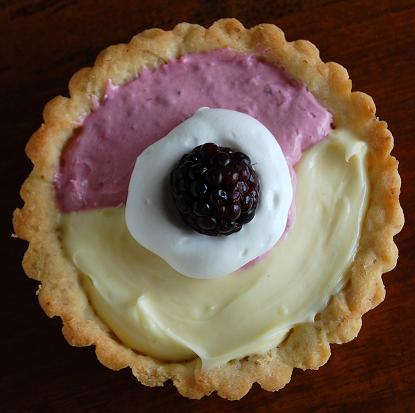 Want More Tart Recipes?
Bittersweet Chocolate Citrus Tart
Pistachio Dried Cranberry Caramel Tart
Mini Bailey's Irish Cream Mocha Cheesecake Tarts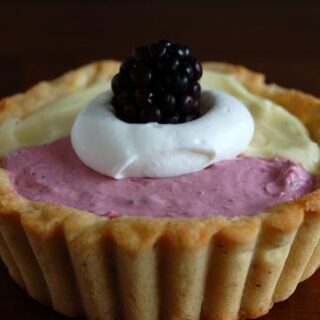 Blackberry and Lime Tart
Ingredients
For the crust
1 ¼ cups all purpose flour
¼ cup almond flour
½ cup confectioners' sugar
¼ teaspoon salt
1 stick + 1 tbsp unsalted butter, very cold, cut into pieces
1 egg yolk, lightly whisked
For the Filling:
1 cup sugar
Grated zest of 4 limes
4 eggs
¾ cup lime juice (4 limes)
2 sticks + 5 tbsp (10.5 oz) unsalted butter, room temperature, cut into pieces
10 blackberries
whipped cream as garnish
Instructions
For the Crust:
To make the crust, put the flours, icing sugar and salt in a food processor and pulse to combine.
Add the butter and pulse until the mixture is coarse, around the size of oatmeal and/or peas.
Add the egg yolk a little at a time, pulsing after each addition and then processing in 10-second pulses once the whole egg has been added until the dough forms clumps.
Turn the dough onto a flat work surface and lightly knead the dough until all dry ingredients are just incorporated.
Butter a 9 inch fluted removable-bottom tart pan. I used smaller tart pans of various sizes.
Press the dough into the pan evenly.
Freeze for about an hour.
Preheat the oven to 375°F.
Butter the shiny side of a piece of aluminum foil and fit it tightly against the crust.
Bake for 25 minutes. 15 minutes for the smaller ones.
Carefully remove the foil, and press the dough down gently if it has puffed using the back of a spoon.
Return it to the oven for another 8 minutes, or until it is beautifully golden brown.
For the Filling:
Before you start the lime cream, have a candy thermometer, a strainer and a blender at hand.
Simmer a little water in a saucepan.
Put the sugar and lime zest in a large heatproof bowl.
Off the heat, rub the mixture together with your fingers until the sugar is moist, grainy and aromatic.
Whisk in the eggs and then the lime juice.
Set the bowl over the pan of water and whisk continuously until it reaches 180°F
As it gets close to temperature it will start to thicken. This can take up to 10 minutes, so be patient!
Remove the cream from the heat and strain it into the blender.
Discard any solids. Let the cream stand at room temperature for about 10 minutes, or until it cools to 140°F.Turn the blender(or food processor)on high, and add the butter a few pieces at a time.
Scrape down the sides to incorporate the butter.
Keep the machine on for 3-5 minutes once the butter is in to ensure a perfect lime cream.
Pour half into an airtight container and refrigerate for at least 4 hours (it will keep in the fridge for up to 4 days).
For the remaining lime cream add 10 blackberries and blend until smooth.
Pour the lime blackberry half into an airtight container and refrigerate for at least 4 hours (it will keep in the fridge for up to 4 days).
Assembly:
When you are ready to assemble the tart, whisk the creams to loosen them.
Spoon one half with the lime filling and one half with the blackberry lime filling.
Top with whipped cream and fresh blackberries if desired.