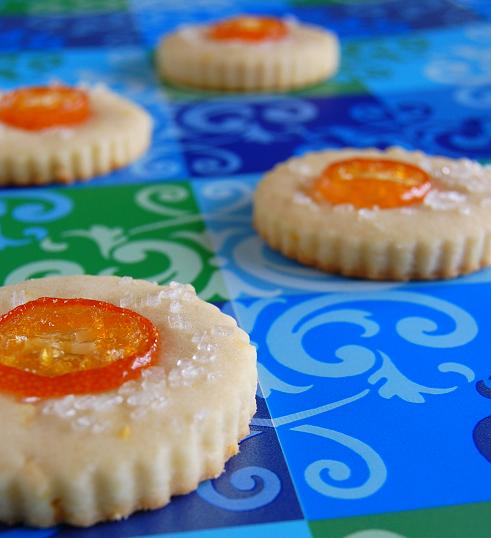 Several of my friends started doing a little craze that has been going around the Internet for awhile.
Perhaps you have heard of it….101 things in 1001 days.
The concept of it is to make a list of 101 thing you would like to accomplish in 1001 days.
Now they do not all have to be big accomplishments.
It could be as simple as finish reading that book you never did, going to a museum you have never gone to, eating something  you have never had or alphabetizing your spice rack.
Then of course you have your big things like going to Tahiti, learning to sky dive or getting your masters degree. The options are limitless as you can imagine.
I, I am not a goal setter.
Never have been. Too lazy. 😛
I mean sure, I have over all goals that I have in the back of my mind but really…no goals.
This is why I am not on TV doing infomercials at 2 am telling you how to get ahead in the world.
Instead, I bake cakes.
And cookies.
Bread and what not.
If I had goals, I doubt I would have time to do that, as I would be too busy trying to accomplish things instead of simply baking. And really, who wants that?
However, I do have these friends that made these lists and seem to insist on actually fulfilling them.
My good friend A is one of them.
I already helped her by letting her make a birthday cake for me. You might recall I posted about how no one will ever bake for me and so I always have to bake my own birthday cake.
So A stepped up and made me a great birthday cake. Now, I am not goal oriented but I am all for helping out those type "A" people who are. In case you were wondering, I am a type "B-" personality. 😉
One of A's goals was to eat a kumquat.
She asked if I ever made anything with them, and I had but really not that often…too much work for such a small fruit.
But alas she turned to me in her tiny citrus fruit time of need.
What I found were these Tangerine Kumquat Cookies(I know, again with the tangerine).
They come from The Good Cookie by Tish Boyle, which is a wealth of cookie goodness.
The only actually kumquat part was a candied one.
You do the candying. The rest of the cookie is pretty much a tangerine scented butter cookie.
Me not being a fan of the kumquat just simply ate the cookie part only.
A was more than appreciative and seemed to eat quite a few. I'm not sure if she is sold on the world kumquats, but at least it is one more thing off her list.
Next up, Tahiti (for real…she is going…be jealous, I am).
As for me, my goal is simple….get to bed before 2 am and actually fall asleep before  3 am tonight. Wish me luck!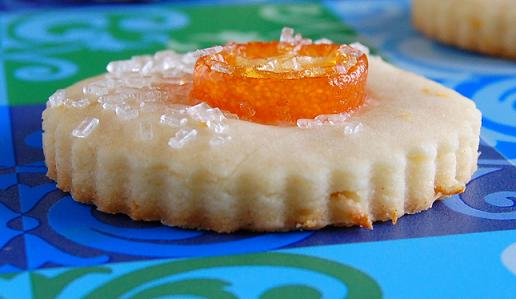 Tangerine Kumquat Rounds
Kumquat Slices:
15 kumquats, rinsed and dried
1 cup water
1 cup granulated sugar
2 TBSP light corn syrup
Make the Kumquat Slices:
Line a baking sheet with aluminum foil.
Using a small sharp knife, cut ¼ inch off the ends of each kumquat. Cut the kumquats crosswise into 1/8-inch slices. Remove the sees as you slice the kumquats.
In a small saucepan, combine the water, sugar and the corn syrup. Bring to a boil over medium-high heat, stirring just until the sugar is dissolved. Add the kumquat slices, reduce to a simmer, and simmer until they are translucent and tender, about 20 minutes.
Increase the heat to high and cook the syrup until it registers 220F on a candy thermometer. Immediately remove from the pan the heat. Drain the kumquats, discarding the syrup. Using a spoon, carefully transfer the slices to the lined baking sheet, making sure they do not touch. Let cool while you make the cookies.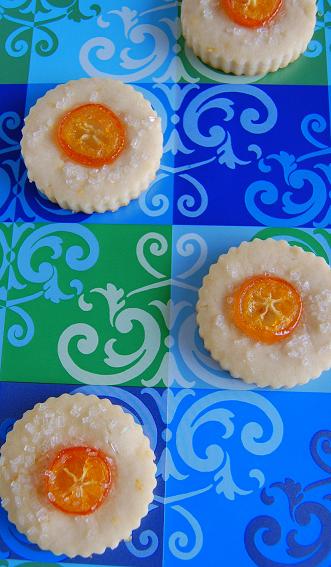 Tangerine Cookies
2 cups all-purpose flour
½ tsp baking powder
¼ tsp salt
1 cup unsalted butter, at room temperature
½ cup confectioners' sugar
1 tsp finely grated tangerine zest
Make the Dough:
Sift together the flour, baking powder, and salt into a medium bowl. Whisk to blend and set aside.
In the bowl of and electric mixer, using  the paddle attachment, beat the butter and sugar at medium=high speed until smooth. Beat in the zest and vanilla. At low speed, gradually add the flour mixture, mixing until the dough starts to come together in large clumps. Wrap in plastic wrap and refrigerate for 30 minutes, or until firm enough to roll.
Cut Out and Bake the Cookies:
Position rack in the center of the oven and preheat to 350F. Line two baking sheets with parchment paper.
Place the dough on a lightly floured surface. Using a rolling pin, roll out the dough into a thickness of 1/8 inch. Using a  1 ¾ -inch fluted cookie cutter, cut out as many rounds as possible and arrange them an inch apart on prepared cookie sheet. Gather up scraps and reuse them to make more cookies.
Place candied kumquat slice on top of each cookie and sprinkle with coarse sugar. Bake cookies, one sheet at a time, for 9 to 11 minutes, until they are set and golden brown on the bottom. Transfer the cookies to a wire rack and cool completely.
Adapted from The Good Cookie by Tish Boyle, 2002