This Russian Grandmother's' Apple Pie Cake has an apple cinnamon filling with a cookie like pastry wrapped around it.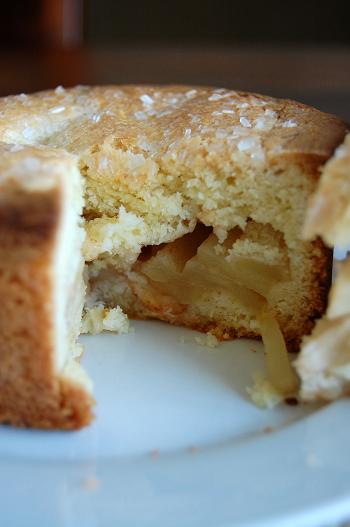 Yes, I have been a little on the MIA or in my case MIB(logging) side of life.
My parents visit was good but hectic and there was little time for much of anything.
I didn't even get one ounce of baking done, which I HAD planned on doing, while they were here.
Time flew by quickly and before I knew it, Monday afternoon was here and my parents had left.
While growing up, my parents would pick a sport(I use that term loosely) each year that we would play together every Saturday, you know to keep us active and to do something together as a family.
One year it was bowling.
Every Saturday morning we would head out to the local lanes, slide our feet into used shoes(yuck) and attempt to not look stupid.
My dad did great.
My mom and I was a whole other story. See my dad bowled all his life.
I bowled like 4 times up to that point.
And my mom, well, my mom quit bowling when she was a teenager.
Why you ask?
Because my mother had a slightly traumatic experience bowling…though I am quite sure the man she hit with the bowling ball thought it was more traumatic for him.
One night at the lanes as my mother strolled up to take her turn, she lifted her ball, went to throw it, and throw it she did.
Backwards.
See when she was throwing and the ball was behind her, it slipped out of her fingers and struck a man behind her.
Oops.
So why bring this up?
See, while my parents were here, we introduced them to the world of Nintendo Wii.
Wii Bowling to be exact.
Quite amusing to watch them try to figure out how to move their body and push the right buttons.
"Well crap" became my mother's anthem while she played those first few games.
But as time passed, they both got the hang of it.
My father was more than impressed with the fact that all the tendencies and problems he had at real bowling were the exact same on Wii bowling.
And they are, though I must admit, I am a far better fake bowler than a real one.
My mother loved it so much that we played it throughout the weekend.
And then it happened.
My mother swung back and hit the virtual people behind her at the bowling alley.
The little animated people jumped up and waved their arms in protest.
And the family, we laughed and laughed until we cried.
And my mother wonders why we INSISTED every time it was her time to bowl that she wear the safety strap.
I am quite certain if it wasn't on her she would have struck the dog who was in the chair behind her.
I was smart enough to realize that I would most likely not have time while my family was here to bake, and so I made the Tuesdays with Dorie baked good last Tuesday(ironic, eh?).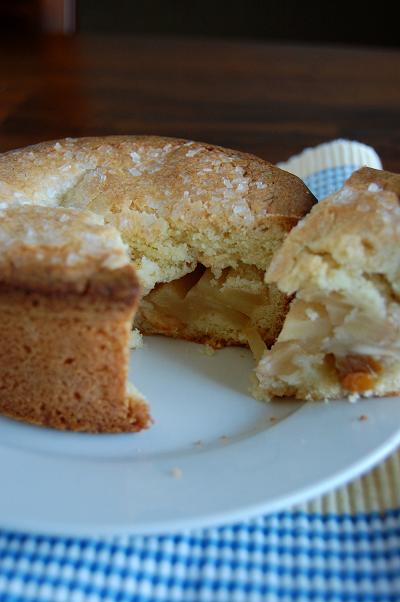 This Russian Grandmother's' Apple Pie Cake was a very unusual recipe that I fell in love with.
Not really a pie.
It's not really cake.
Not really a cookie.
A combo really of all of them.
The filling is pie like.
It bakes similar to a cake when it is finished but tastes more like cookie dough.
All very odd.
All very good.
I made mini ones using a 4 ½ inch diameter springform pan.
The baking time was cut down to 40 minutes, which was needed to bake all the way through but really browned the top.
Next time I will tent the crust with tin foil the last 15 minutes of baking.
A special thanks to Natalie of Burned Bits for picking this recipe.
What a fun find that I passed up before because I assumed it was just an apple pie.
To see what others did, visit the Tuesdays with Dorie website.
P.S. It's a great day to buy my cookbook Holy Sweet!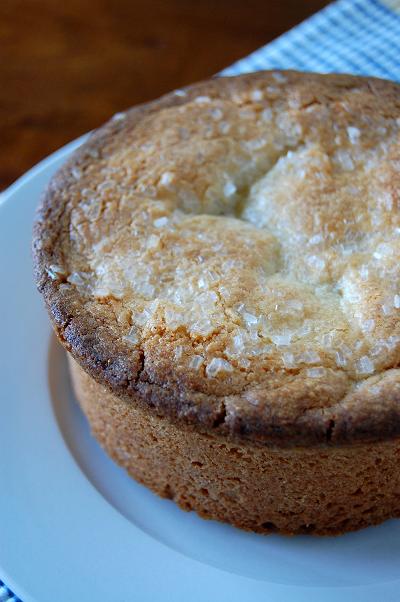 Want More Apple Pie Recipes?
Oatmeal Crumble Caramel Apple Pie
Apple Pie Caramel Butter Pecan Milkshake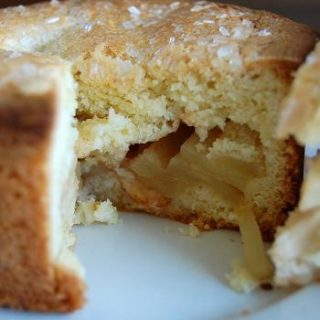 Russian Grandmother's' Apple Pie Cake
Ingredients
For The Dough:
2 sticks (8 ounces) unsalted butter, at room temperature
1 cup sugar
2 large eggs
1 tablespoon baking powder
1/2 teaspoon salt
Juice of 1 lemon
3 1/4 – 3 1/2 cups all-purpose flour
For The Apples:
10 medium apples, all one kind or a mix (I used Pacific Rose and Pink Lady)
Squirt of fresh lemon juice
1 cup moist, plump raisins (I used golden)
1/4 cup sugar
1 1/4 teaspoons ground cinnamon
Sugar, preferably decorating (coarse) sugar, for dusting
Instructions
To Make The Dough:
Working with a stand mixer, preferably fitted with a paddle attachment, or with a hand mixer in a large bowl, beat the butter and sugar together on medium speed until smooth, about 2 minutes.Â
Add the eggs and continue to beat until the mixture is light and fluffy, about 3 minutes more.Â
Reduce the mixer speed to low, add the baking powder and salt and mix just to combine.Â
Add the lemon juice – the dough will probably curdle, but don't worry about it.Â
Still working on low speed, slowly but steadily add 3 1/4 cups of the flour, mixing to incorporate it and scraping down the bowl as needed.Â
The dough is meant to be soft, but if you think it looks more like a batter than a dough at this point, add the extra 1/4 cup flour. (The dough usually needs the extra flour.)Â
When properly combined, the dough should almost clean the sides of the bowl.
Turn the dough out onto a work surface, gather it into a ball and divide it in half.Â
Shape each half into a rectangle.Â
Wrap the dough in plastic wrap and refrigerate for at least 2 hours, or for up to 3 days. (The dough can be wrapped airtight and frozen for up to 2 months; defrost overnight in the refrigerator.)
To Make The Apples:Â
Peel and core the apples and cut into slices about 1/4 inch thick; cut the slices in half crosswise if you want.Â
Toss the slices in a bowl with a little lemon juice – even with the juice, the apples may turn brown, but that's fine – and add the raisins.Â
Mix the sugar and cinnamon together, sprinkle over the apples and stir to coat evenly.Â
Taste an apple and add more sugar, cinnamon, and/or lemon juice if you like.
Getting Ready to Bake:
Center a rack in the oven and preheat the oven to 375 degrees F.Â
Generously butter a 9×12-inch baking pan (Pyrex is good) and place it on a baking sheet lined with parchment or a silicone mat.
Remove the dough from the fridge.Â
If it is too hard to roll and it cracks, either let it sit at room temperature for about 15 minutes or give it a few bashes with your rolling pin to get it moving.Â
Once it's a little more malleable, you've got a few choices.Â
You can roll it on a well-floured work surface or roll it between sheets of plastic wrap or wax paper.Â
You can even press or roll out pieces of the dough and patch them together in the pan – because of the baking powder in the dough, it will puff and self-heal under the oven's heat.Â
Roll the dough out until it is just a little larger all around than your pan and about 1/4 inch thick – you don't want the dough to be too thin, because you really want to taste it.Â
Transfer the dough to the pan. If the dough comes up the sides of the pan, that's fine; if it doesn't that's fine too.
Give the apples another toss in the bowl, then turn them into the pan and, using your hands, spread them evenly across the bottom.
Roll out the second piece of dough and position it over the apples.Â
Cut the dough so you've got a 1/4 to 1/2 inch overhang and tuck the excess into the sides of the pan, as though you were making a bed. (If you don't have that much overhang, just press what you've got against the sides of the pan.)
Brush the top of the dough lightly with water and sprinkle sugar over the dough.Â
Using a small sharp knife, cut 6 to 8 evenly spaced slits in the dough.
Bake for 65 to 80 minutes, or until the dough is a nice golden brown and the juices from the apples are bubbling up through the slits.Â
Transfer the baking pan to a cooling rack and cool to just warm or to room temperature.Â
You'll be tempted to taste it sooner, but I think the dough needs a little time to rest.