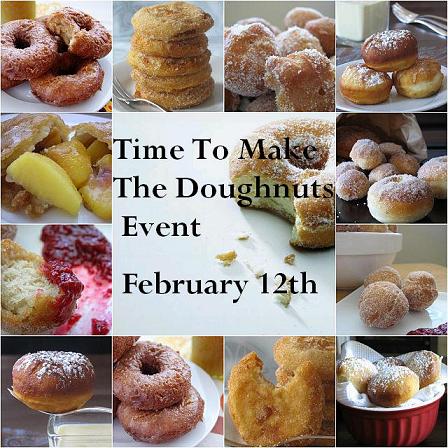 In order to throw your diets off(no not really) Helen(my less evil twin as I like to call her) of Tartelette and I decided to co-host a Doughnut Event.
Oh yeah! Bring it on!! We love anything with butter, flour, eggs and sugar but more so when deep fried and maybe drenched in caramel or toffee sauce!  We know you have been craving some doughnut goodness and looking at all the countries around us, we can tell that there are lots of local specialties involving fried dough. We also realize that some of you are paying attention to their waistline this time of year, so we are okay with baked doughnuts, don¢â¬â"¢t make it a habit though, that will break our hearts! You don¢â¬â"¢t have to own a deep fryer to participate either, any form of pan frying can do (don¢â¬â"¢t go justify to your better half your latest appliance purchase and blaming it on us!!).
Our only "requirement" is that your entry be a sweet one (plain, fruit filled or other)¢â¬¦.because…well, that's just us!
 
To participate send us your entry at (luvbriere @ gmail DOT com) or (mytartelette @ gmail DOT com) by midnight February 12th(PST), the roundup will be split on both our blogs on the 15th.
Name:
Blog name:
Blog URL:
Post title:
Post URL:
Picture:
Location:
Your entry must be a new entry, no back logging. Also be sure to mention the event in your post.