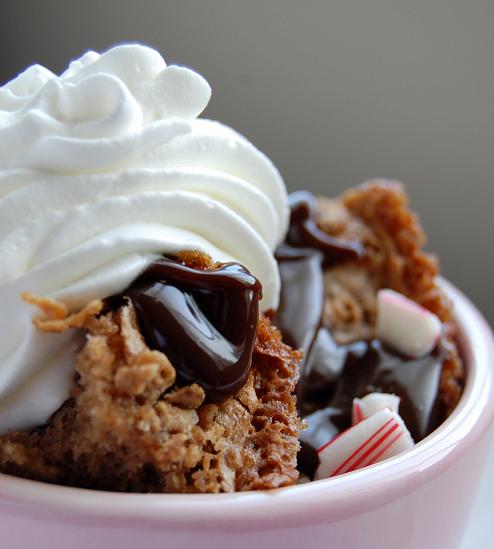 So I was nudged to enter a contest over at Culinate by one of their readers…or so their email told me. When I found out that I could enter a past post I was all over it, as time is not my friend as of late(how is it already February 1st!). Needless to say I searched my site for what said Death by Chocolate(the theme) to me. And though there were some worthy candidates, I ended up going with my Hot Chocolate Cake. Because really, is there anything more comforting than hot chocolate? I think not.
Now normally I would not enter something like this. I mean sure I enter food blogging events but we don't ever really win anything usually…just pride. And I am good with pride as a gift.
However, this contest was a little too good to pass up….The Culinate Death by Chocolate Contest sends one reader, and one food blogger, on a trip for two to Napa Valley to attend the Copia Center¢â¬â"¢s annual Death by Chocolate Festival on Feburary 23, 2008, featuring a day of chocolate and wine tasting, demonstrations by pastry chefs, and other sessions with chocolate aficionados and experts.
Why am I trying to win this? Besides the obvious reason of chocolate being involved, I will now tug on your heart strings to say that my husband and I have not been on a trip together in over 4 years and the last one was for a day and a half to Sea World.
If you are a food blogger, I encourage you to enter, I mean the more the merrier! But if you are not entering, and you are feeling generous, I hope you will throw a vote my way!