These Honey Pecan Shortbread Squares have a buttery shortbread base topped with a honey caramel pecan top.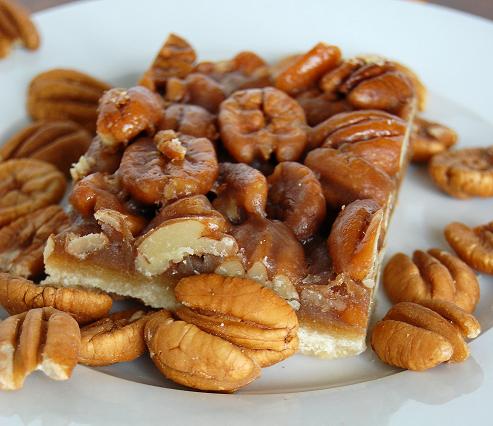 I'm sure there was some point in your life when you got THAT gift.
Not the gift that made you swoon, the one that made you scratch your head.
And if you were still young, the one gift that made you live in fear because you know your mom was going to make you wear it out at least once while that relative was visiting.
Now I have had a few of these, but we shall focus on my grandmother's gift to me one year.
Glow in the dark earmuffs.
Excellent.
I am 16 years old and I live in Phoenix Arizona where earmuffs are used all the time. 😛
And if I wasn't going to look like an idiot enough, they glow in the dark.
That way if anyone missed me looking like a moron in broad daylight, they still got the chance to make fun of me at night.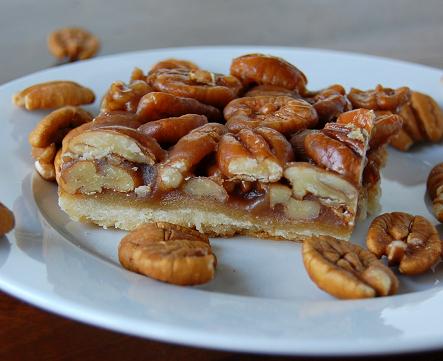 Some years though you get gifts that make you say YAY. 
This year I got a pre-Christmas gift from my Mother-In-Law to use in my holiday baking.
10 pounds of gorgeous Georgia pecans.
That's right, 10 pounds.
Pecans being my favorite of the baking nuts I quickly pulled out recipes that I had but never make because I don't want to go out and buy all those nuts(so stinking expensive sometimes).
So when I got them the first thing I wanted to make was Honey Pecan Shortbread Squares.
Rich buttery base and a candylike topping studded with pecans.
With 4 sticks of butter they are far from diet.
So if you are one of the millions of people who will be giving up food that tastes good for the first 2 ½ months of the year you better make these quick or wait until March when you fall of the diet bandwagon. 🙂
Last but not least…it's a great time to order my cookbook.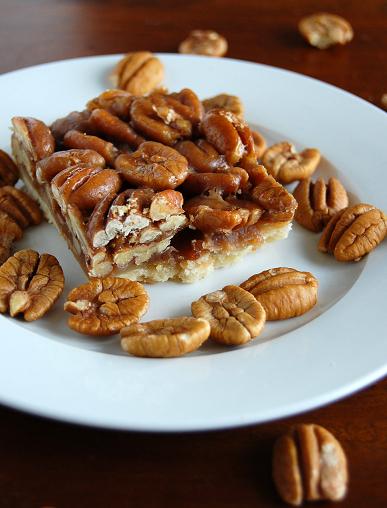 Want More Bar Recipes?
Strawberry Rhubarb Jam Shortbread Bars
Butterscotch Honey Roasted Cashew Bars
Strawberry Lemonade Lemon Bars
Oatmeal Caramel Turtle Jumbles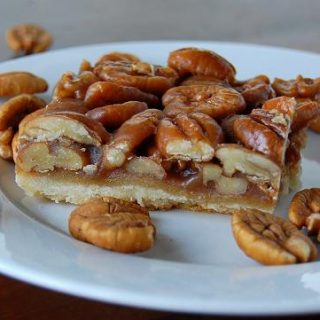 Honey Pecan Shortbread Squares
Ingredients
For the Base:
8 ounces unsalted butter(2 sticks), at room temperature
½ cup granulated sugar
1 egg
¼ tsp salt
3 cups all-purpose flour
For the Filling:
8 ounces unsalted butter(2 sticks)
½ cup honey(I used clover)
¼ cup granulated sugar
1 cup firmly packed brown sugar
¼ cup heavy cream
5 cups pecans, chopped or whole
Instructions
For the Base:
.Cream together the butter and sugar, about 3 minutes.
Add egg and beat for 1 minutes. Scrape down the sides.
And beat an additional 30 seconds.
Add the salt and flour and mix at medium-low speed until combined and dough holds together.
Grease two 8-x-8-inch pans.
Divide dough evenly among both pans.
Press dough into the pan, making sure there are no cracks(the filling will leak through otherwise).
Chill in the freezer for 20 minutes.
Preheat oven to 350f.
.After 20 minutes, remove pan from freezer and blind bake it for 15 minutes.Â
Set aside and prepare filling.
For the Filing:
In a saucepan, melt the butter.
Add the honey, granulated sugar and brown sugar.
Bring this to a boil.
Boil for 2 minutes.
Remove pan from heat and stir in cream and then fold in pecans.
Divide filling among both pans, simply pouring the filling onto the pastry base.
Bake for approximately 25 minutes (still at 350F)
Cool bars completely and then cut into squares. How many squares you get depends on how large you cut them. Keep in mind they are rich.