These Oatmeal Caramel Turtle Jumbles have an oatmeal cookie based and topping with a layer of caramel, chocolate, and pecans in the middle.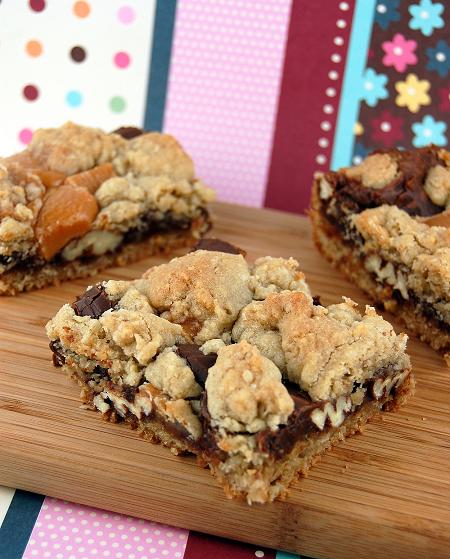 I have a gift.
A gift for attracting strange people.
So does my bff.
We have come to the conclusion that we are smilers and that is what gets us into trouble.
I'm almost always smiling and I have a habit of smiling at people.
Which doesn't sound odd, but if you really pay attention, not that many people do.
I loved in the movie Elf when he says "Smiling's my favorite".
Not because it is my favorite, hockey is my favorite, but because I could relate.
Usually I get strange looks when I smile at people.
I've been asked more time I can count if I'm on drugs.
For the record, I am not.
I get the half smile while you can see their mind racing thinking, how do I know this person?
You don't.
I'm just being…wait for it…friendly.
And then you get the super crazy people that because you smiled at them they now want to be your bff and tell you all about their life.
I find a lot of these.
And yet it does not deter me…it just usually gives me good stories. 😀
I also get a lot of offers to convert to random religions.
I know I got this trait from my mom.
There have been more than a few occasions when a complete stranger has been at our house for a holiday (my mom loves people over for Thanksgiving…both, Easter, and New Year's Day).
All because my mom smiled and struck up a conversation.
Then she found out that they had no where to go for the holiday and the next thing you know, stranger next to me at the dinner table.
So apparently it rubbed off.
I mean, I haven't had an strays at my dinner table yet, but I wouldn't put it past me not to do it.
Baking of course is something that makes me smile as well.
I was standing in the kitchen this morning baking these Oatmeal Caramel Turtle Jumbles and I caught myself smiling.
No one was around, it was just for me…the smiling fool.
And of course the fact that there is caramel in these makes me smile as well.
These are a take on the ever popular jam jumble cookie bar.
But they are made better because they have chocolate and caramel.
Mmmmm.
Pretty simple to make, other that the annoying unwrapping of the caramels.
But if you can get passed that, and I'm sure you can, you have yourself a nice little treat.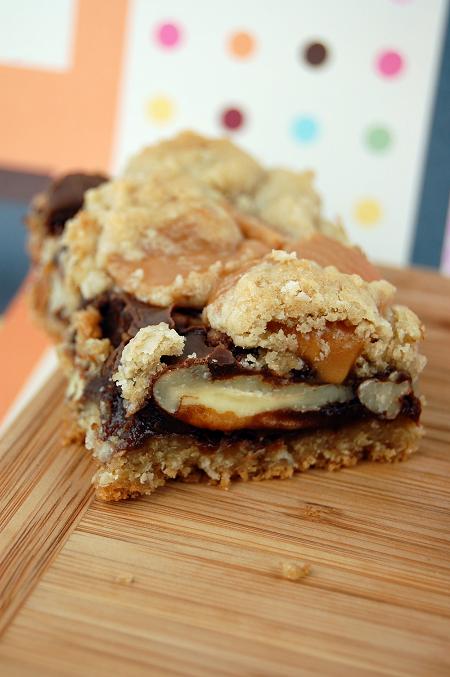 Want More Bar Cookie Recipes?
Butterscotch Honey Roasted Cashew Bars
Salted Chocolate Chip Butterscotch Toffee Cookie Bars
Strawberry Lemonade Lemon Bars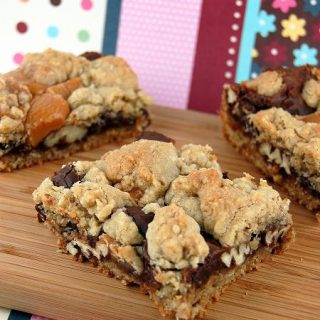 Oatmeal Caramel Turtle Jumbles
Ingredients
For the Base & Topping:
6 ounces unsalted butter, at room temperature
¾ cup granulated sugar
¾ cup light brown sugar, firmly packed
1 egg
1 ¾ cups all-purpose flour
½ tsp baking soda
½ tsp salt
1 ½ cups quick-cooking oats
1 cup purchased caramels halved ( might have added a few more 🙂 )
For the Filling:
¾ cup milk chocolate chips
2/3 cup sweetened condensed milk
2 TBSP unsweetened cocoa powder
1/2 cup pecans (it called for chopped but I left mine whole)
1 tsp vanilla extract
Instructions
Preheat oven to 350 degrees F; coat an 8 ½ x 12-inch baking sheet with nonstick spray (I used a 9-x-13-inch pan, worked fine),
Cream butter and both sugars in a bowl with a mixer until light and fluffy, about 3 minutes.
Add the egg and mix to blend, followed by the flour, baking soda, and salt; mix to incorporate.
Add in oats and mix on low speed until incorporated.
Crumble 2 cups of dough over the bottom of the prepared baking sheet.
Press to cover base of the pan (don't push dough up the sides); set aside.
Add halved caramels to remaining dough, working them in with your fingers; set aside for the topping.
Melt chocolate chips, condensed milk, and cocoa powder together for the filling in a saucepan over medium- low heat.
Cook until mixture is smooth, stirring constantly to prevent scorching.
Off heat, stir in the pecans and vanilla.
Pour the filling over the dough in the pan and spread evenly. The layer will be fairly thin.
Crumble dough with caramel pieces evenly over the top of the chocolate.
Bake bars for 30 minutes, or until chocolate is set and topping is firm.
Cool bars completely before cutting.