This Chocolate Orange Yule Log has an orange Genoise and a Chocolate Orange Coffee Buttercream all decorated as a log.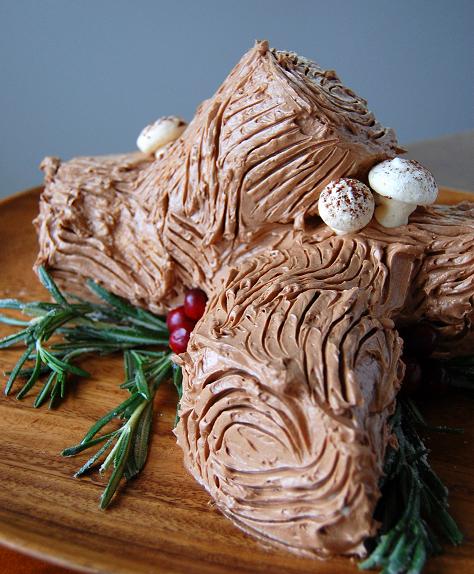 A few years back now I got a gift.
A beautiful box from a local Chocolatier all wrapped in festive wear.
I went home secretly hoping they were caramels, only to open them up and find a chocolate Nativity scene…baby Jesus and all.
I thought to myself, What the @#$%?
Who on Earth would eat a chocolate baby Jesus?
But apparently they are the biggest seller there around Christmas time.
And thus leads me to a phenomenon that I don't quite understand….making food look like something real.
I'm in favor of it when the food looks like food, ie a pumpkin cake made into the shape of a pumpkin…makes sense.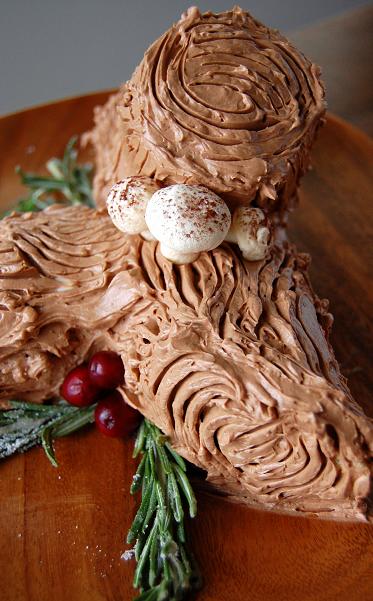 But when we start making it in to animals, cars, people is where you start to lose me(exception being I love all food shaped like Mickey Mouse…some sort of childhood thing I guess).
Which brings me to the Chocolate Orange Yule Log.
Now I will admit that I don't really know the story behind it and I am to busy/lazy to look that up right now.
But however it was invented, I'm sure large quantities of beer were consumed.
Because really, how many times have you been walking into the forest and seen a log and thought, Damn I wish I could eat that wooden log.
Or better yet…you wish you could eat that wooden log covered in fungus!
So why the appeal of taking a cake and making it look like a wooden log caught on is beyond me…but then again I won't eat a chocolate baby Jesus.
So when our founding Mothers, Ivonne and Lis picked a Yule Log, I could do nothing but laugh.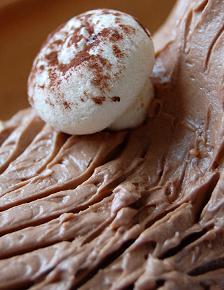 I should have known it would have been picked, it's Christmas time, and they can often be a challenge..in this case a Daring Baker Challenge.
Getting past the fact that logs are for putting your butt on when you go camping and sit around a fire, the cake that was selected is actually very tasty.
For most people the biggest challenge is rolling the log.
Mine did crack at the end…that is what frosting is for.
I chose to add orange zest to my cake, but we could have added whatever flavor we wanted.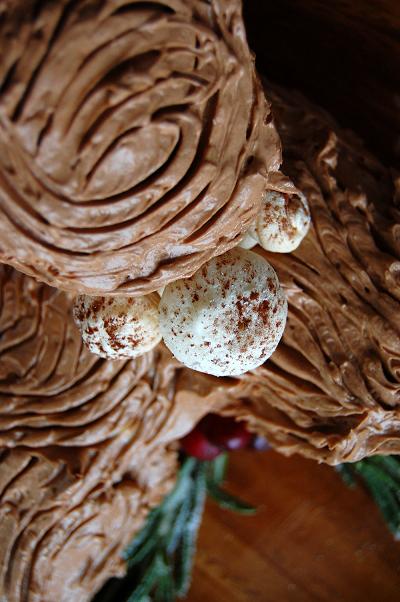 The buttercream gave many a person a reason to swear.
I have made this type of buttercream many a time so I did not have issue with it.
And I did add both chocolate and Grand Marnier to my buttercream.
It was good. So good.
I ate like 5 TBSP of it for lunch instead of something real.
Also, I chose to make mini meringue fungus…I mean mushrooms.
They take the same amount of time to bake but way less time to dry out.
I had hoped to find a small chainsaw to hack into my cake at dinner.
You know for effect, but sadly no, I was left with just a cake knife.
So much for realism. 😛
Be sure to check the Daring Baker Blogroll so you can see what the other 300 and something DBer's came up with!
And please this year, if someone gives you a chocolate Nativity scene, try not to eat the baby Jesus…it is his birthday after all. 🙂
And as always it's a great day to order my cookbook.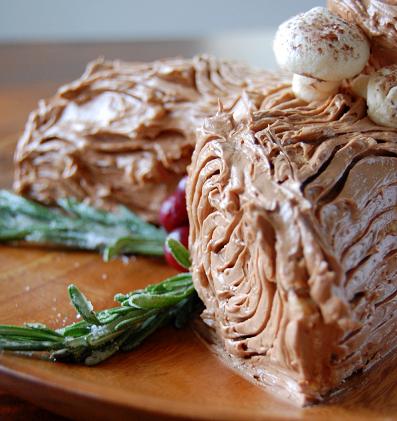 Want More Holiday Cakes?
Bourbon Eggnog White Chocolate Layer Cake
Chocolate Gingerbread Layer Cake
Chocolate Peppermint-White Chocolate Layer Cake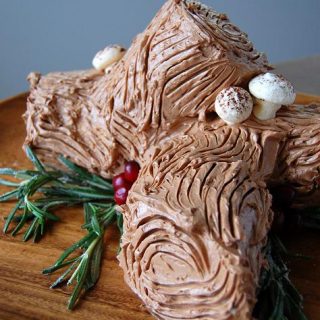 Chocolate Orange Yule Log
Ingredients
Orange Genoise:
3 large eggs
3 large egg yolks
pinch of salt
3/4 cup of sugar
1/2 cup cake flour - spoon flour into dry-measure cup and level off (also known as cake & pastry flour)
1/4 cup cornstarch
zest of 1 orange
one (1) 10 x 15 inch jelly-roll pan that has been buttered and lined with parchment paper and then buttered again
For the Chocolate Orange Coffee Buttercream:
4 large egg whites
1 cup sugar
24 tablespoons (3 sticks or 1-1/2 cups) unsalted butter, softened
1 tablespoons instant espresso powder
2 tablespoons Grand Marnier
1/4 cup cocoa powder
1/3 cup melted chocolate, cooled
For the Meringue Mushrooms:
3 large egg whites, at room temperature
1/4 teaspoon cream of tartar
1/2 cup (3-1/2 ounces/105 g.) granulated sugar
1/3 cup (1-1/3 ounces/40 g.) icing sugar
Unsweetened cocoa powder for dusting
Instructions
For the Orange Genoise:
Set a rack in the middle of the oven and preheat to 400 degrees F.
Half-fill a medium saucepan with water and bring it to a boil over high heat. Lower the heat so the water is simmering.
Whisk the eggs, egg yolks, salt and sugar together in the bowl of a heavy-duty mixer.
Place over the pan of simmering water and whisk gently until the mixture is just lukewarm, about 100 degrees if you have a thermometer (or test with your finger - it should be warm to the touch).
Attach the bowl to the mixer and, with the whisk attachment, whip on medium-high speed until the egg mixture is cooled (touch the outside of the bowl to tell) and tripled in volume. The egg foam will be thick and will form a slowly dissolving ribbon falling back onto the bowl of whipped eggs when the whisk is lifted.
Fold in orange zest.
While the eggs are whipping, stir together the flour and cornstarch.
Sift one-third of the flour mixture over the beaten eggs.
Use a rubber spatula to fold in the flour mixture, making sure to scrape all the way to the bottom of the bowl on every pass through the batter to prevent the flour mixture from accumulating there and making lumps. Repeat with another third of the flour mixture and finally with the remainder.
Scrape the batter into the prepared pan and smooth the top.
Bake the genoise for about 10 to 12 minutes. Make sure the cake doesn't overbake and become too dry or it will not roll properly.
While the cake is baking, begin making the buttercream.
Once the cake is done (a tester will come out clean and if you press the cake lightly it will spring back), remove it from the oven and let it cool on a rack.
Dust a sheet of parchment with powdered sugar. Run a knife around edge of pan; invert cake onto parchment.
Peel off the parchment the cake baked on, then dust cake with additional powdered sugar. Starting at one long end, roll up cake with sugared parchment and let cool completely before unrolling and assembling.
For the Buttercream:
Whisk the egg whites and sugar together in the bowl of an electric mixer. Set the bowl over simmering water and whisk gently until the sugar is dissolved and the egg whites are hot.
Attach the bowl to the mixer and whip with the whisk on medium speed until cooled.
Switch to the paddle and beat in the softened butter and continue beating until the buttercream is smooth.
Dissolve the instant coffee in the liquor and beat into the buttercream.
Add cocoa powder and chocolate, beat until fully incorporated.
For the Meringue Mushrooms:
Preheat the oven to 225 degrees F.
Line 2 baking sheets with parchment. Have ready a pastry bag fitted with a small (no. 6) plain tip. In a bowl, using a mixer on medium-low speed, beat together the egg whites and cream of tartar until very foamy.
Slowly add the granulated sugar while beating. Increase the speed to high and beat until soft peaks form when the beaters are lifted. Continue until the whites hold stiff, shiny peaks.
Sift the icing sugar over the whites and, using a rubber spatula, fold in until well blended.
Scoop the mixture into the bag.
On one baking sheet, pipe 48 stems, each ½ inch (12 mm.) wide at the base and tapering off to a point at the top, 3/4 inch (2 cm.) tall, and spaced about 1/2 inch (12 mm.) apart.
On the other sheet, pipe 48 mounds for the tops, each about 1-1/4 inches (3 cm.) wide and 3/4 inch (2 cm.) high, also spaced 1/2 inch (12 mm.) apart. With a damp fingertip, gently smooth any pointy tips.
Dust with cocoa. Reserve the remaining meringue.
Bake until dry and firm enough to lift off the paper, 50-55 minutes.
Set the pans on the counter and turn the mounds flat side up.
With the tip of a knife, carefully make a small hole in the flat side of each mound.
Pipe small dabs of the remaining meringue into the holes and insert the stems tip first. Return to the oven until completely dry, about 15 minutes longer.
Let cool completely on the sheets.
To make the cake
Once cake is cool, unroll, remove parchment, and spread 1/4 of the frosting over the cake, leaving final 1-inch of long side farthest from you bare. Reroll cake wrap tightly and place in fridge for 10 minutes.
Slice 4–6 inches off both ends of cake roll at a 45-degree angle to create knots.
Place log on a serving platter. Tuck sheets of parchment under edges of cake to keep platter clean while frosting.
Spread a bit of frosting on uncut sides of knots; press them, cut sides out, on top and side of log, securing with toothpicks as needed.
Spread a thin layer of frosting over cake; chill to set.
Spread remaining frosting over cake.
Drag a fork through the icing to resemble bark.
Top with meringue mushrooms.