This Cake Batter Sprinkle Flan is a fun twist using cake batter flavoring and colorful crystal sugar crystals to form the caramel sauce.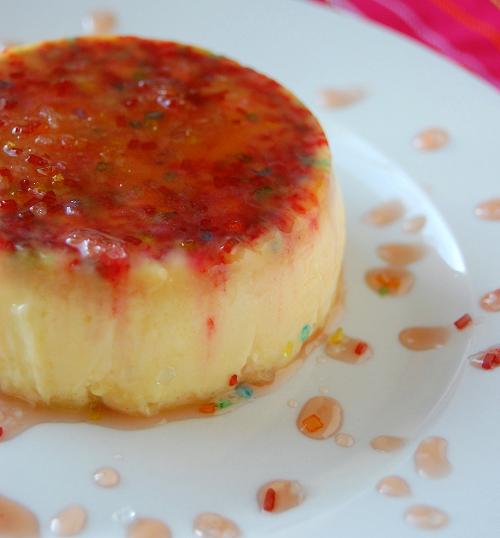 One of my culinary confessions in life is that I love those stupid from a box, Funfetti cupcakes.
I think I am allured by the birthday cakey flavor of the cake and the festiveness of all the colors of the Funfetti.
So when I was making a cake the other day that required 8 egg whites(it will be on the blog later), I could not bring myself to throw out 8 egg yolks.
I hadn't planned on making anything else that day, but my plans changed.
During the move, I found many a lost treasure lurking in my cupboard.
One of those were my colored sugar crystals that I used for my homemade Pop Tarts.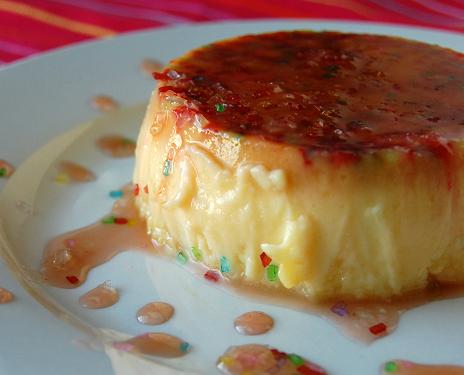 I decided that I would pay tribute to my favorite boxed cupcakes in the form of flan, yes flan.
Cake Batter Sprinkle Flan.
I think little kids would be drawn to these.
I think they are a lot of fun(as the name would imply).
As you can see, the crystals do melt and form a sauce(I wasn't sure if they would or not) and it turns a festive pink color.
In house news, I just sold my left arm to buy some window treatments.
Not to worry, I kept my mixing arm. 🙂
Who knew stupid blinds could be soooooo expensive.
They joys of home ownership.
We also get to do battle with Comcast again…one of the cable boxes doesn't seem to think we want sound half of the time…special.
Other than that, I am loving it.
P.S. It's a great day to buy my cookbook Holy Sweet!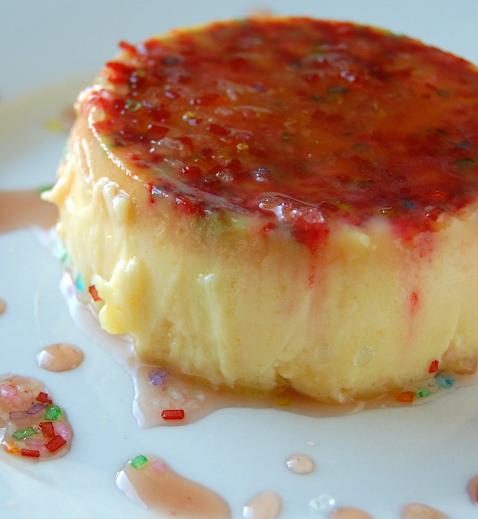 Want More Flan Recipes?
Mini Blackberry Caramel Cheesecakes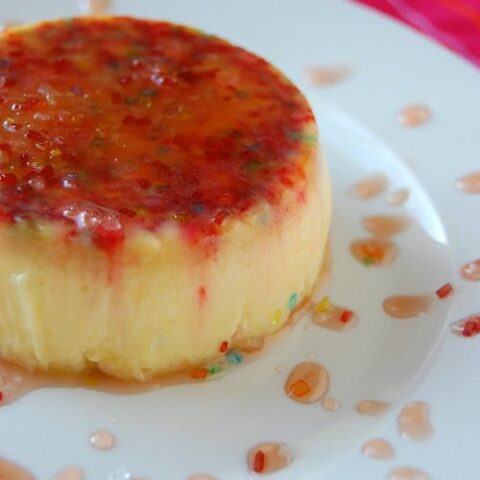 Cake Batter Sprinkle Flan
Ingredients
4 large egg yolks
½ cup sugar
1 ½ cups heavy cream
pinch of salt
colored sugar crystals(I didn't measure but I would say about 1/3 of a cup)
Instructions
Take ramekins(this recipe made 4-6 ounce ones) and divide crystals among them.
Press the sugar down making sure it is evenly distributed.
Place cups in a baking pan large enough to hold them and a water bath.In a bowl, whisk together the eggs, sugar and salt.
Warm cream in a saucepan over medium heat until it is warm, almost hot to the touch but not boiling!
Ladle some of the cream into the egg mixture, whisking the whole time.
Then slowly add the rest of the cream, again, whisking the whole time.
Strain the mixture through a sieve to avoid any egg bits that might have formed.
Whisk in the cake batter flavoring and whisk until fully combined.
Pour mixture into ramekins.
Don't panic if some of the crystals float up, this will most likely happen, but the majority of them will not rebel and will stay where they are suppose to. 🙂
Place them into the baking pan and place in the oven. Then pour HOT water(boiling if you've got it) into the pan so that it comes half way up on the ramekins.
Bake flan for 25 minutes,until the custard is set but just a little jiggly in the middle.
Remove from water bath(thongs work good for this).
Let cool for 20 minutes and place into the fridge for at least 6 hours(I did overnight).
To remove the flan, run a knife around the edge of each ramekin and invert onto a plate or whatever you are serving it on.