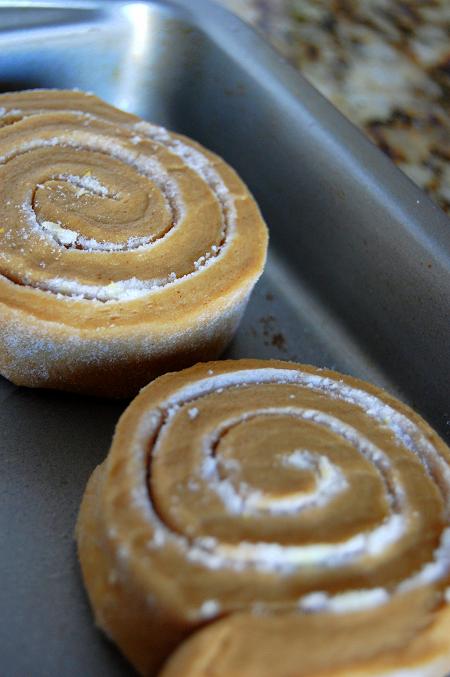 I had mentioned that the idea of using the pumpkin brioche to make cinnamon rolls sounded good to me….and it still does. But after more thumbing through The Secrets of Baking I found a Gingerbread Brioche, and so you know I had to give that a try! I decided that the gingerbread brioche is what I would make into buns. I wanted to do something less traditional.
Around last Christmas, my friend M brought gingerbread with a lovely lemon sauce to Book Club as her treat. And what a treat it was. I had never had lemon sauce with gingerbread before. My mom always served it with whipped cream(nothing wrong with that!) and once you get in a rut, you get in a rut. So I thought, how can I incorporate that into a bun? I made the brioche as the recipe called for but made a lemon sugar for the filling and a lemon sauce to go over the top of them. These are soft, spicy, tangy and tasty all "rolled" into one. Be warned: This dough is not like normal brioche…it is sticky and doesn't like to play nice, but the end result is worth it.
I am really loving this cookbook. It was purchased for me off of my wish list at Christmas time when I got more than a few cookbooks. I must have just skimmed through it and thought nothing more of it. I must say I am kind of addicted to it….like Yard is becoming me new Dorie(though she can never be replaced). Now I am excited to purchase her new cookbook(Desserts by the Yard) that just came out. Oh and speaking of cookbooks that just came out, my most influential chef Marcel Desaulniers came out with a new one just in time for Christmas, I'm Dreaming of a Chocolate Christmas. Oh course I bought it. It has so great looking things and I plan on making something from it this week!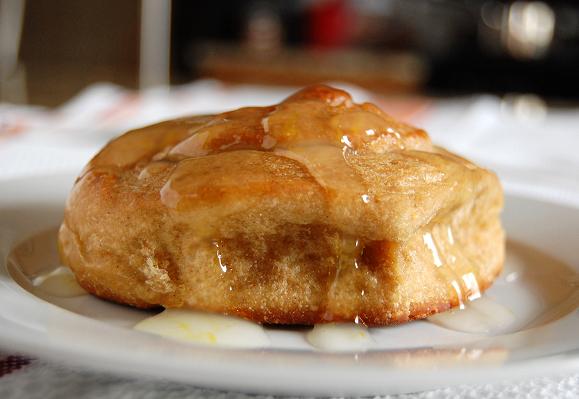 Gingerbread Brioche Buns with Lemon Sauce
Gingerbread Brioche
For the sponge:
½ cup whole milk, room temperature
1 TBSP dry active yeast
2 TBSP sugar
½ cup bread flour
Combine milk and yeast in the mixing bowl of a standing mixer. Whisk and let sit for 5 minutes. Add flour and sugar, mix to form a thick batter. Cover with plastic wrap and let rest at room temperature for 30-45 minutes, until bubbles form.
For the dough:
1/3 cup unsulfured black-strap molasses
3 TBSP packed light brown sugar
2 TBSP ground ginger(may seem like a lot but this makes a lot of dough)
1 TBSP ground cinnamon
1 tsp freshly ground nutmeg
¼ tsp ground allspice
¼ tsp ground cloves
3 ½ ¢â¬â€œ 4 cups bread flour
2 tsp salt
6 large eggs, slightly beaten
9 ounces unsalted butter, softened but still cool
Filling:
3 TBSP unsalted butter, room temperature
1 cup of sugar rubbed with the zest of one large lemon
Add the molasses, brown sugar, spice, flour, and salt to the sponge. Add the eggs. Beat with the paddle attachment on low speed for 2 minutes, until the eggs are absorbed. Increase the speed to medium and knead the dough for 5 minutes.(It doesn't say to do it, but I switch to the dough hook at this point). The dough will be sticky. Hold the mixer when necessary if it starts to dance on you.
Turn the machine down to medium low speed and add the butter, 2 TBSP at a time. Knead for another 5 minutes, until the dough is shiny. Scrape out the dough and clean and lightly oil the bowl. Don't worry if the dough is difficult to work with(it will be).
Place the dough in the bowl then turn it over so that the top is oiled. Cover with plastic wrap and let rise at room temperature for 2 hours, until doubled.
When dough is has doubled in volume, punch it down by folding it two or three times. Cover and refrigerate for 4 hours or overnight.
After the second rise, the dough is ready to be shaped. Turn the dough out onto a lightly floured surface. Using a rolling pin, roll it into a rectangle approximately 12 by 16 inches. Use a pastry brush(or your hands if you like to get messy) to spread 3 TBSP of butter around the rolled out dough, leaving an 1-inch margin at the top edge with no butter. Sprinkle filling evenly over the surface, again leaving the 1-inch margin. Starting from the long side closest to you, roll up the dough like a jellyroll. Transfer the log to a baking sheet, cover with plastic wrap and freeze for 10 minutes. This will make cutting the buns clean and even.
Remove from freezer, cut buns into 1 ½-inch pieces, you should get around 12. Place them back onto a greased baking pan. Spread out so they are not touching. Wrap with plastic wrap and let rise at room temperature for 1 ½ to 2 hours.
Preheat the oven to 400F. Bake buns for 10 minutes and reduce heat to 350F. Bake for another 10-15 minutes depending on the size of your buns. Allow to cool for 10 minutes. Pour lemon sauce over buns and serve warm.
Adapted From: The Secrets of Baking by Sherry Yard, Houghton Mifflin 2003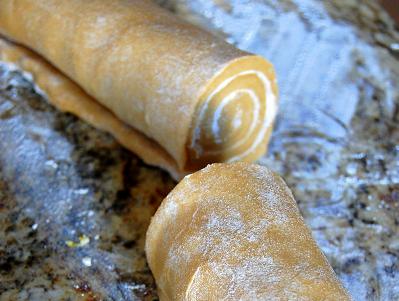 Lemon Sauce
1 TBSP cornstarch
½ cup sugar
dash of salt
1 cup boiling water
juice of one large lemon
zest of on large lemon
Combine cornstarch, sugar and salt in a sauce pan. Add boiling water to it and bring to a boil, stirring constantly; cook until thickened. Remove from heat and stir in juice and zest.