These Mini Blackberry Caramel Cheesecakes are baked in a caramel sauce and you flip them over just like you would flan.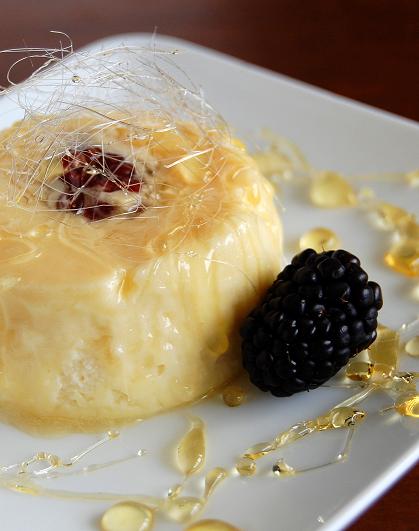 Real bad dog breath.
That is how my 2008 started.
My dog.
Staring at me.
Breathing her, I've licked parts of my body you don't want to know about breath, at my face.
Apparently my dog did not get the memo that I had a whole bottle of Pinot Gris last night and she was to let me sleep in.
Or most likely if I know her, she got the memo and simply chose to ignore it.
Bitch(literally).
I needed to get up anyway.
See the NHL had this great idea to force(I mean give an opportunity) to two teams to play old time pond hockey(outside)…in Buffalo, New York.
It started at 10am my time.
So up I got to let dragon breath out to the bathroom and to watch the overpaid athletes suffer in the miserable Buffalo weather.
They had been hyping this thing for weeks.
The players looked miserable the whole time and whenever they interviewed the players and asked them how they liked it they said stuff like "it's unbelievable."
The network tried to spin that in a positive way but you knew that unbelievable to the player meant it was unbelievable that he got stuck doing this game.
Oh well they are just working hard for their millions of dollars.
I must say that the start of the New Year is not one of my favorites.
My blog readership usually goes down.
Everyone on their new commitment to a lifestyle change(since no one says diet anymore).
And well, I'm not on a lifestyle change.
So there will still be butter, sugar, heavy whipping cream and many other things that your new lifestyle change does not allow.
It's when all of my friends seem to go on lifestyle changes too.
We don't lunch anymore and if we do they are having water and three pieces of lettuce where they tell me things like Lean Cuisine Mac and Cheese is ALMOST as good as the real stuff.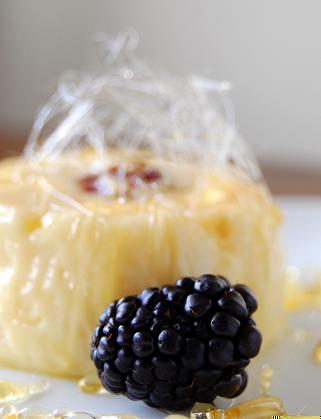 And their right, it is ALMOST as good.
If you put a lot of salt on it and have a cold.
There were times in my thinner days when I went along with this philosophy too.
But I switched to the life is too short to be eating things that ALMOST taste like food I want to be eating.
I don't worry too much as all of those readers come back around March.
Which is when they get tired of ALMOST food too.
So here is a lovely anti-lifestyle change recipe, Mini Blackberry Caramel Cheesecakes.
I was intrigued by it because it looks like flan but is really cheesecake.
It in no way tastes like flan.
It is however, darn close to the creamiest cheesecake I ever put in my mouth.
And there has been a lot of cheesecake in my mouth.
Even those these are small, I am pretty sure you can only eat 1/18th of one for 2 Weight Watchers points. 😛 
I did have a tad bit of trouble getting them to unmold and had to put them in some warm water to release.
The recipe said nothing about it but that seemed to do the trick.
Lastly, I would like to thank all of you who left such kind comments or emailed me personally.
It was truly uplifting.
I was sad to learn that other blogger friends had too been receiving some less than kind comments on their blogs.
I can assure those of you that thought I might be quitting blogging, not even close.
God willing I plan on doing it for as long as I can come up with stuff to fill the pages with.
Hope everyone has a happy, healthy and stress free 2008!
P.S. It's a great day to buy my cookbook Holy Sweet!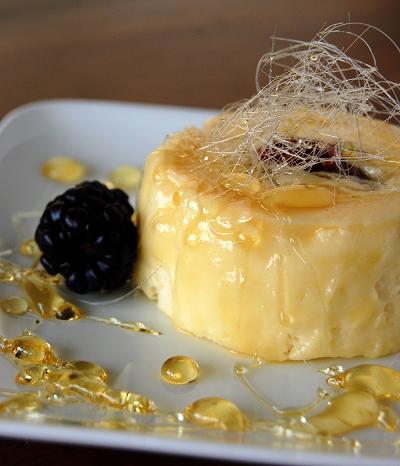 Want More Custard Recipes?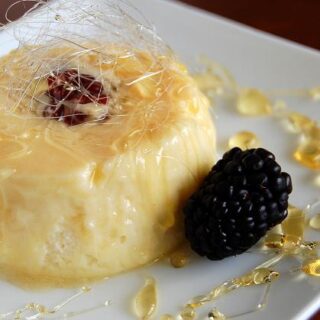 Mini Blackberry Caramel Cheesecakes
Ingredients
For the Caramel:
1 cup sugar
½ cup water
For the Cheesecakes:
6 ounces white chocolate, finely chopped
¼ cup boiling water
1 ½ pounds cream cheese, at room temperature
½ cup plus 2 TBSP sugar
1 ½ tsp vanilla extract
2 eggs, at room temperature
5 ounces ripe blackberries, rinsed and patted dry
Instructions
Preheat oven to 325F.
To make the caramel, combine sugar and water in a 1-quart saucepan.
Stir(do no whisk) gently over medium heat until most of the sugar is dissolved.
Stop stirring and bring mixture to a simmer.
Cover and simmer 2-3 minutes to dissolve the sugar.
Uncover and increase the heat to medium.
Simmer without stirring until the syrup begins to color.
Swirl the pan to evenly distribute the color.
Cook until the caramel is a slightly reddish amber color.
Immediately pour equal amount or caramel into 5 ounce ramekin(or 6 ounce).
Tilt each cup to spread caramel over the bottom and part way up the sides.
Set cups aside to cool.To make cheesecakes, place the chocolate in a small bowl.
Pour the boiling water over the chocolate and stir until smooth.In a medium bowl, beat the cream cheese just until smooth, about 30 seconds.
Scrape the bowl and beaters. Add the sugar and vanilla and beat just until smooth, about 1-2 minutes. Add 1 egg and beat until incorporated. Scrape the bowl and beaters.
Beat in second egg.
Stir in the melted chocolate.
Divide the berries among the caramel cups, pouring the batter among the cups, pouring it on top of the berries.
Place cups in a baking pan that is deep enough to hold water.
Carefully pour some boiling water into the baking pan to a depth of 1 inch.
Bake until the edges of the cheesecakes are puffed but the centers still jiggle when the cups are tapped., 15-20 minutes.
Remove the pan from the oven.
Use tongs to transfer each cup from the hot water to a rack to cool completely.
Cover and refrigerate overnight or even longer.
To unmold, run a knife around the cheesecakes edges and invert onto individual serving plates.