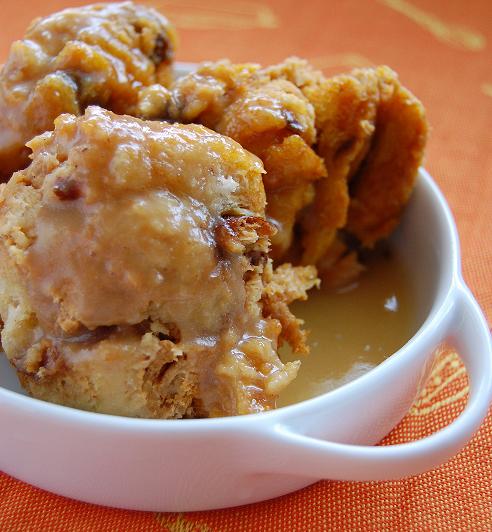 As luck would have it, I get to celebrate two Thanksgivings every year: Canadian and American. For American Thanksgiving we go out for a nine course meal at my favorite restaurant. So for Canadian Thanksgiving I do the cooking. My picky husband of course sometimes makes that a bit of a challenge. So other than the fact that he doesn't want turkey I pretty much do my own thing and he can pick and choose what he wants from what I made.
Today we will be having a roasted chicken, plain ol' mashed potatoes, sweet potatoes, corn, cranberry-pear chutney, sausage apple stuffing, rolls and pumpkin bread pudding. He wont touch the bread pudding so I was sure to buy him ice cream for dessert. I on the other hand will be eating a heaping bowl of bread pudding…though most likely a few hours after dinner. 🙂
It's nice to get the chance to count my blessings up twice a year instead of just once. It's been a more than crazy year and it is good to set aside time to be thankful for all that I have.
So Happy Thanksgiving to those to whom it applies to!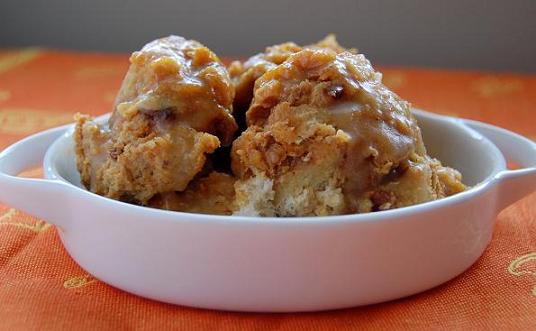 Pumpkin Raisin Bread Pudding with Butterscotch Sauce
Bread Pudding
1 loaf raisin bread(for recipe go here)
1 cup canned pumpkin
2 eggs
3 egg yolks
1 cup heavy cream
½ cup whole milk
¾  cup sugar
1 ½ TBSP pumpkin pie spice
Preheat oven to 350F.
1.Tear raisin bread into pieces and place into baking dish(mine was a 9 by 11).
2 Whisk together the eggs, egg yolks and pumpkin together in a large bowl. Add the sugar and whisk until combined. Add the heavy cream, milk and pumpkin pie spices. Whisk until completely incorporated.
3.Pour the custard over the bread. Press down the bread pieces until the bread is soaked with the custard.
4.Place pan into another pan that will hold a water bath. Bake the bread pudding for 45-55 minutes. You may want to check at the 45 minute mark to see if the custard is setting up, if not cook for another 10 minutes. Cool 10 minutes and serve warm with butterscotch sauce.
Butterscotch Sauce
3/4 cup light brown sugar, packed
1/2 cup light corn syrup
2 tablespoons butter
1/2 cup whipping cream
1 teaspoon vanilla
Combine brown sugar, corn syrup, and margarine in a small saucepan. Bring to a boil over medium heat, stirring constantly. Boil for 1 minute; remove from heat. Stir in cream and vanilla immediately. Cool; store in the refrigerator.
Stir before serving over ice cream, puddings, or desserts.
Makes about 1 1/2 cups of butterscotch sauce.