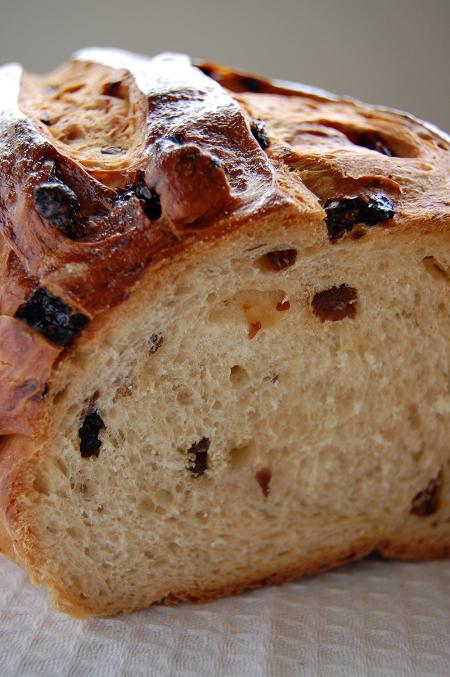 I always have such and internal struggle when my favorite hockey team(Flames) plays the team of my favorite player(Flyers). As fate would have it, they played each other last night…for their first games. As usual my Flames lost. No big shocker there. However, when this situation occurs ideally I like for them to tie, and then the Flames win in overtime, that way they each get a point. That didn't happen but  my player did score two goals. Luckily this is the only time they will meet…unless of course they both go to the Stanley Cup Playoffs(hahahahahahahahahahahahaha).
When the Flames lose I like to bake. I bake a lot.
When I woke up this morning, the weather just screamed, bake bread. So that is what I did. When the Daring Bakers made cinnamon rolls we used a recipe from the Bread Baker's Apprentice. I own this book and had dragged it out to follow the recipe from there. Ever since I dragged it out I told myself I needed to make more bread. I used to do it all the time. Technically, I still do, but I make the same kind over and over again and I have already posted those recipes. I wanted to make new bread. I wanted to make new bread so that I would have some stale bread left over to make pumpkin bread pudding for Thanksgiving on Monday(even though my hubby wont touch it…his loss). This was a great bread. In the book it is made with cranberry and walnuts but I chose to just use raisins and omit the walnuts as my bread pudding will most likely have nuts in the toffee sauce.
It's going to be a long hockey season so who knows, you may be seeing many a loaf of bread on here…I am trying to make that my goal.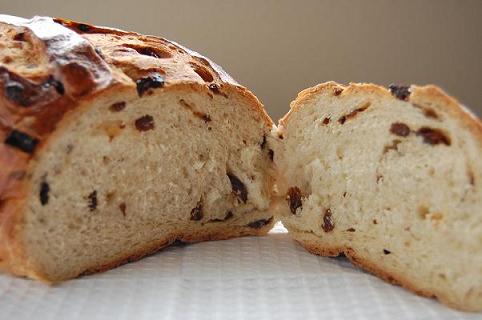 Raisin Bread
3 cups unbleached bread flour
3 TBSP granulated sugar
¾ tsp salt
3 ½ tsp instant yeast
2 eggs, slightly beaten
½ cup buttermilk
2 TBSP unsalted butter, melted
¼ to ½ cup water, at room temperature
1 ½ cups raisins
1 egg, whisked until frothy, for egg wash
Mix together flour, sugar, salt and yeast using the paddle attachment of the mixer. Add the eggs, buttermilk and butter. Mix on low speed, adding just enough water to make a soft, pliable ball of dough.
Sprinkle flour on the counter and transfer the dough to the counter. Knead for about 5 minutes, or until the dough is smooth and only slightly tacky, but not sticky. It should have a soft, pliable quality, not  stiff and resistant. Add the raisins and knead for another 2 minutes or until they are evenly distributed. Lightly oil a large bowl and transfer the dough to the bowl, rolling it to coat it with oil. Cover the bowl with plastic wrap.
Ferment at room temperature for about 2 hours, or until it doubles in size.
Transfer the dough to the counter. Shape bread how you desire. This recipe braided the bread but I was lazy and just made it into a very lard torpedo shape and slashed it a few times. Line a sheet pan with baking parchment. Place  dough on to pan.  Brush the entire top half with egg wash. Refrigerate  the remaining egg wash to be used later.
Proof uncovered at room temperature for about 90 minutes, or until the dough nearly doubles in size. Brush the loaf a second time with the remaining egg wash.
Preheat over to 325F with the oven rack on the middle shelf.
Bake for approximately 24 minutes. Rotate the pan 180 degrees for an even baking and then continue baking another 25 to 30 minutes or until the loaf is a deep golden brown, feels very firm, and sounds hollow when thumped on the bottom. The internal temperature at the center of the loaf should register between 185 and 190F.
Remove the bread from the pan and transfer it to a cooling rack. Allow the bread to cool for at least 1 hour before slicing it.
Source: Adapted from The Bread Baker's Apprentice by Peter Reinhart