This Bailey's Caramel Irish Cream Cake is made with a deep chocolate cake layered with chocolate caramel ganache and topped with buttercream frosting.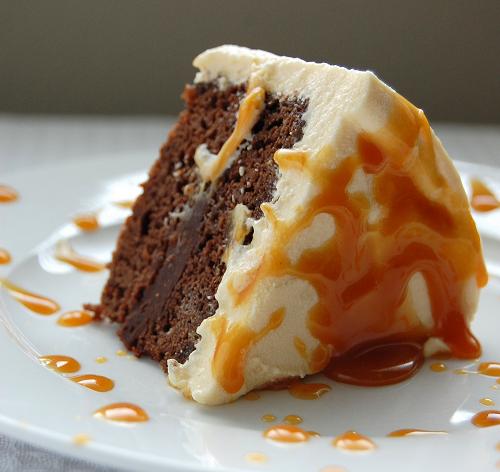 In the words of Hannibal from the A Team…"I love it when a plan comes together."
Yes, I am a product of the 80's.
And still love the 80's.
I wore scrunchies in my hair, big sweaters, neon colors, stir-up pants and my Sony Discman was the coolest thing ever!
Or should I say it was totally bitchin'.
My bangs were super high and sprayed with so much hairspray that I must have killed at least a dozen brain cells a day inhaling all that Aquanet.
My hair was badly permed and my goal was to dress like Jeannie, Ferris Bueller's sister.
Watching the movie now makes me cringe…her pants were pretty much up to her boobs.
Very attractive.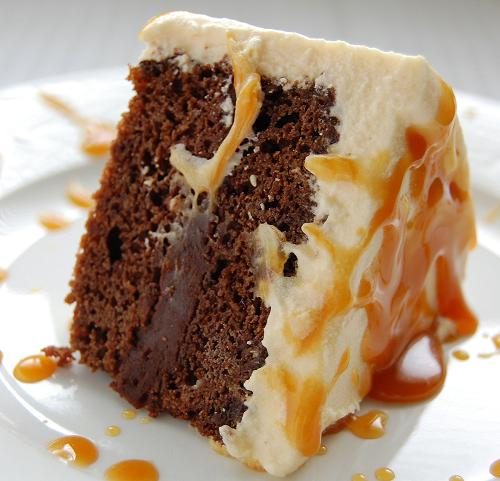 The 80's was the first time I ever had Bailey's Irish Cream.
Now before you envision some teenager doing shots of Baileys, it was simply a sip of my mom's coffee that was spiked with Bailey's.
But I remember it being good.
Not like any of the other "yucky" alcohol I had tasted thus far.
The flavor stuck with me and whenever my mom would make them (which was usually only around the Holidays) I would beg for a sip.
I was an annoyingly squeaky clean kid so it never dawned on me just to make one of my own when the parental unit was not around.
I'm still a squeaky clean nerd now too.
Like Leslie Knope squeaky clean.
I tattle on myself. 🙂
Bailey's to this day is still one of my favorite liquors.
So when they came out with new flavors I had to buy them.
I have one mint and one caramel.
Already I had baked something else (will be on blog later) that involved making a chocolate-caramel ganache.
So I had some leftover and it got my head spinning as to what I could make with it.
This Bailey's Caramel Irish Cream Cake is what.
Caramel, caramel, caramel just kept going through my head.
And there in the refrigerator door was the answer (yes, I have booze and not healthy things like milk or orange juice in the fridge door :P)
Bailey's Original is still my favorite but both the mint and the caramel versions are something that should be in everyone's home bar.
I keep this cake in the fridge because the frosting can start to slide a bit as it warms up.
But you could serve it at room temperature just fine.
If you don't have any caramel sauce don't worry, that was just a last minute addition on my part to add some contrast for the camera.
If you are a Bailey's lover too, you should try this cake.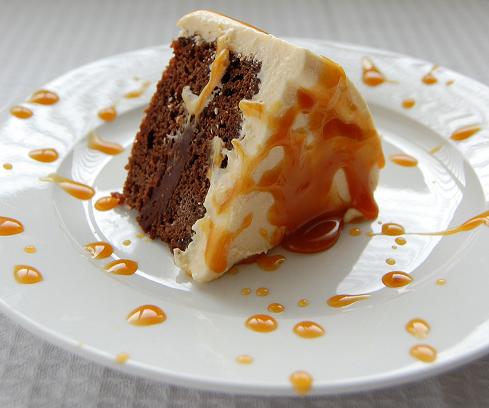 Want More Baileys Recipes?
Baileys Irish Chocolate Cream Pie
Mini Bailey's Irish Cream Mocha Cheesecake Tarts
Baileys Salted Caramel Chocolate Bundt Cake
My Mom's favorite Baileys Irish Nut Coffee Bread Pudding
Bailey's Irish Coffee Caramel Cookies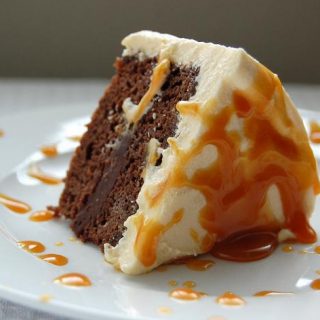 Bailey's Caramel Irish Cream Cake
Ingredients
For the Deeply Dark Devil's Food Cake:
1 1/2 cups all-purpose flour
2 tsp baking powder
3/4 tsp baking soda
3/4 tsp salt
11 TBSP unsalted butter, softened
1 1/2 cups granulated sugar
2/3 cup Dutch-processed cocoa powder
2 large eggs
1 tsp vanilla
1 1/3 cups warm water
For the Bailey's Buttercream Frosting:
3 large eggs
4 large egg yolks
½ cup water
2 cups sugar
3 cups of butter, at room temperature
½ tsp salt
4 TBSP Bailey's Caramel Irish Cream
For the Chocolate-Caramel Ganache:
10 ounces bittersweet chocolate, finely chopped
1 cup heavy whipping cream
10 caramel candies, unwrapped
Instructions
For the Deeply Dark Devil's Food Cake:
Preheat oven to 325F.
Grease two 9 inch cake rounds and dust with flour.
Sift together the flour, baking soda, baking powder, and salt in a medium bowl.
Mix to incorporate.
Beat the butter at medium speed until creamy. Gradually add the sugar and beat on high speed for about 3 minutes.
Add the cocoa powder and beat for 1 minute. Scrape down the sides with a spatula. Beat in the eggs one at a time.
Beat in the vanilla.
On low speed, add the flour mixture in three additions alternating with the warm water in two additions. Scrape down the sides of the bowl and mix at low speed for 30 seconds. Pour batter into prepared pans.
Bake cake for 45-55 minutes. Cool cake for 20 minutes after baking.
Remove cake from pan and let cool completely before frosting.
For the Bailey's Buttercream Frosting:
Using a mixer fitted with a whisk attachment, whip the eggs and yolks in a large bowl on high speed for about 5 minutes.
In a medium saucepan, combine the water and sugar; simmer until it reaches the soft ball stage, registering between 234 and 240F on a candy thermometer. Immediately transfer the syrup to a large heatproof liquid measuring cup.
In a slow, thin stream, add the sugar mixture to the egg mixture., mixing on low speed the entire time. Increase the speed to medium and beat about 7 minutes, until the syrup has cooled.
Add the butter, half a stick at a time, beating on medium after each addition.
Once all of the butter has been added, beat on medium speed until the frosting thickens slightly, about 3 minutes.
Stir in the salt and Irish Cream.
For the Chocolate-Caramel Ganache:
Place the chocolate in a medium bowl.
Heat the cream and caramels over medium-low heat, stirring occasionally, until the caramels have melted completely.
Pour the hot mixture over the chocolate and stir until melted.
To Assemble:
First off I made mini cakes and therefore my cakes look different than the instructions I am going to give you.
I did not put buttercream between any of the layers, nor did I make 4 layers. You can mix and match however you like.
Take your two 9-inch cake and cut each one of those layers horizontally in half(so you should have 4 layers).
Place the bottom layer on a cake plate.
Spread a thick blanket of frosting on top.
Add the second layer.
This time spread the chocolate-caramel ganache on that layer.
Place third layer on top of that and spread more buttercream.
Place forth layer and frost the top and sides of the cake with remaining frosting.
Drizzle store bought caramel over the cake, however much you would like.
Place cake in refrigerator until ready to serve.