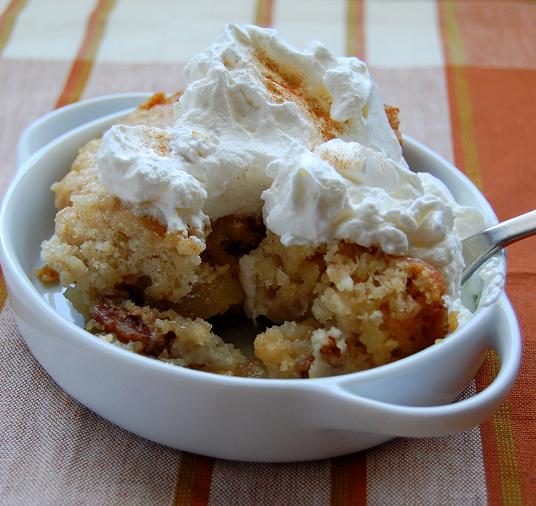 I have mentioned before how when I married a Southern gentleman I assumed I would have to do some Southern cooking. I bought many a Southern cookbook and many, many people upon hearing that I had married a Southern gent offered up their mother or grandmother's recipes. I not of course realizing at the time that my husband really only eats one Southern food(that being fried chicken) gladly took all the recipes I could get. One recipe that I seemed to get over and over was for peach cobbler. But not like any cobbler I have ever had. See where I am from, peach cobbler is some peaches tossed with some sugar and sometimes spice and then toped with either a biscuit kind of topping or crumbled up dough and oats with sugar and nuts. So when I kept reading the very similar cobbler recipes I found it fascinating that the peaches went on top and that it was more cake like. Hmmmm. All of the recipes assured me that the peaches would go to the bottom and the cobbler would go to the top…they are correct. And I must say that from now on this is how I will be making cobbler! I loved it, it had just the right crunch on top but all soft and peachy on the inside. I topped mine with some cinnamon schnapps spiked whipped cream and dusted it with some cinnamon sugar mixture. You can top yours with whatever you like.
Oh and in case you were wondering, no my husband would not eat it…he "doesn't like peaches." Boo on him.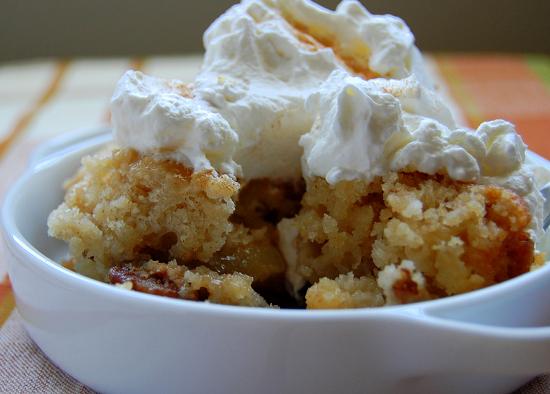 Southern Peach Cobbler
½ cup unsalted butter
1 cup plus 3TBSP granulated sugar
1 cup all-purpose flour
1 tsp cinnamon
1 TBSP baking powder
¾ cup milk
2 cups of sliced peaches, with or without skin(your preference)(some recipes used as many as 3 cups…I think I might do that next time)
1/3  cup packed brown sugar
¼ cup chopped pecans
Preheat oven to 350F.
Place butter into a pan. Let melt(2 recipes said to brown the butter and 3 said just to melt it…I just melted it). Place melted butter into an 8 x 8-inch baking pan.
In a small bowl, mix together 3 TBSP sugar with 1 tsp cinnamon.
In a medium bowl, mix together granulated sugar, flour, cinnamon sugar mixture, baking powder and milk. Pour this on top of the butter and do not stir just leave it be. Place the sliced peaches evenly on top of the batter. Sprinkle brown sugar and pecans on top of the peaches.
Bake for 40 minutes or until the top turns golden brown. Serve warm or at room temperature. Top with ice cream or whipped cream.
Source: a whole lot of different Southern ladies