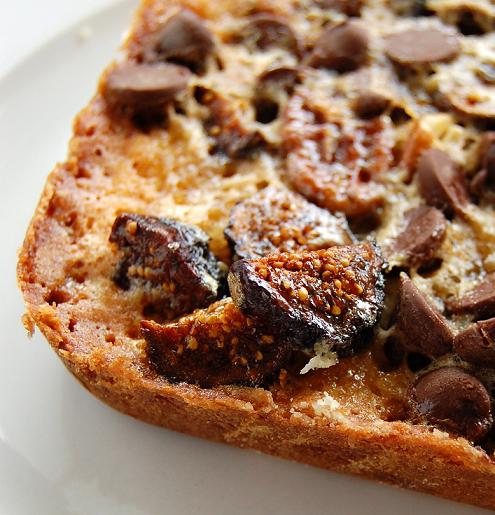 (((Hangs head in shame))) I can't remember the last time I participated in Sugar High Friday(I fear it was all the way back when I made mini homemade Pop Tarts). But when I saw that my friend and fellow hockey lover Ivonne over at Cream Puffs in Venice was hosting, I had to step up and find the time to participate. She chose figs. I envisioned some glorious tart over flowing with fresh figs…that was until I went in search of them. No fresh figs at my Farmers Market or my go to produce store. Boo. Okay, plan B. Dried figs. Again, nothing at the Farmers Market and when I asked a worker at my go to store where were the dried figs…he said they didn't carry them. I went to several grocery stores with no avail. I started to panic and had small nightmare flashes of me having to buy Fig Newtons and scrape out the filling and do something with that. Luckily, my brain got to thinking…maybe my go to store has them and the person I asked just didn't know. That was pretty much the case. For there in the bulk section were dried figs galore. Grrrr. So I scooped them up, found the clerk I had asked the week before and promptly showed him what dried figs were and where they are in the store. "Oh" was all I got.
So my mission of getting figs was finally accomplished, but what to do with them? I found a website for the Valley Fig Growers that had a lovely selection of what to do with dried figs. I settled on these bars because they possessed all things I liked…. plus they looked easy to make and I needed that as I of course had it stuck in my head that SHF was the 28th, which of course it is, but your submissions are due on the 24th!
Needless to say, I made the deadline and you can too….if you hurry.
Chocolate-Fig Pecan Bars
Makes 32 bars
2 cups all-purpose flour
3/4 cup sugar, divided
10 tablespoons butter or margarine
1 package (8-ounce) Blue Ribbon Orchard Choice or Sun-Maid Mission or Calimyrna Figs, chopped
3/4 cup chopped pecans
2/3 cup semisweet chocolate morsels
3 large eggs
3/4 cup light corn syrup
1 teaspoon vanilla extract
Heat oven to 350°F. In medium bowl, stir together flour and 1/4 cup sugar. Add butter, cut into small pieces. With pastry blender or two knives, cut butter into dry ingredients until mixture resembles coarse crumbs. (Mixture will be dry.) Press crust in bottom of lightly greased 13-x-9-inch baking pan. Bake for 15 minutes or until edges begin to brown. Sprinkle figs, pecans and chocolate morsels over crust. Lightly beat eggs, gradually beat in remaining 1/2 cup sugar, corn syrup and vanilla until well blended. Pour over crust. Return to oven for 20 to 30 minutes or until filling is firm around edges and slightly soft at center. Cool on wire rack. Cut into bars.
Source: Valley Fig Growers