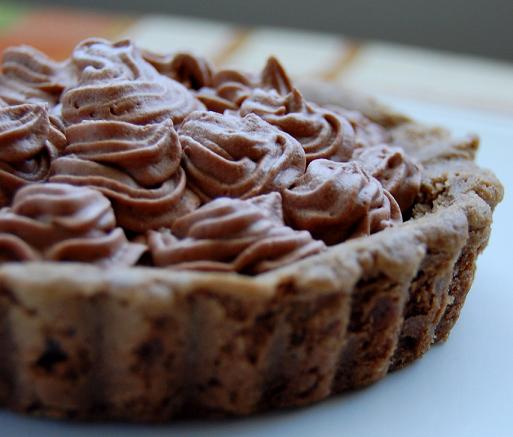 The end of the month is upon us(YAY!!! here comes Fall) and that can only mean one thing…Daring Bakers Challenge. We have returned to the land of chocolate…milk chocolate to be exact. Now milk chocolate is something I rarely bake with, why I have no idea. I mean I love to eat milk chocolate and yet I never seem to put it into anything I bake. I should probably fix that. And well this tart is a good start….a milk chocolate caramel tart to be exact.
This was a fairly simple tart with my only problem being that my caramel did not set up all that well. I was pretty solid when first taken out of the fridge but if it sat around(like it did for the photos) it began to ooze. Though, is there really anything wrong with oozing caramel…I think not! Many other Daring Bakers had problems rolling out the dough, but apparently I lucked out in that department has no issues there. This is one sweet tart, and you know if I am saying it is sweet, then it is sweet! It is very similar to eating a Milky Way bar. So if you are a fan of those you might want to break out your tart pan!
Thanks to Veron and Patricia for hosting this month's challenge. Head on over to their sites and the Daring Bakers Blogroll to see just what everyone else did!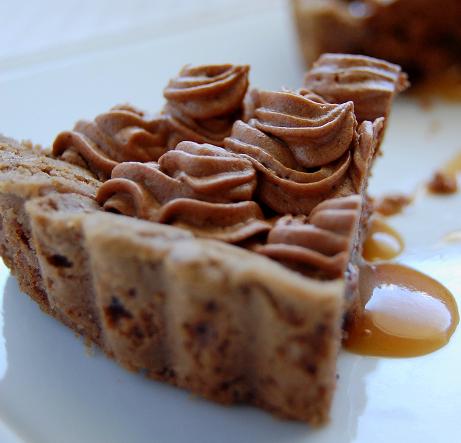 Milk Chocolate and Caramel Tart
Preparation time: 40 minutes
Baking Time: 30 minutes
Refrigeration time: 1 hour
One 9-inch(24-cm) square pan; 1 10-inch (26-cm) round baking pan
Ingredients:
½ lb (250 g) chocolate shortbread pastry (see recipe below)
1 ½ cups (300 g) granulated sugar
1 cup (250 g) heavy cream (30-40 percent butterfat) or crème fraiche
¼ cup (50 g) butter
2 whole eggs
1 egg yolk
2 ½ tablespoons (15 g) flour
1 ¼ cups (300 g) whipping cream
½ lb (250 g) milk chocolate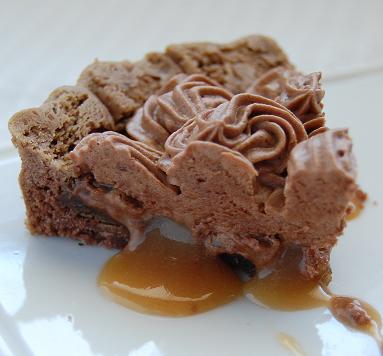 Chocolate Shortbread Pastry
Note: The Chocolate Shortbread pastry can make 3 tart shells.
Preparation time: 10 minutes
Refrigeration: overnight
To make 3 tart shells: 9 ½ inches (24 cm) square
or 10 inches (26 cm round)
Ingredients:
1 cup (250g ) unsalted butter, softened
1 cup plus 2 tablespoons (150 g) confectioners¢â¬â"¢ sugar
½ cup (50 g) ground hazelnuts
2 level teaspoons (5 g) ground cinnamon
2 eggs
4 ½ cups (400 g) cake flour
2 ½ teaspoons (10 g) baking powder
1 ½ tablespoons (10 g) cocoa powder
A day ahead
1. In a mixing bowl of a food processor, cream the butter.
2. Add the confectioners¢â¬â"¢ sugar, the ground hazelnuts, and the cinnamon, and mix together
3. Add the eggs, one by one, mixing constantly
4. Sift in the flour, the baking powder, and the cocoa powder, and mix well.
5. Form a ball with the dough, cover in plastic wrap, and chill overnight.
Insturcitons:
1. Preheat oven to 325 °F (160 °C).
2. Line the baking pan with the chocolate shortbread pastry and bake blind for 15 minutes.
3. In a saucepan, caramelize 1 cup (200 g) granulated sugar using the dry method until it turns a golden caramel color. Incorporate the heavy cream or crème fraiche and then add butter. Mix thoroughly. Set aside to cool.
4. In a mixing bowl, beat the whole eggs with the extra egg yolk, then incorporate the flour.
5. Pour this into the cream-caramel mixture and mix thoroughly.
6. Spread it out in the tart shell and bake for 15 minutes. Remove from oven and allow to cool.
7. Prepare the milk chocolate mousse: beat the whipping cream until stiff. Melt the milk chocolate in the microwave or in a bain-marie, and fold it gently into the whipped cream.
8. Pour the chocolate mousse over the cooled caramel mixture, smoothing it with a spatula. Chill for one hour in the refrigerator.
To decorate: melt ½ cup (100g) granulated sugar in a saucepan until it reaches an amber color. Pour it onto waxed paper laid out on a flat surface. Leave to cool. Break it into small fragments and stick them lightly into the top of the tart.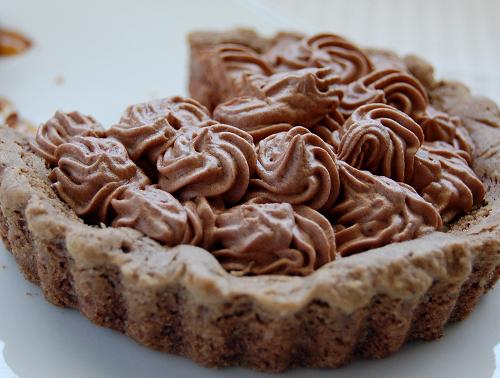 Alternate Caramel Method:
If you have problems with the dry method, you may use this method.
1 cup sugar
1/2 cup water
1 tablespoon corn syrup
Set mixture in a pot over medium-high heat and stir slowly. When the mixture comes to a boil, stop stirring and leave it alone. Wait till desired color is attained .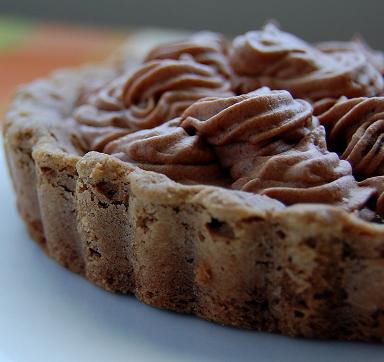 Source: Eric Kayser¢â¬â"¢s Sweet and Savory Tarts