This Strawberry Mirror Cake is a sponge cake with strawberry bavarian cream and topped with a clear strawberry gelatin mirror top.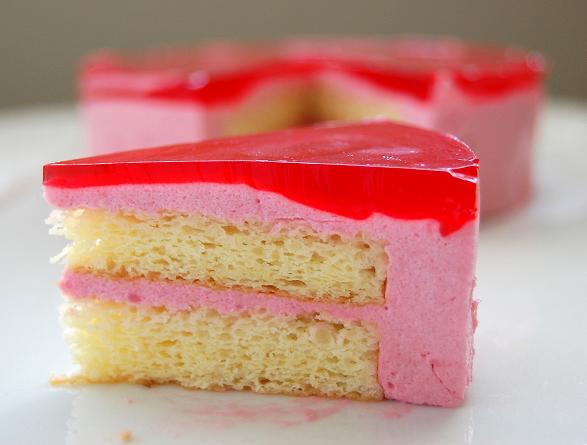 Mirror, mirror on the wall…who almost missed her own challenge and all?
Yep, that would be me.
I am the host of this month's Daring Bakers challenge and I almost didn't get the challenge done.
You see, my ankle isn't all that fond of being stood on for long periods of time.
And well, this cake is a little time consuming.
Deciding what to do for the challenge is quite a daunting experience.
It's your one chance to try to pick something that will be difficult enough that people feel challenged by but not overwhelmed by.
Something that taste good and they will actually eat.
And something that says a little something about you the host (pink is my favorite color and strawberries are my favorite fruit).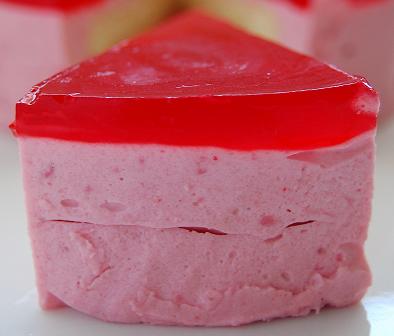 I chose this Strawberry Mirror Cake mainly for the fact that, here in the states, it is Summer.
And this cake said Summer to me.
Even though it uses a ton of eggs you wouldn't really know it.
It is light and airy and scented with strawberries.
Other than standing on my ankle and it getting mad and swelling up, I had no problems with this challenge at all.
I know others did though(you can read about their adventures by visiting the Daring Baker blog roll…see end of this post).
This cake is time consuming, not gonna lie.
I did break it up into 2 days to make it more manageable.
I suggest you do that as well.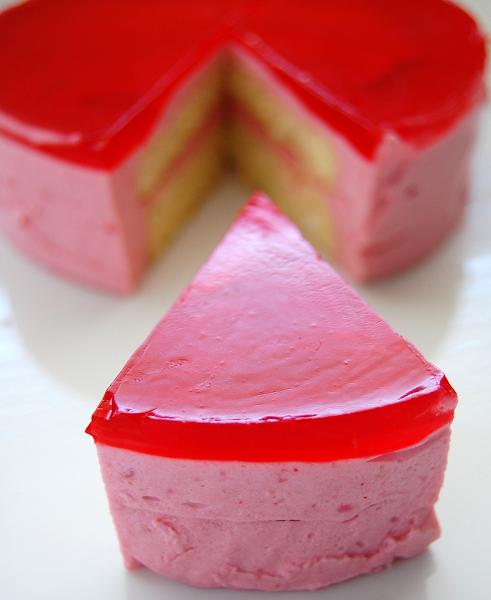 The first day I made the sponge cake(froze the layers) and made the strawberry puree.
Then did everything else the next day.
I chose to make mini ones, using 4 ½ inch springform pans.
It worked out perfectly as I ate them for breakfast, lunch and for dessert with dinner 😛
Sorry such a short post but I have a killer migraine and staring at a computer screen isn't really helping all that much!
P.S. It's a great day to buy my cookbook Holy Sweet!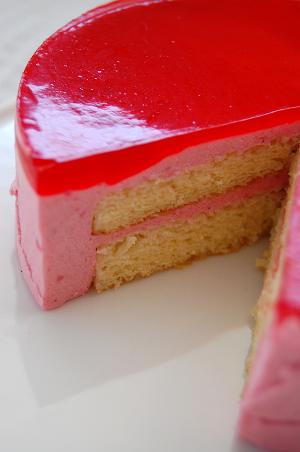 Want More Strawberry Cake Recipes?
Strawberry Shortcake Layer Cake
Classic White Cake with Fresh Strawberry Buttercream
Strawberry Lemonade Layer Cake
Cake Batter Angel Food Cake with Strawberry Jam Icing
Strawberry Mascarpone Buttermilk Layer Cake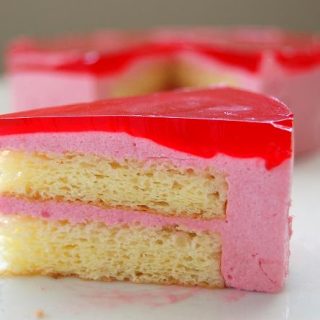 Strawberry Mirror Cake
Ingredients
For the Cake:
3 eggs
3 egg yolks
¾ cup sugar
1 tsp vanilla extract
3 egg whites
1/8 tsp cream of tartar
2 TBSP sugar
2/3 cup sifted cake flour
For the Soaking Syrup:
½ cup water
1/3 cups sugar
2 TBSP kirsch or strawberry liqueur
For the Strawberry Bavarian Cream:
2 ½ TBSP unflavored gelatin
1 ½ cups strained strawberry puree (1 ½ baskets)
5 egg yolks
2/3 cup sugar
1 ½ cups milk
1 TBSP lemon juice
several drops of red food coloring
1 ¾ cups whipping cream
For the Strawberry Mirror:
1 tsp lemon juice
1 TBSP kirsch
1 TBSP water
1 TBSP unflavored gelatin
Few drops of red food coloring
For the Strawberry Juice:
1 ½ pints of strawberries ( 18 oz)
¾ cup sugar
¾ cup water
Instructions
For the Cake:
Preheat oven to 450F.
Butter and flour the sides of an 11-by-17 inch jelly roll pan(rimmed baking sheet).
Line bottom of pan with a sheet of parchment paper cut to fit bottom pan exactly.
Beat eggs, egg yolks and ¾ cup sugar together in a medium bowl until thick and light. Beat in the vanilla.
In a separate bowl, beat the egg whites until foamy, ad cream of tartar and beat until whites begin to form peaks. Add the 2 TBSP sugar and beat until the whites hold stiff, glossy peaks(do not over beat).
Sift flour over the egg yolk mixture and fold in .
Stir in one fourth of the whites. Then carefully fold in the remaining whites.
Spread batter evenly in pan. Bake until light brown and springy to touch (7 to 10 minutes). Cool in pan 5 minutes. Run a knife along edge to loosen. Invert cake tin to cut out 8 ¼ inch circles of cake.
Wrap the cake layers, separated with waxed paper, and set aside. Cake may be frozen at this point.6
To make soaking syrup:
Combine water and the 1/3 cup sugar in saucepan; bring to a boil to dissolve sugar.
Cool to room temperature; flavor with liqueur.
Set aside or refrigerate in glass jar until ready to use.
For the Strawberry Bavarian Cream:
Sprinkle the gelatin over the strawberry puree in a small bowl and set aside until spongy.
Combine egg yolks and sugar in a bowl and beat until light.
Bring milk to a boil in saucepan.
Pour hot milk into yolk mixture and stir with a wooden spoon(it doesn't say so but I would temper the egg mixture first to be safe).
Return this mixture to the saucepan and cook over medium heat, stirring constantly, until your finger leaves a clear trail in sauce when drawn across the back of the spoon.(Do not boil or mixture will curdle.)
Immediately remove from heat and stir in softened gelatin mixture.
Pour into a stainless steel bowl places over a bowl of ice water.
Stir in lemon juice and a few drops of red food coloring.
Cool over ice water, stirring occasionally, until mixture thickens to the consistency of softly whipped cream.
While gelatin mixture is cooling, whip the whipping cream until it holds soft peaks. When the gelatin mixture resembles softly whipped cream, fold the whipped cream into the gelatin mixture.
To assemble cake:
Brush sides of 10-inch springform pan lightly with flavorless oil or almond oil.
Cut out a cardboard circle that is exactly the same size as the bottom inside of the pan; cover cardboard with aluminum foil and fit into bottom of pan.
Center one layer of the cake bottom of pan.
Brush the cake with some of the soaking syrup to just moisten(not drench) the cake; set aside.
Immediately pour about half of the Bavarian Cream over the first layer of cake in the pan. Set the next layer of cake on top of the cream.
Pour remaining Bavarian Cream over cake and smooth top of the cream with spatula. Refrigerate until the cream sets (1 to 2 hours).
Prepare the Strawberry Mirror.
For the Strawberry Mirror:
Prepare strawberry juice.
Wash and hull strawberries; coarsely chop.
Place strawberries in saucepan; crush to start juices flowing.
Place over low heat; add sugar and water; simmer slowly 10 minutes.
Pour juice and pulp through damp jelly bag or cheesecloth-lined colander and drain into a bowl for 15 minutes( Do not press down on fruit).
Place lemon juice, kirsch, and water in a small bowl. Sprinkle gelatin over this mixture; set aside until spongy and soft.
Measure 1 ½ cups Strawberry juice into a small saucepan and bring to a simmer; pour over gelatin mixture and stir to dissolve gelatin. Tint to desired color with red food coloring.
Place bowl over bowl of ice water and stir occasionally until the mixture is syrupy and just beings to thicken (do not let jell); remove from ice water.
When mixture is syrupy, pour a 1/16-inch layer over the top of cake. Refrigerate until set.
To serve:
Wrap a hot towel around the outside of springform pan for a few minutes.
Run a small sharp knife tip around the edge of the Strawberry Mirror to separate it form the sides of pan.
Mirror will tear when sides are unlatched if it is stuck at ANY point.
Slowly unlatch the pan and slide it off the cake.
Slice cake in wedges and serve in upright slices.
Notes
Adapted from Cakes and Pastries At The Academy by the California Culinary Academy 1993
Â