These Andes Chocolate Mint Cookies are a fudgy, chewy chocolate cookie with Andes Mints swirled on top. Perfect for chocolate mint lovers.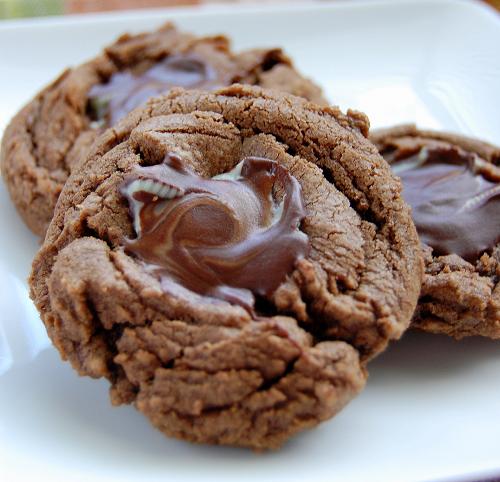 Since my (now ex) husband is so picky, I often have to try out my experiments on other people.
More often than not, it is usually referees I work with.
One referee in particular gets a lot of snacks.
Number one, he is young and has no one to bake for him.
Two, he contributes money to help with the cost of the baked goods (so unlike a 20 year old…he was raised right).
Three he eats pretty much anything I throw his way, with much enthusiasm (the kind I wish my now ex husband would show).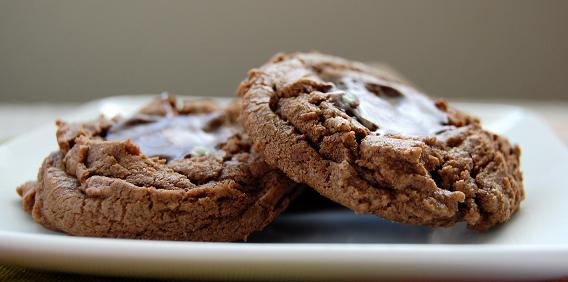 Sadly for me, that referee is leaving this week.
He got a job offer to go work in Chicago for junior hockey and eventually I suspect the AHL and then the NHL.
He is a funny kid and I will miss working with him as he usually makes the night seem to go by quicker for me.
In light of him leaving, I had a small baking frenzy, making his favorites and also trying out something new since one of my guinea pigs is leaving.
I had made some mint cookies at Christmas time and I remember him really liking them so I wanted to make something mint.
Well, July is not the time of year to find many mint items.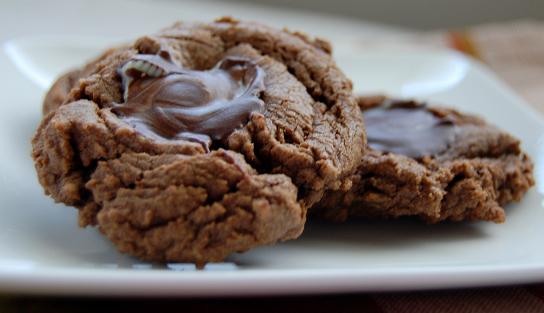 However, year round there are Andes Mints.
I searched the Internet and found these cookies that had lots of stars by the name.
There I found the exact recipe a few times.
Each person on the site claiming the recipe to be their own, so I am not sure who's recipe this really is.
But I will tell you I know why it got so many stars.
These Andes Chocolate Mint Cookies are fudgy, chewy, moist and with just a hint of mint they really hit the spot.
My experimental cookie went over well with the referee.
A good cookie to send him off with.
Tonight is my last night working with B (the ref).
I wish him all the best and I hope he can find a new person to bake for him 🙂
And I hope I can find someone who is willing to eat anything I give them.
It's a great day to buy my cookbook.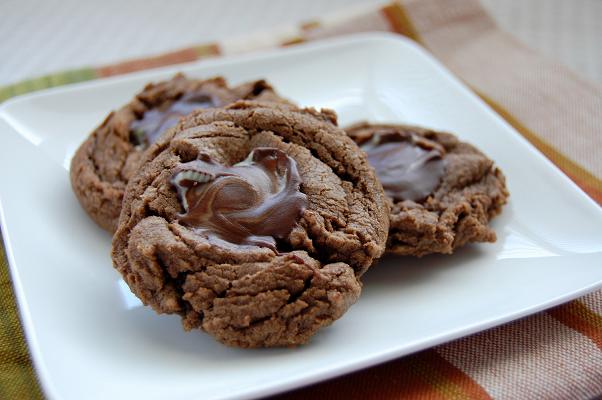 Want More Cookie Recipes?
Vanilla Bean Caramel Thumbprint Cookies
Cranberry Orange Pistachio Cookies
Orange Molasses Spiced Cookies
Double Chocolate Rainbow Chip Cookies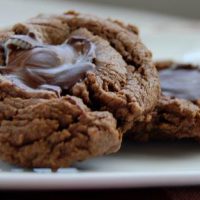 Andes Chocolate Mint Cookies
Ingredients
3/4 cup butter
1 1/2 cups packed brown sugar
2 tablespoons water
12 ounces semi-sweet chocolate chips
2 large eggs
2 1/2 cups flour
1/2 teaspoon salt
1 1/4 teaspoons baking soda
Andes mints candies, broken in half
Instructions
Heat oven to 350°F.

In a medium sized saucepan over low heat, combine butter, sugar and water.

Heat until melted and add chocolate chips until partly melted.

Remove from heat and stir.

Pour into large mixing bowl (I used my stand mixer bowl).

Let stand 10 minutes to cool slightly.

Using a stand mixer with the paddle attachment or with and electric hand mixer beat in the eggs one at a time on high speed.

Reduce mixer to low speed and add flour, salt and baking soda.

Beat until well-blended.

Chill one hour (dough is almost liquid before chilling but hardens and is easy to shape after chilling).

Roll into balls, place two inches apart on parchment paper-lined baking sheets.

Bake for 10 minutes.

Place an Andes Mint half on top.

Allow the Andes Mints to melt slightly and spread with a spoon.