A Gateau Basque (Basque Cake) is filled with a vanilla rum pastry cream and cherry jam all encased in a buttery pastry like cake.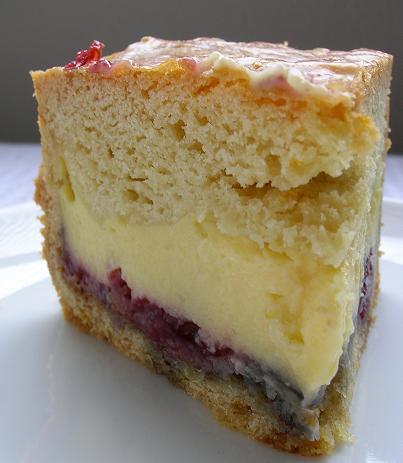 Gateau Basque (Basque Cake) is probably a cake you are unfamiliar with.
Unless you have to been to France lately.
Partially because it seems complicated to people.
I would say it's medium difficulty.
As in, if you are just getting into baking it might be a challenge.
But if you have been baking for awhile this will be no problem.
What I love most about this cake is the cake part.
Because it's half pastry half cake.
It makes such a yummy crust.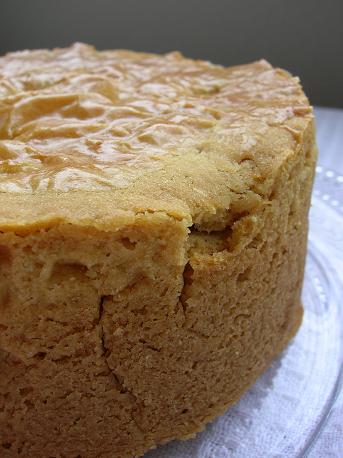 There are some recipes I always say I am going to make, every time I pass it in the cookbook, yet never do.
I know you do this too.
I have hundreds of must make neglected recipes.
So while flipping through American Boulangerie I ran across my giant pink sticky note starring me down.
There was a beautiful custard filled cake that I have told myself a dozen times I would make.
As it would happen I recently received a jar of homemade black cherry jam…and well, the recipe calls for black cherry jam.
The light bulb went off above my head and I set out to make this south of France treat.
My first problem was that I had no flan ring. I used a 4 1/2-inch springform pan (to make 2 of them).
So my top crust was WAY more thick than it should be(not that it was a real problem, it just didn't look like the top in the cookbook).
If you are a pastry cream fan, you will enjoy this dessert, as the majority of it is pastry cream or as I like to call it next pants size up please cream.?
I was most fascinated by this dessert because the pastry cream is baked, not something that happens to pastry cream that often.
Oddly enough it pretty much tastes the same as when it is unbaked.
If you are anti-alcohol you can easily leave out the rum.
P.S. It's a great day to order my cookbook.
Want More Cake Recipes?
Circus Animal Cookie Layer Cake
Strawberry Mascarpone Buttermilk Layer Cake
Chocolate Salted Caramel Popcorn Layer Cake
Caramel Corn Caramel Layer Cake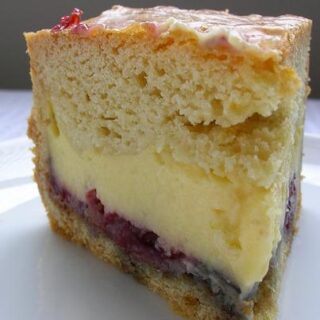 Gateau Basque
Ingredients
Pastry :
4 ounces unsalted butter, at room temperature
1/2 cup sugar
freshly grated zest of 1 lemon
1/8 tsp salt
1 extra-large egg
1 extra-large egg yolk
1 1/2 cups all-purpose flour
1 tsp baking powder
Filling:
1/4 cup plus 2 TBSP sugar
1/4 cup all purpose flour
4 extra-large egg yolks
1 3/4 cups whole milk
1 vanilla bean, split lengthwise and scraped
1 TBSP light rum
1/2 tsp almond extract
3/4 cup black cherry preserves
1 egg, beaten, for egg wash
Instructions
To make the pastry:
In a bowl of an electric mixer fitted with the paddle attachment, cream the butter, sugar, lemon zest, and salt on low speed, until smooth.
Add the egg and egg yolk and mix until blended. In a small bowl, whisk together the flour and baking powder.
Add the flour mixture to the butter mixture and mix on low speed until a soft dough forms.
Turn the dough out onto a lightly floured work surface and divide it into two pieces.
Wrap in plastic wrap, and refrigerate until firm, at least 30 minutes.
To make the filling:
In a medium bowl, whisk together the sugar and flour.
Add the egg yolks and 1/4 cup of the milk and whisk until smooth.
In a medium saucepan, heat the remaining 1 1/2 cups milk with the vanilla bean and its scrapings, until steaming.
While whisking, pour 1/2 cup of the hot milk into the yolk mixture.
Whisk the yolk mixture back into the hot milk and cook over medium heart, whisking, until boiling and thick, about 4 minutes.
Strain the filling through a fine mesh sieve into a bowl.
Discard the vanilla bean.
Stir in the rum and almond extract.
Place a piece of plastic wrap directly on the surface of the pastry cream to prevent a skin from forming and refrigerate until cool, at least 2 hours and up to 6 hours.
Preheat the oven to 325F.
Set a 9-inch diameter flan ring with 1-inch sides on a baking sheet lined with parchment paper.
Spray the inside of the pan with vegetable oil spread.
Working between two piece of plastic, roll out the larger disk of dough to an 11-inch round.
Remove the plastic wrap and ease the dough into the flan ring, pressing it into the corners and leaving the overhang.
Spread the preserves evenly over the bottom of the pastry shell.
Add the pastry cream in dollops and then carefully spread it over the preserves.
Working between two more pieces of plastic wrap, roll out the second disk of dough to a 10 inch round and lay it over the pastry cream.
Press the edges of the top and bottom crust together and cut off the overhang using the back edge of of a knife.
Using the tines of a fork, lightly score the top crust in a crosshatch pattern.
Brush the top of the tart with the remaining egg wash.
With the tip of a knife, poke 3 holes in the top to allow steam to escape.
Bake in the center of the oven for 55 minutes or until the top is golden brown.
Transfer the baking sheet to a wire rack and let the tart cool completely.
Serve at room temperature or chilled, cut into wedges.
Notes
Adapted from The American Boulangerie by Pascal Rigo and the Bakers of Bay Bread, 2003