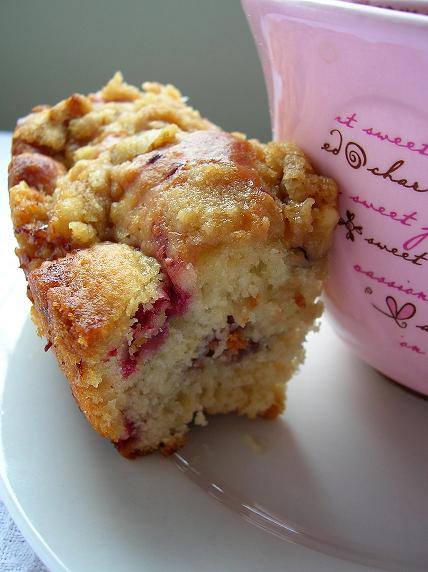 …and I didn't even notice it, my 2 year blog anniversary that is. So very hard for me to believe that it has been 2 years. It really only seems like a year to me because I didn't really start getting into my blog until last Summer. I hope I've accomplished what I set out to achieve…provide yummy recipes that people would not be intimidated to make. Oh sure there are far better sites than mine that make fantastic looking desserts(that are so impractical for the everyday person to make) so I made it my goal that everyone reading my blog could easily make about 85% of the food I put on here. Oh sure occasionally I slip back to my pastry roots and go a little overboard but for the most part I "try" to keep on the doable side.
So with that I chose a very simple yet tasty coffee cake to celebrate my 2 year blog anniversary. A recipe courtesy of everybody's beloved Dorie Greenspan. I made this to take to "coffee chat," a monthly event they have for the seniors at my athletic club. Having been going to the arthritis classes I was allowed/encourage to come to the coffee chat. So naturally I went, I would hate to miss out on any of the current gossip. 😛 The recipe in the book calls for blueberries(which I am allergic to raw blueberries) but I went with raspberries. Any berries will work but not strawberries because of their high water content. It was moist and sweet but not dessert sweet, which is perfect for going with coffee and gossip.
Anyway, thanks to all of you who read my blog…long time readers and newbies a like. Here's to another 2 years of butter and sugar ladened fat filled food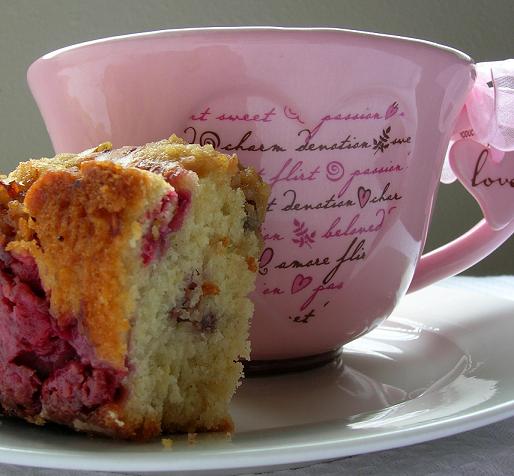 Raspberry Crumb Cake
For the Crumbs:
 5 TBSP unsalted butter, at room temperature
¼ cup sugar
1/3 cup packed brown sugar
1/3 cup all purpose flour
¼ tsp salt
½ cup chopped walnuts
For the Cake:
2 cups raspberries, fresh
2 cups plus 2 tsp all-purpose flour
2 tsp baking powder
½ tsp baking soda
¼ tsp salt
¼ tsp ground cinnamon
1/8 tsp freshly grated nutmeg
2/3 cup sugar
grated zest of ½ lemon
¾ stick unsalted butter, at room temperature
2 eggs
1 tsp pure vanilla extract
½ cup buttermilk
Center a rack in the oven and preheat the oven to 350F. Butter an 8 inch square pan and put it on a baking sheet.
For the Crumb: Put all the ingredients except the nuts in a food processor and pulse just until the mixture forms clumps and curd and holds together when pressed. Scrape the topping into a bowl, stir r the nits and press a piece of plastic against the surface. Refrigerate until needed.
To make the cake: Using your fingertips, toss the raspberries and 2 tsp of flour together in a small bowl just to coat the berries; set aside. Whisk together the remaining 2 cups of flour, baking powder, baking soda, salt, cinnamon and nutmeg.
Working in the bowl of a stand mixer, rub together the sugar and zest together with your fingertips until the sugar is moist and aromatic. Add the butter and, with the paddle or whisk attachment, or with a hand mixer, beat the sugar with the butter at medium speed until light, about 3 minutes. Add th eggs one by one, beat for about 1 minutes after each addition, then beat in the vanilla extract. Don't be concerned if the batter looks curdled-it will soon smooth out. Reduce the mixer speed to low and add the flour mixture and the buttermilk alternately, the flour in 3 parts and the buttermilk in 2(begin with the dry ingredients). You will have a thick, cream batter. With a rubber spatula, gently stir in the berries.
Scrape the batter into the buttered pan and smooth the top gently with the spatula. Pull the crumb mix from the refrigerator and, with your fingertips, break it into pieces. There's no need to try to get even pieces-these are crumbs, they're supposed to be lumpy and bumpy and every shape and size. Scatter the crumbs over the batter,. Pressing them down ever so slightly.
Bake for 55 to 65 minutes, or until the crumbs are golden and thin knife inserted into the center of the cake comes out clean. Transfer the cake to a rack and cool just until it is warm or until it reaches room temperature.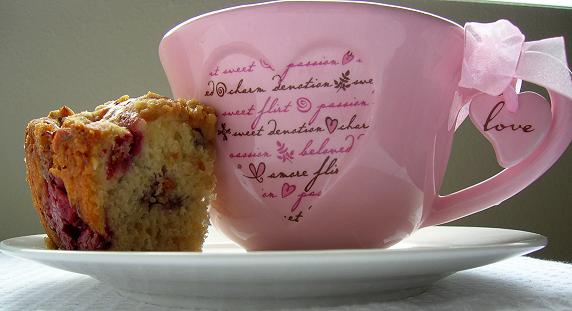 Adapted from Baking From My Home To Yours by Dorie Greenspan, Houghton Mifflin 2006