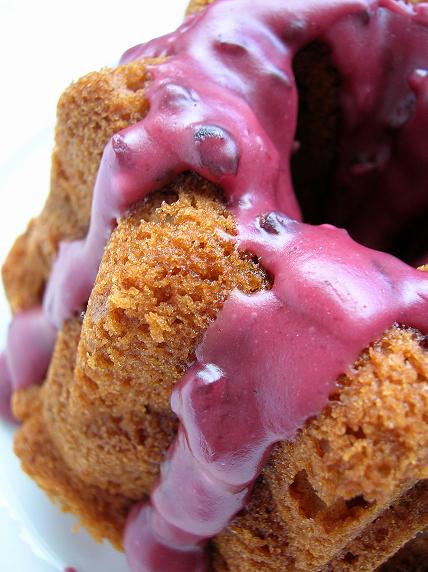 I decided that I had better make something with sugar before I started to make poor Jeff over at C is for Cooking worry about me. It's not that I haven't been making things with sugar, I have just been making things that have already been on my blog…so I can't put them up again. In case you were wondering what those were: blackberry cobbler, peanut butter chocolate chip cake and my mom's banana bread. So not to worry, sugar has been in my system 🙂
I had tagged this cake awhile back when a friend had given me some homemade blackberry jam. As with most recipes I mark them and then they go and get lost into the dark corners of my mind. But as I was searching for something else in my pantry I ran across the jam and immediately remember the blackberry jam cake. It is a Bundt cake and therefore by definition is easy to make. The only thing I would change the next time I make it would be to run the jam through a sieve. The seeds in this batch were quite big and noticeable when you are eating the cake. I think this cake would go well with pretty much any jam you threw it's way.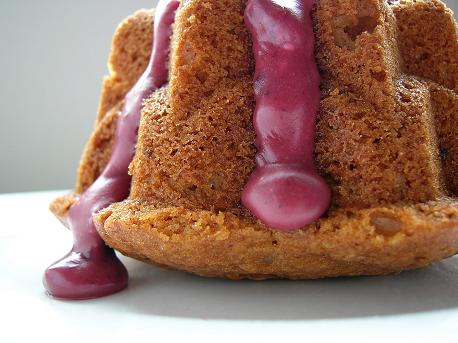 Blackberry Jam Cake
1 cup unsalted butter, room temperature
1 ¾ cup sugar
4 eggs
2 tsp vanilla extract
1 tsp baking soda
3 cups cake flour
1 ½ tsp ground cinnamon
pinch of salt
½ tsp fresh nutmeg
¾ cup sour cream
1 cup blackberry preserves
Preheat oven to 300F.
Cream together butter and sugar. Add eggs one at a time and scrape down the bowl after each egg. Add the vanilla a beat for another 30 seconds.
Sift together flour, cinnamon, nutmeg, salt and baking soda.
Add to butter mixture alternately with sour cream, beating after each addition. Fold in the blackberry preserves.
Pour into a buttered and floured 10-inch bundt or tube pan(I used mini). Bake at 300F for 15 minutes. Increase heat to 350F and bake until done(40-50) minutes. If making the mini bake about 10 minutes less. Cool in pan 10 minutes. Turn out onto wire rack to finish cooling.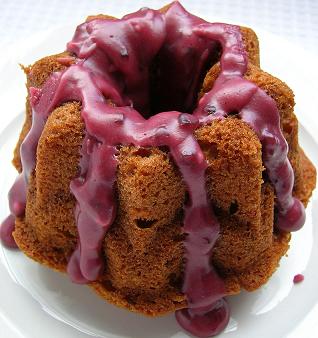 If you want to make the glaze(no real recipe) simply heat up some jam. Remove the jam from the heat when it has melted and sprinkle in some powdered sugar until you reach a consistancy you are happy with.
Adapted from Cakes and Pastries at the Academy by California Culinary Academy