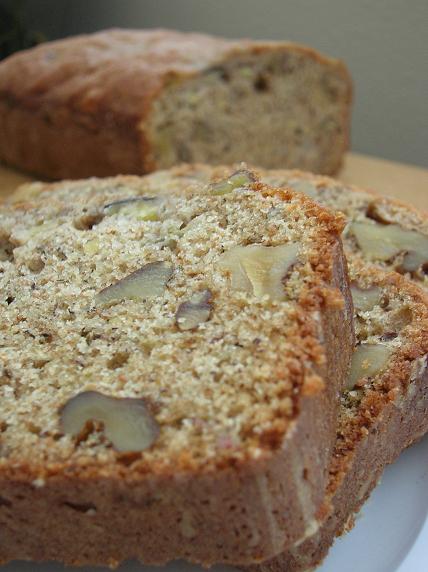 So, I know that I already posted my mother's banana bread recipe. But back when I wrote it I had about in June of this year when I had about 5 people reading my blog and I had no idea how to use my camera and the pictures were dreadful(not that the new ones are so great, but they are much better). So I thought I would give it another go. I like her recipe because it is like no other that I have ever had. She uses graham flour, which is a whole wheat flour, but better with a very distinct taste. If you are thinking, do they make graham crackers with graham flour….the answer is yes. Lots of people have used this recipe and choose not to use the graham flour because they can't find it….please try to find the graham flour, it makes such a difference.
So when World Bread Day was featured on Kochtopf I decided that I would dust it off and throw out the banana bread recipe again since you really can't get the bread anywhere that I know of(I'm sure somewhere, some bakery makes it). My mom was not much of a bread baker in the traditional sense….she was not one for yeast breads, mostly quick breads. This is the bread she was known for(now known for her coconut bread which I will post one of these coming months). It was always a special treat for us because back then it was extremely hard to find graham bread(not like today where grocery stores carry all sorts of different flours). Now you can find it at the more upscale grocery stores(I buy mine at Central Market). If you can't find it at a store you can purchase it here.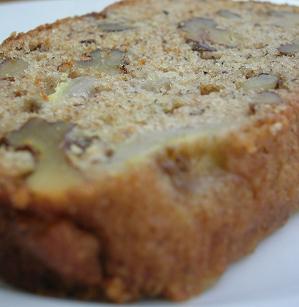 Graham Flour Banana Bread
1/3 cup shortening(don¢â¬â"¢t use butter¢â¬¦it isn¢â¬â"¢t the same in this recipe)
1/2 cup granulated sugar
1/4 cup brown sugar
2 eggs
1 cup graham flour
3/4 cup all purpose flour
1 tsp baking powder
1/2 tsp salt
1/2 tsp baking soda
1 cup mashed ripe bananas
1 cup or more of chopped walnuts
Preheat oven to 350 F
In a large bowl cream together the shortening and sugars. Add the eggs and beat well. Sift together the flours, baking soda, salt, baking powder and add to creamed mixture. Stir until mixed. Stir in bananas and walnuts.
Pour into well greased(and lightly floured) 9X5X3? pan. Bake for about 50 minutes or until done.
Source: my mom
All text and images on this site have ALL RIGHTS RESERVED Copyright (c) 2006 by Peabody Rudd.