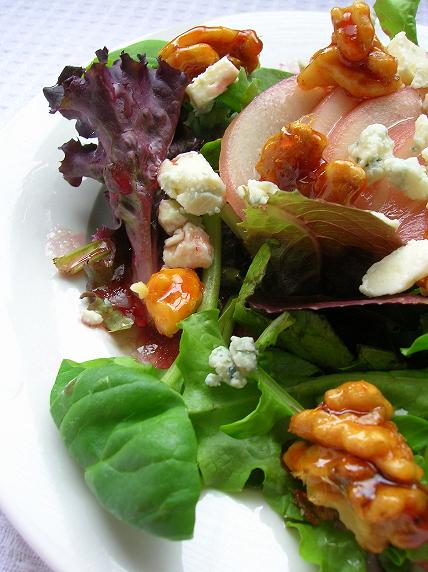 "You can order something other than salad….you know that right?" These were the words spoken to me by my now husband after dating for about 3 weeks. Everywhere I went I was ordering salad. I wasn't trying to be polite or watching my weight, I just happened to really like salad. Problem was as a single girl my ingredients in my fridge would always spoil before I could use them….so I usually only had salad when I went out to eat. He kept taking me out to eat. I kept eating salad. I still to this day don't make it at home as much as I would eat it because(and this will be shocking) my husband doesn't like salad. So if I do have salad, it is usually for lunch when Mr. No Palate is not around.
I've been very bad lately about participating in blogging events. Seems I always remember to do it the day(or week) after the fact. But the Salad Stravaganza(co-hosted by Lisa and Kelly) was publicized enough to the Daring Bakers that I had enough gently reminders to get mine in. This is a salad I like to make for company. The poached pear for some reason is very exciting to them(it's not hard people). When I am feeling ambitious(not today) I usually make a blue cheese fritter to go along with it….but it was warm so the idea of standing in front of frying oil was not appealing. This salad has a lot of flavors occurring but they marry nicely together. And as usual, my salad is not low fat. 😛
Have a salad recipe you want to share? You too can be part of the Salad Stravaganza. Just head on over to either La Mia Cucina or Sass and Veracity to get more information.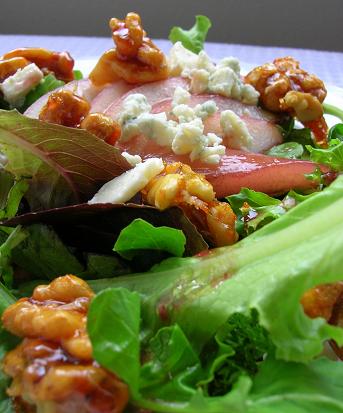 Poached Pear Salad with Blue Cheese, Spiced Caramel Walnuts and Blackberry Jam Vinaigrette
Ingredients:
Salad greens
poached pears(recipe follows)
blackberry jam vinaigrette(recipe follows)
spiced caramel walnuts(recipe follows)
blue cheese( however much you like)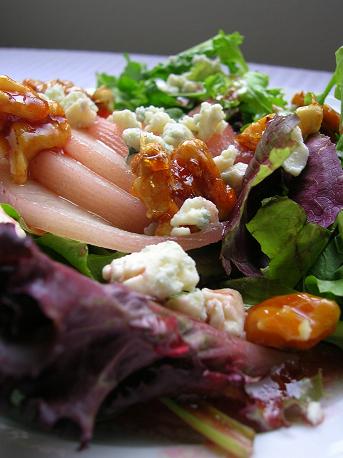 Poached Pears
2 ripe Green Anjou pears, cut in half and cored
1 ½ cups Pinot Gris(I used A to Z from here in the PNW)
1/3 cup sugar
1/3 cup Port wine
2 whole cloves
Bring wines, sugar and cloves to a boil(making sure the sugar dissolves) and then bring to a simmer. Poach pears for 15 minutes. Remove ¾ cup of the liquid and reserve. Leave the pears in the liquid while you prepare the rest of the salad.
Blackberry Jam Vinaigrette
¾ cup poaching liquid from the pears
2 TBSP cider vinegar
¾ cup olive oil
1 tsp garlic
¼ cup blackberry jam
Cook reserved pear liquid(make sure no cloves are in there) until reduced by half. In a blender or Cuisinart mix reduction with blackberry jam, vinegar, garlic and some salt to taste. While blender is running, slowly add the oil.
Spiced Caramel Walnuts
1 cup walnuts
½ cup sugar
½ tsp chile powder
½ tsp sweet paprika
1 tsp sea salt
Combine sugar with the spices. Place into a saucepan and turn on medium heat. Watch carefully to see the sugar start to caramelize around the edges of the pan. When that happens throw in the walnuts and stir. When they are coated in caramel spread onto a pan that has been covered in parchment paper. Once it is completely cooled, break into pieces.
To put the salad together:
 Place a little bit of vinaigrette onto the bottom of the plate(this insures that the bottom greens get some of the good stuff too). Slice poached pear half in half. The slice each quarter and fan out placing it in the middle of the greens. Garnish with walnuts and blue cheese crumbles. Drizzle desired amount of vinaigrette.