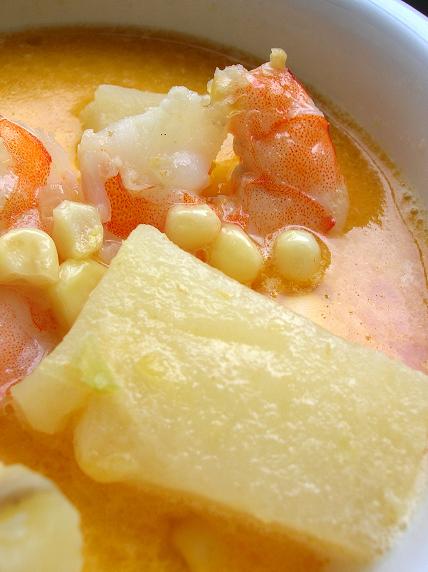 Summer is here. The lines for the cardio machines at the gym are so long, you would think they were waiting to get on the Matterhorn or Space Mountain rather than the stair-climber. Bikini weather is soon upon us and so many people are frantically exercising and eating salads squirted with lemon instead of dressing for their every meal. If however, you feel your pants are too loose, than I have just the thing(actually probably everything on my blog could do the trick).
Fresh corn is every where right now and so to mix it up from my usual way of making it(just sauted in butter with salt and a pinch of cream) I decided that corn chowder sounded good. I have made this several times. It is best with lobster of course, but I was cheap this time around and used shrimp. I use lobster stock, which if you don't have or your store does not carry it, use fish stock or even vegetable stock in it's place. The more people you have this to share with the better. I on the other hand had no one(since my husband doesn't like soups of any kind) and so I was forced to eat half of the pot in one day. I wont have to worry about my pants being loose anytime soon.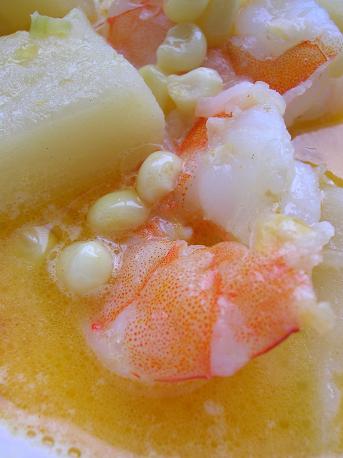 Oh, and I have never made this low fat so I have no idea how that would turn out. I wouldn't suggest it, but then again I rarely suggest anyting be fat free.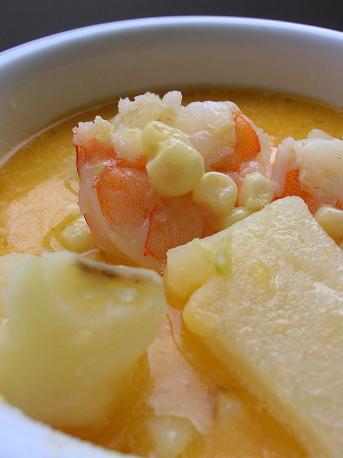 Grilled Corn and Shrimp Chowder
¼ cup diced celery
¼ cup diced onion
¼ cup diced carrot
1 garlic clove, chopped
¼ cup of butter plus one TBSP
2 cups russet potatoes, peeled and chopped
½ tsp coriander
a dash of white pepper
sea salt to taste
4 cups of lobster stock(or fish stock if you don't have lobster stock)
1 TBSP chicken flavor base
2 ½ cups heavy cream
¾ pound of shrimp, raw, peeled and deveined 
1 ¾ cup grilled fresh corn, cut off of the cob after grilling
1.In a large stock pot, cook celery, carrot, onion and garlic in 1 TBSP of butter. Saute for about 5 minutes, until tender.
2.Add potatoes, coriander, white pepper and lobster stock. Bring to a boil. Cover and reduce to a simmer. Simmer for about 30 minutes, while the stock reduces.
3.Add chicken base, cream and ¼ cup butter(bad I know but really good). Simmer another 20 minutes.
4.Check soup to see if it needs salt, it might not.
5.Stir in the shrimp and the corn. Wait for shrimp to turn pink and curl up, about 2 minutes.
6.Ladle into bowls and sprinkle with parsley or maybe crumbled bacon(mmm) if desired.