This Chocolate Walnut Caramel Cake is more pastry than cake. Filled with a caramel walnut filling in sweet dough covered in chocolate glaze.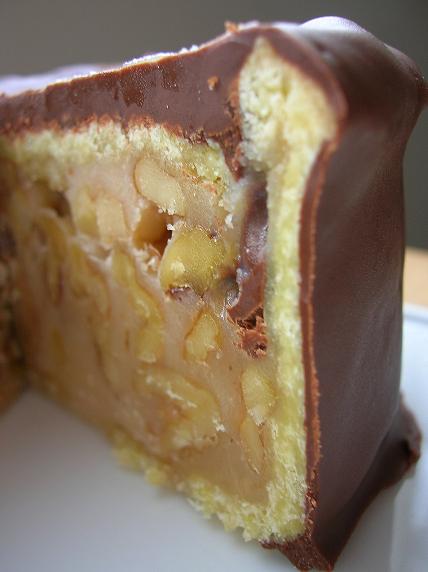 I must remind myself not to take on big pastry projects when I am watching the season finale of one of my shows.
And speaking of TV show finales, it is MARCH.
What is up with shows starting in late October and then taking a break in December.
And a bread part of January and then they are done in March!
Does anyone else remember the days of a show starting September and going till May?
When shows had 26 episodes a season.
Okay enough about that.
My point was I got all into watching What About Brian and I forgot a step in the recipe.
Not an important one luckily, but a step nonetheless.
I forgot to spread the apricot preserves over the pastry.
Which I can not say for sure would have really made that much difference in the taste.
Though the apricot preserves probably would cut some of the sweetness.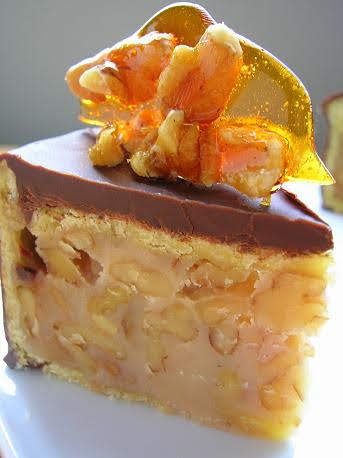 I skipped it accidently.
Be sure to not skip that step.
I'm not sure what made me want to make this.
The recipes comes from my days in pastry school.
When we did things like this all the time.
We also pulled hot sugar and I didn't have fingerprints for ten plus years…true story.
They were burnt right off!
But I guess I was just in the mood for a multi-step recipe.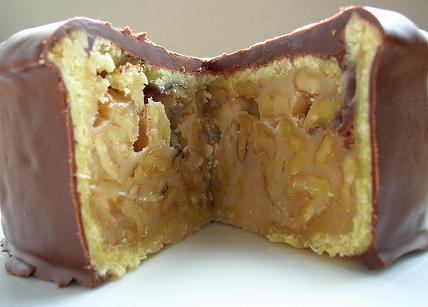 I know, I know…most people are looking how to simplify their life.
Apparently, I look how to complicate it.
I mean don't most recipes have 46 steps? 🙂
It is called a cake but not really in my opinion.
It's definitely pastry.
A buttery, melt in your mouth pastry.
This Chocolate Walnut Caramel Cake sweet pastry dough that is wrapped around a gooey caramel walnut filling.
Then has chocolate glaze dumped on it, ha, dumped on it (no wonder I am not a food writer!)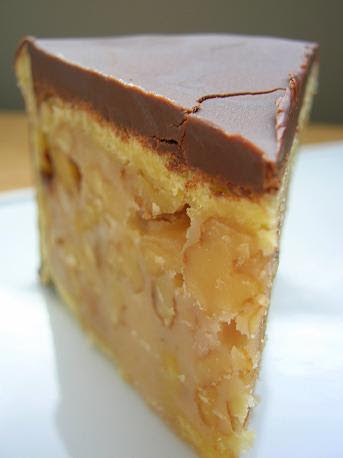 You can call it whatever you would like.
But it's honestly one of the best things I've ever baked and eaten in my life.
And I've eaten A LOT of desserts in my life.
Now the serving suggestion size on this is one inch.
One inch.
But my piece for breakfast was larger than that.
And I had no problems getting it down, though I will agree that it is very rich.
Your friends and family would be quite impressed if you made this for them.
P.S. It's a great day to buy my cookbook Holy Sweet!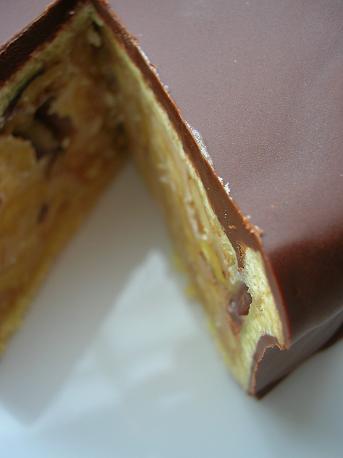 Want More Cake Recipes?
Circus Animal Cookie Layer Cake
Strawberry Mascarpone Buttermilk Layer Cake
Chocolate Salted Caramel Popcorn Layer Cake
Strawberry Lemonade Layer Cake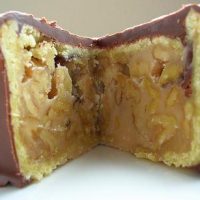 Chocolate Walnut Caramel Cake
Ingredients
Sweet Tart Pastry:
10 TBSP cold butter
4 egg yolks
1/4 tsp salt
1/2 cup granulated sugar
1 tsp vanilla extract
1 3/4 cups flour
For the Filling:
1 1/2 cups granulated sugar
1 cup water
1 cup heavy cream
2 1/2 cups walnut halves
7 TBSP unsalted butter. softened
1 egg white, lightly beaten
1 cup apricot preserves
For the Topping:
6 ounces semisweet chocolate
4 TBSP unsalted butter
Instructions
Sweet Tart Pastry:
Place egg yolks, salt, sugar, vanilla and butter in a bowl of food processor fitted with a metal blade; process using 4 one-second pulses until partially mixed.
Add flour all at once and process with 6 to 8 one- second pulses until dough begins to clump (but does not form a ball).
Gather dough into a rough mound on work surface.
Work small portions of the dough against the work surface with the heel of your hand(pushing the dough away from you). Press pieces of dough into a ball. Divided ball into two pieces: one piece that is less than two thirds of the dough for the bottom crust, and one piece that is just over one third of the dough for the top. Refrigerate 2 hours or until firm.
To make the cake:
Prepare Sweet Tart Pastry:
Line bottom of an 8-inch diameter, 1 -1/2 inch deep, round cake pan(I used a spring form) with a circle of parchment paper.
Brush sides of pan with melted butter.
Roll out the larger piece of dough into a circle 1/8 inch thick and 10 inches in diameter.
Mold the dough to bottom and sides of pan with gentle finger pressure.
If the dough breaks as you are trying to fit it into the pan, just press into into the pan all around in and even layer. Patch holes with small pieces of dough.
The bottom and sides of the pan must be covered with an even layer of pastry; none of the pan should show through.
Wrap pastry shell and refrigerate while you make filling.
Roll out the small piece of dough into a circle 1/8 inch thick and 8 inches in diameter.
Prick all over with a fork.
Place on waxed paper-lined baking sheet, cover and refrigerate.
Place sugar and water in a 2 1/2 quart saucepan, stir until sugar dissolves and syrup comes to a boil.
Boil, without stirring, until sugar is a light caramel color.(320F on a candy thermometer).
Remove from heat.
Add cream and stir to blend.
Then stir in the walnuts and the 7 TBSP soft butter.
Return to heat, and bring to a boil, stirring constantly.
Boil gently until the syrup reaches 225F on candy thermometer.
Remove from heat. Cool for 40 minutes, stirring occasionally.
Preheat oven to 375F.
Brush inside of pastry-lined cake pan with a thin layer of egg white to moisture proof shell.
Spread cooled caramel filling in bottom of shell.
Trim the sides of pastry shell to 1/8 inch above filling. Place pastry lid on top; press to seal at edges.
Bake until pastry is golden brown(40-50 minutes). Remove from oven; cool in pan 30 minutes.
Turn out onto a wire rack to cool.
Cool completely before covering with chocolate glaze.
Heat apricot preserves until melted and bubbly.
Strain to remove piece of fruit.
Brush entire surface of cooled pastry with warm preserves.
To make chocolate glaze:
Break chocolate into small pieces and place in a small stainless steel bowl over a pot of hot (not boiling) water.
Melt the 4 TBSP butter in a small saucepan, and skim off the white foam that rises to the top.
When chocolate is just melted, stir in the clarified butter(discard the white solids left behind).
Set aside until chocolate is 86F.
Slide cake onto a cardboard cake circle(covered with foil) that is slightly small in diameter that the cake.
Place cake on a wire rack over a rimmed baking sheet.
Pour chocolate glaze over cake and using a narrow metal spatula, quickly pared it evenly over the top and sides of the cake.
Allow chocolate to set to firm consistency before serving.
Store cake at cool room temperature. If refrigerated, allow to warm to room temperature before serving.
Serve in 1-inch wedges. Cake is very rich.