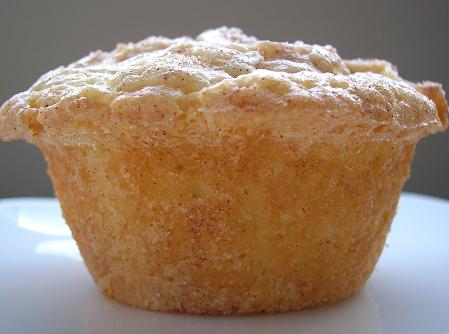 Of all the homemade cookies out there, I would have to say that the Snickerdoodle is my favorite. Now my mom's snickerdoodles were just a little different than everyone else's, for she adds nutmeg to the batter. A secret she would most likely get angry at me telling, but since she is hardly on the computer, I may have escaped a lecture. Anyway, I saw a while back and event called Muffin Monday, which I missed but put muffins on my mind. I created these awhile back but haven't made them for years. What is so great about them is that they are rolled in cinnamon sugar just like the cookie so the top gets nice an crunchy while the muffin is nice and moist. In fact looking down at it, you would think you were just looking at a Snickerdoodle cookie(see below).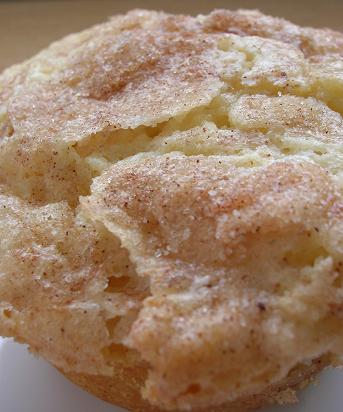 Snickerdoodle Muffins
2 sticks unsalted butter
1 cup sugar
2 tsp vanilla
2 eggs
¾ tsp baking soda
¾ tsp baking powder
¾ tsp cream of tarter
¾ tsp freshly grated nutmeg
1 and ¼ cup sour cream
2 and ¼ cups all purpose flour
1 cup sugar and 2 TBSP cinnamon mixed together for rolling
1.Cream the butter and sugar until soft about 3 to 5 minutes. Add in the vanilla. Add in the eggs one at a time and mix until each is incorporated.
2.In a separate, mix together the flour, nutmeg,baking soda, and baking powder and cream of tarter.
3.Add the flour mixture and the sour cream alternately to the egg-butter mixture in the additions. Start with the flour and end with the flour. Scrape the bowl occasionally.
4. Using an ice cream scoop, scoop out  muffin batter one at a time and drop into a shallow bowl filled with the cinnamon sugar mixture. Roll the muffin around in the mixture until it is covered completely in cinnamon sugar.. Place muffin into a greased muffin tin.. Depending on the size of your tins, you should get about 12 to 14 muffins. Bake them for approx. 20-22 minutes in a 350F oven or until they are golden brown.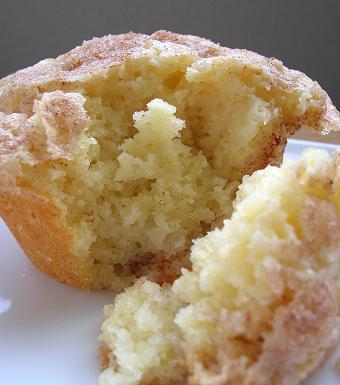 And yet another reminder that this Saturday March 17th(St. Patty's Day) all entries for HHDD#10 Cheesecake are due! So get those entries in if you haven't already done so!!!