These Snickerdoodle Muffins allow you to have cookies for breakfast. Light and fluffy muffins with a crunchy cookie-like top.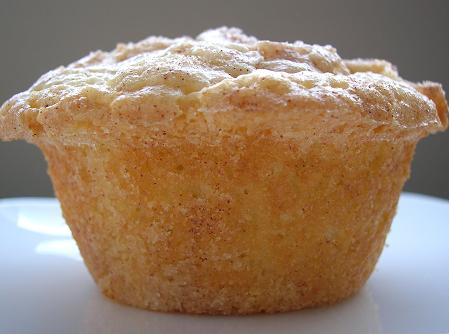 These muffins became wildly popular on the blog after a reader wrote a letter asking for a refund.
And they became known as the Refund Muffins.
If you have never read the email…here it is.
Dear Mr. Peabody (first off Peabody is my first name and I am a woman…just want to clear that up),
I recently made your muffins that were so highly recommended.
One blog even said they were the best muffins ever.
Well mine turned out horrible.
I am an excellent baker so I know that I did nothing wrong, it must be your recipe.
Just so you know I wanted to bring these to a potluck and so I made a double batch.
Wasted $7.30 on making these.
Enclosed is my address, I would appreciate a refund for the money I spent on the ingredients.
I will take a personal check if that would be easier.
Sincerely,
XXXXX"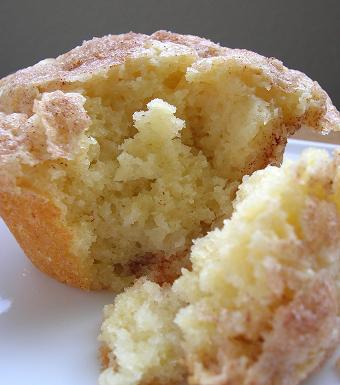 Almost 15 years later and I can assure you that this person is still waiting on their refund.
Amazingly, everyone else has seem to make these no problem.
And fall in love with them as well.
If we got refund from blogger or cook book authors for recipes that didn't turn out than Martha would have to declare bankruptcy. 🙂
Of all the homemade cookies out there, I would have to say that the Snickerdoodle is my favorite.
Now my mom's snickerdoodles were just a little different than everyone else's, for she adds nutmeg to the batter.
A secret she would most likely get angry at me telling, but since she is hardly on the computer, I may have escaped a lecture.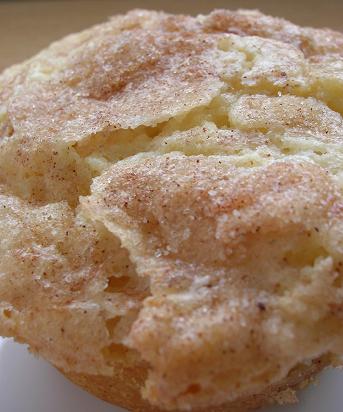 Anyway, I saw a while back and event called Muffin Monday, which I missed but put muffins on my mind.
I created these awhile back but haven't made them for years.
What is so great about them is that they are rolled in cinnamon sugar just like the cookie so the top gets nice and crunchy while the muffin is nice and moist.
In fact looking down at it, you would think you were just looking at a Snickerdoodle cookie (see below).
If you are a Snickerdoodle fan or have one in your household these Snickerdoodle Muffins are for you…or them. 🙂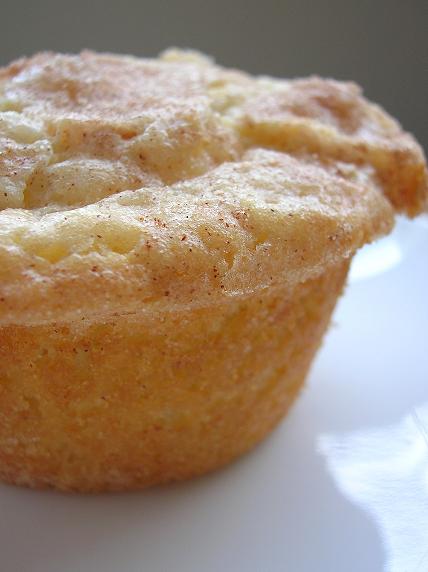 Want More Snickerdoodle Recipes?
Fireball Glazed Snickerdoodle Crumb Cake
Pumpkin Cream Cheese Snickerdoodle Blondies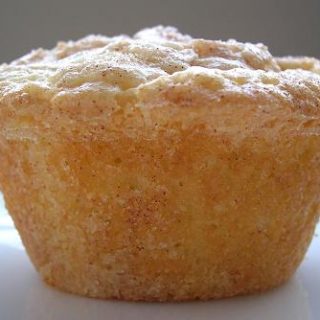 Snickerdoodle Muffins
Ingredients
2 sticks unsalted butter
1 cup sugar
2 tsp vanilla
2 eggs
¾ tsp baking soda
¾ tsp baking powder
¾ tsp cream of tarter
¾ tsp freshly grated nutmeg
1 and ¼ cup sour cream
2 and ¼ cups all purpose flour
1 cup sugar and 2 TBSP cinnamon mixed together for rolling
Instructions
1.Cream the butter and sugar until soft about 3 to 5 minutes.
Add in the vanilla.
Add in the eggs one at a time and mix until each is incorporated.
In a separate, mix together the flour, nutmeg,baking soda, and baking powder and cream of tarter.
Add the flour mixture and the sour cream alternately to the egg-butter mixture in the additions.
Start with the flour and end with the flour. Scrape the bowl occasionally.
Using an ice cream scoop, scoop out muffin batter one at a time and drop into a shallow bowl filled with the cinnamon sugar mixture.
Roll the muffin around in the mixture until it is covered completely in cinnamon sugar.
Place muffin into a greased muffin tin.
Depending on the size of your tins, you should get about 12 to 14 muffins.
Bake them for approx. 20-22 minutes in a 350F oven or until they are golden brown.