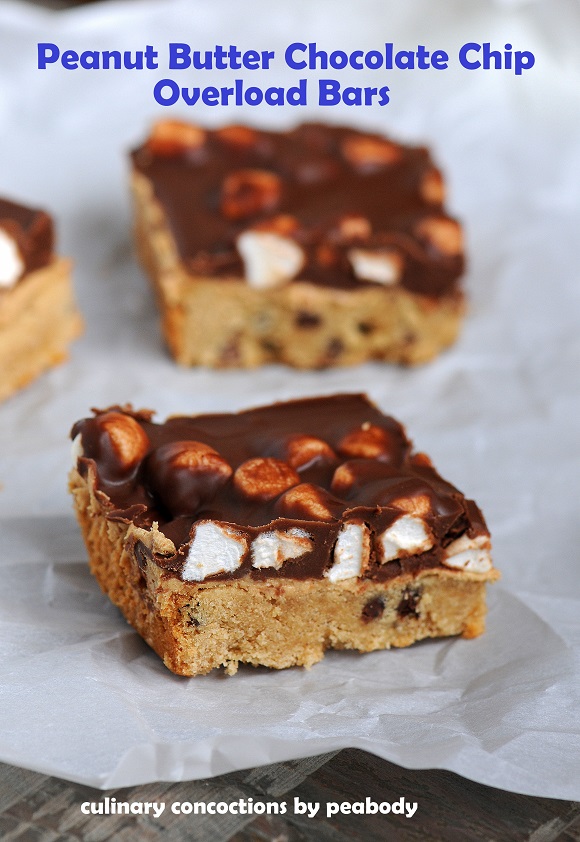 I'm sure it comes as no shock to people that after running a blog for almost 8 years you often run out of ideas. So I am so thankful for other bloggers and for the invention of Pinterest. Now I usually try and put my own spin on it…and that's how these bars came about.
Heather over at Sprinkles Bakes (have you bought her book yet…you should) made a killer looking concoction that she was calling and Overloaded Peanut Butter Chocolate Chip Cookie Cake and it looked fantastic. But I was going to hockey and needed something portable to take to my hockey team and cake doesn't not travel well. So my mind got to thinking and I came up with these bars: One layer of Peanut Butter Chocolate Chip Cookie, Covered with a layer of homemade Malted Peanut Butter Cup Filling, Topped with Mini Marshmallows, and then topped with a Chocolate Peanut Butter Topping. So yeah, they are awesome. As I am sure Heather's cake is as well.
You might notice that I've had to add my name to all of my photos. I am not a big fan of this but more and more photo theft has been happening. My favorite being when I asked someone to take it down the guy turned around and accused me of stealing his photo. I won that fight don't worry about that but I hate that I have to waste my time on the morally voided people who feel this is fine…they are sharing. Except they are sharing by just putting my photos and recipes up as their own.
Anyway make these bars. They take some time but if you are a peanut butter and chocolate fan these are for you!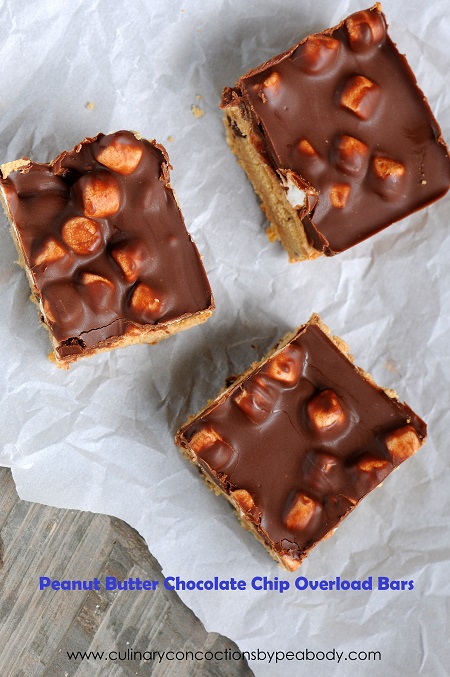 Peanut Butter Chocolate Chip Overload Bars
Peanut Butter Chocolate Chip Cookie Layer (recipe follows)
Malted Peanut Butter Cup Layer (recipe follows)
1 ½ cups mini marshmallows
Chocolate Peanut Butter Topping (recipe follows)
To make the bars: After the cookie layer is made and completely cooled, spread the Malted Peanut Butter Layer on top. Then add the marshmallows and press down so that they stay put.
Place in freezer for 10 minutes while you make the topping.
Once the topping is ready evenly pour over the top of the marshmallow layer. You can spread with a spatula carefully so you don't dislodge the marshmallows.
Place in a fridge for about an hour. Cut when cold (that's the easiest). I would store wrapped in fridge but serve at room temperature.
Peanut Butter Chocolate Chip Cookie Layer:
½ cup unsalted butter, at room temperature
¾ cup peanut butter (I used Jif)
¾ cup granulated sugar
½ cup brown sugar, packed
½ tsp. vanilla extract
1 egg
1 ¼ cup all-purpose flour
1 tsp. baking powder
Pinch of salt
1 cup mini chocolate chips
Spray a 10×10 (or 9×13) inch pan with baking spray. Set aside.
Using a stand mixer with the paddle attachment, cream together the butter, peanut butter, and sugars until light and fluffy, about three minutes.
Add the egg and vanilla extract and beat until fully incorporated.
Add the flour, baking powder, and salt and mix on low speed until combined.
Fold in the chocolate chips.
Place large spoonfuls around the prepared pan and then press the cookie down into the pan to make an even layer.
Bake at 325F for 20 minutes.
Remove from oven and let cool on a wire rack. Cookie layer must be completely cooled before adding the malted peanut butter cup layer.
Malted Peanut Butter Cup Layer:
1 ¼ cup smooth peanut butter (I used Jif)
½ cup powdered sugar
¼ cup malted milk powder
In a small bowl mix together all the ingredients until fully incorporated and smooth. Should be spreadable, if not add a little more peanut butter.
Chocolate Peanut Butter Topping:
6 oz. peanut butter chips
6 oz. semisweet chocolate chips
8 oz. unsalted butter
Using a double boiler, melt the chips and butter together.