My hubby doesn't really like turkey and doesn't like to eat leftovers, so we go surf and turf for our Christmas dinner. This year was filet mignon(that is pretty much the constant) and crab cakes(the surf changes each year) with garlic mashed potatoes(for my meat and potatoes guy). For dessert I'm limited due to hubby's picky palate. Chocolate is always allowed but I didn't really want to make a cake….we have so many frosted cookies that I didn't want frosted anything. I chose a Velvet Chocolate Torte. I changed this recipe a lot, from no crust to freezing it instead of refrigerating it…and I changed the orange-caramel sauce(since I made one for the cheesecake) to a chocolate sauce. In retrospect, I would have make the crust, it would have been easier to plate.
Velvet Chocolate Torte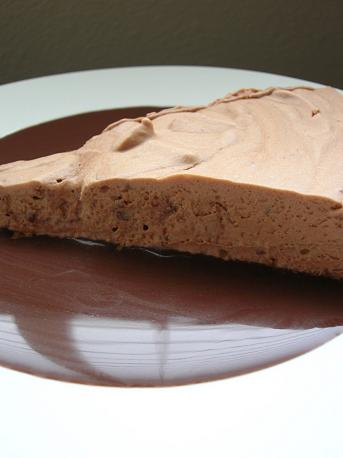 3/4 cup pecans
3/4 cup walnuts
1/4 cup light brown sugar
6 TBSP unsalted butter, melted
12 ounces semisweet chocolate
4 large egg whites
3/4 cup powdered sugar
1 tsp vanilla extract
1 1/2 cups heavy cream
2 TBSP Kahlua
1. Preheat oven to 350F.
2. Spread the pecans and walnuts on a small baking sheet and bake until fragrant and lightly toasted, about 8 minutes. Let cool.
3. Place the nuts and brown sugar in the bowl of a food processor and with the machine running, add the melted butter in a slow stream through the feed tube and process until combined. Reserve 2 TBSP of the nut mixture for the topping and press the remaining mixture evenly across the bottom of a 10-inch spring form pan.
4. Place the chocolate in the top of a double boiler or in a heat proof bowl set over barely simmering water and stir until melted. Set aside.
5. To make the meringue, combine the egg whites, powdered sugar and vanilla in a large bowl and whip with an electric mixer until stiff peaks form. Set aside.
6. In a clean bowl using clean beaters, whip the cream with Kahlua until stiff peaks form, being careful not to overbeat.
7. Place the chocolate in a large bowl and add one-third of the meringue, stirring until well combined. Fold the remaining meringue in 2 additions, being careful not to overmix. Fold the whipped cream into the chocolate mixture, being careful not to deflate the mixture, and pour into the prepared pan. Sprinkle the reserved 2 TBSP of the nut mixture over the top, wrap the pan with plastic wrap and refrigerate overnight.(I refrigerated for 2 hours and then moved to the freezer).
8. To serve, slice the cake using a thin, sharp knife dipped in warm water and arrange on 12 plates.
Source: Adapted from Emeril's Delmonico
Kahlua Chocolate Sauce
1/2 cup water
3/4 cup sugar
3/4 cup unsweetended cocoa powder
1/4 tsp salt
1/2 cup heavy cream
2 ounces unsalted butter
1 tsp vanilla
1/4 cup Kahlua
1. In a heavy saucepan, comibine the water and sugar and bring to a boil, stirring, until the sugar is dissolved. Remove pan from the heat.
2. Stir in the cocoa powder, whisking until smooth. Whisk in the salt, cream, and butter and return the pan to moderately low heat, whisking until the butter is melted. Simmer the sauce until thickened slightly. This should take about 2 minutes. Stir in the vanilla and Kahlua.
3. Cool the sauce completely. Makes 2 cups.