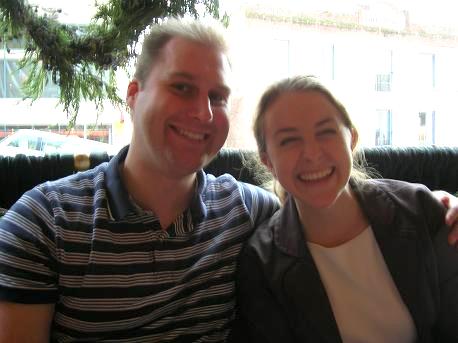 Today I was fortunate enough to meet up with a fellow food blogger Jeff and his lovely wife Steph, as they were in town here for the holidays….all the way from Boston. Jeff runs C is for Cooking one of my must daily reads. It was really fun to actually meet a food blogger face to face and it just fuels me to want to meet others. Both of them are wonderful people and we had a nice conversation….my husband even talked, which is amazing because he is pretty anti-social. I got to oh and awe over his nice camera while I took out my point and shoot. …which took horrible pictures today since I took their picture with the macro on, which I did not realize till I got home…duh! We met up at the Original Starbucks(because everyone in Seattle knows where it is) and decided to go to Cafe Campagne which is just down the street and located in the Pike Place Market area. It is the bistro version of the more snooty, yet highly regarded Campange. Our waiter was very good at acting French, he was never around and when he was he pretended he was better than us. Though he did get our order right with the exception of being a little slow at getting Steph her hot tea she asked for. The tables are so close that you are rubbing elbows with your neighbors….we were close enough to watch the poor guy next to us get walked out on by his date….at least that is what we think happened…we were trying not to ease drop too much. 🙂 I had the soup of the day which was a parsnip and fennel soup, it was the highlight of my meal…very tasty.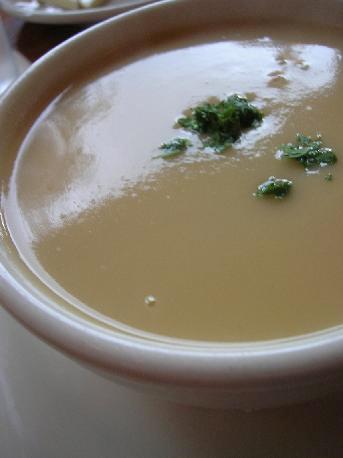 Both hubby and I had the Croque-monsieur:Parisian ham and Gruyère on pain de mie with a green salad. I wanted the quiche but since that is what we were having for dinner I passed. It was your typical bistro croque-monsieur, nice and cheesy.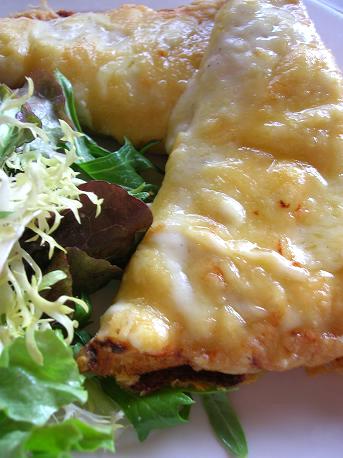 Jeff had the Lamb burger with balsamic grilled onions, roasted peppers, aƒ¯oli and pommes frites and Steph had Bucherondin de chèvre baked on croutons and served on a salad of frisƒ©e and arugula in a scallion vinaigrette. Everyone seemed to enjoy their lunch but more importantly the conversation. I didn't order dessert because Jeff got to talking about the mini doughnut place in Pike's Place(sad that out of towners know more about my town). The idea of fresh mini doughnuts sounded wonderful. There are no photos as they are all in my belly. They sell plain, powdered, and cinnamon sugar every day with one "fancy" one that changes. I lucked out today that the fancy doughnut was chocolate glaze with sprinkles…my all time favorite doughnut. So thank you Jeff to the suggestion and thank you both for coming out and meeting me!