This Cracker Toffee is incredibly easy and give you all the flavors of toffee without having to pull out the candy thermometer.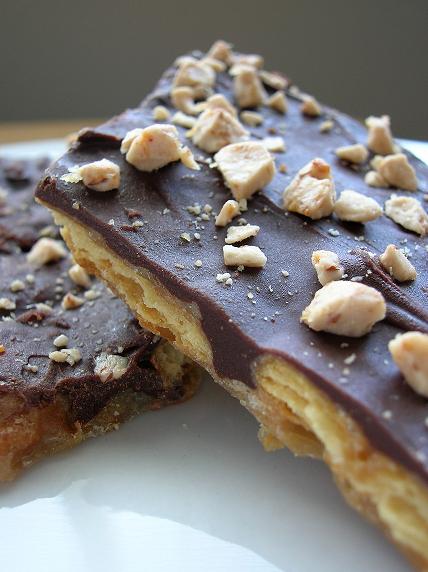 So you are probably wondering why I would even post this, but it has become my holiday tradition to make it.
I am only allowed to make it at Christmas time since I am addicted to it and having it year round would ensure me to weigh 400 pounds.
It doesn't help that it's so easy to make.
Most call it cracker toffee but the first time I had it they were just called yummies.
The original recipe calls for Saltines but I much prefer using Keebler butter crackers.
I think it improves the flavor greatly.
Because toffee candy is buttery.
Therefore using a buttery cracker just makes more sense to me.
I had neither of those so I had to use the Ritz crackers I had from when I was sick.
Ritz are difficult to use due to the fact they are round.
So I laid them out and filled in the holes with crushed Ritz, and that worked out well.
These are pretty simple to make until you get to the spreading the chocolate part.
That is when you need patience and where many people have a melt down.
I remember Lis at La Mia Cucina had difficulty with her cracker toffee, most likely spreading it too quickly.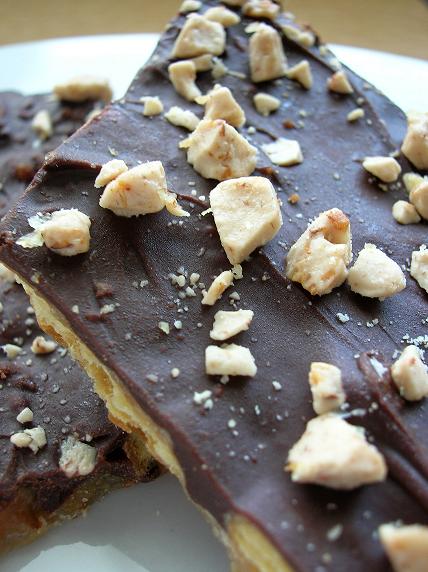 I first had these at my mom's friends house and she called them yummies….which they are.
But I was in the airport on my way to a hockey tournament I used to go to each year in Calgary called April Ice and I needed a book to read.
There was a book that I had to buy just because of the title….The Sweet Potato Queen's Big-Ass Cookbook(and Financial Planner).
I never actually thought it would have recipes, but it does and I love most of them.
The author of the book loves all food bad for you and shares my love of bacon and all the joy that bacon brings.
It's a funny read with a lot of good, bad for you, simple foods.
P.S. It's a great day to buy my cookbook Holy Sweet!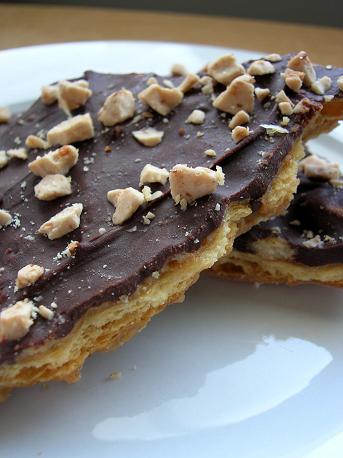 Want More Recipes?
Gingersnap White Chocolate Cracker Toffee
White Chocolate Candy Cane Cracker Toffee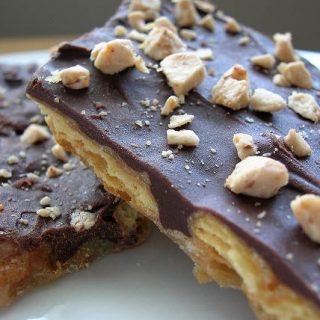 Easy Cracker Toffee
Ingredients
1 cup butter
1 cup brown sugar
Enough crackers to make a layer on a cookie sheet
1 12-ounce bag of chocolate chips
1/2 12 ounce bag of toffee chips
Instructions
Line a cookie sheet with foil(this is a must). Bring the butter and brown sugar to a boil in a saucepan and simmer it for about 5 minutes.
Put a layer of crackers on the cookie sheet, close together.
Pour the brown sugar mixture over the crackers and bake for about 6-10 minutes(I do the 10) at 350F.
Remove and immediately pour the chocolate chips over the crackers, evenly distributing them. The recipe will tell you to spread immediately…I don't. I let it sit for about 30 seconds.
Then with the back of a spatula I move the chocolate chips just a little bit. I wait another 30 seconds and repeat. I start to slowly move the chocolate around being careful not to move the crackers.
I let is sit for another 30 seconds and at this point it pretty much spreads like frosting.
Then I top with toffee bits.
You can top with whatever you like.
I have done dark chocolate with candy cane bits, white chocolate with dried cherries, rocky road, m&m's…just about every combo you can think of.