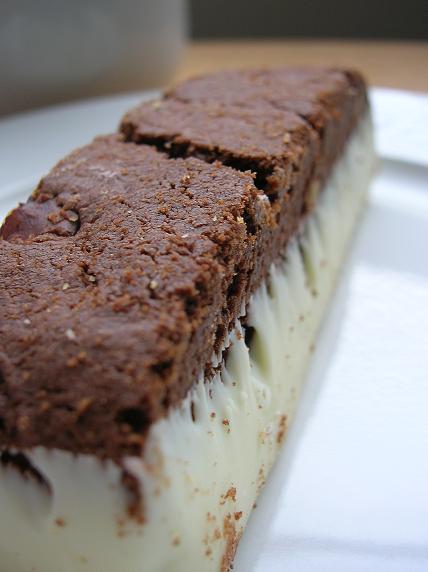 Okay, this time I think I made the right biscotti 🙂 Today Ivonne, Lis, Helene, Brilynn and I have all dragged out our trusted copy of Baking: From My Home to Yours by Dorie Greenspan….if you don't already own it, start sucking up to Santa now. The chocolate biscotti was selected(an excellent choice) and I can't wait to see what everyone did. I followed the recipe to a T…almost. I didn't use almonds, I used walunts instead and I chose to dip mine in white chocolate(which is kind of a pain) for the simple reason of creating contrast for my photos 🙂 Make sure to head on over to all of my partners in biscotti baking crime to see how their version turned out!
Once again when I made these, I longed for a real knife to cut them. I'm quite sure now that I will break down and buy one after the holidays are over. I can't trust Santa to bring me one since I haven't been that good of a girl 😛
 Chocolate Biscotti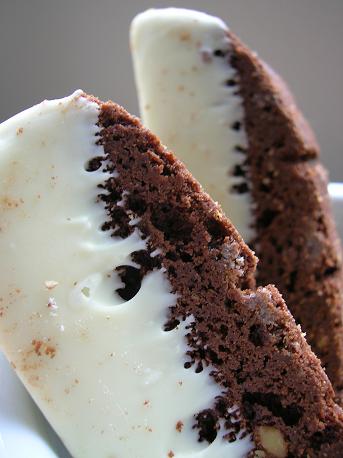 2 cups all-purpose flour
1/2 cup unsweetened cocoa powder
2 TBSP instant espresso powder
3/4 tsp baking soda
1/2 tsp baking powder
1 tsp salt
3/4 stick unsalted butter
1 cup sugar
2 large eggs, lightly beaten
1 tsp vanilla extract
1 cup chopped nuts
4 ounces bittersweet chocolate, coarsely chopped
White Chocolate for dipping
Preheat oven to 350F.
Sift together the flour, cocoa, espresso powder, baking soda, baking powder and salt.
Working together with a stand mixer, preferably fitted with a paddle attachment, or with a hand mixer in a large bowl, beat the butter and sugar together on medium speed until pale, about 2 minutes; the mixture may be crumbly. Scrape down the sides of the bowl , add the eggs and vanilla and beat for another 2 minutes; don't worry if the mixture looks curdled. Reduce the mixer speed to low and mix in the dry ingredients in 3 additions, mixing only until dough forms. Scrape down the sides of the bowl. Mix in the chopped nuts and chocolate, then turn the dough out onto a work surface and knead un any dry ingredients that might have escaped mixing.
Divide the dough in half. Working with one half at a time, roll the dough into a 12 inch long logs. Flatten both logs with the palm of your hand, so that they are 1/2 to 1 inch high, about 2 inches across and sort of rectangular, then carefully lift the logs onto the baking sheet. Sprinkle each log with a little sugar.
Bake the logs for about 25 minutes, or until they are just slightly firm. The logs will spread and crack-and that's fine. Remove the baking sheet from the oven, put it on a cooling rack and cool the logs for about 20 minutes.(Leave oven on)
Working with one log at a time, using a long serrated knife, cut each log into slices between 1/2 and 3/4 inch thick. Stand the slices up on the baking sheet-you'll have an army of biscotti-and bake the cookies again, this time for just 10 minutes.
Transfer the biscotti to a rack to cool.
If you want you can melt some white chocolate in a double boiler. Pour it into a shallow baking dish. Take the biscotti and dip which ever part you would like to be covered in chocolate. Set on a rack to harden.
Source: Adapted from Baking: From My Home to Yours by Dorie Greenspan, Houghton Mifflin Company, Nov 2006