These Coconut Pecan Cookies are like having German Chocolate Cake in portable cookie form. Fun for cookie exchange.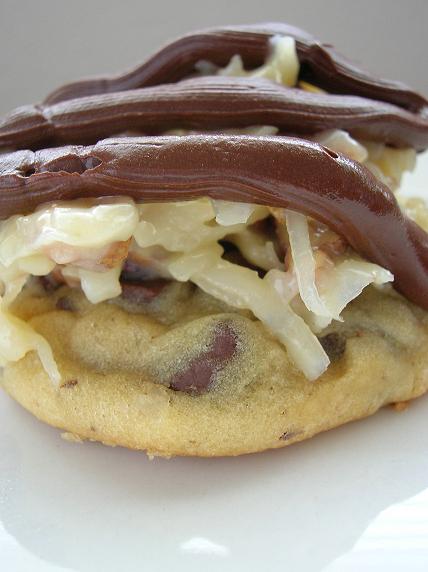 Our second cookie featured in my cookie exchange is called Coconut Pecan Cookies.
But it is really close to being a German Chocolate Chip cookie in my opinion.
Let me start off by saying that this cookie is sweet, and for me to say that is saying a lot.
I could definitely only eat one.
Also note, do not pile on the frosting so high, I only did it for the picture.
You would go into complete sugar shock if you made them to look like the picture.
What attracted me to making these cookies was the frosting, very similar to the frosting used make German Chocolate Cake.
The frosting calls for evaporated milk, only when I poured mine into the pan it was brownish black….hmmmm, that is one funky cow producing that.
So I had to use condensed milk, which was fine because in my short bakery stint, our German Chocolate cakes used condensed milk in the frosting.
If you go that route you are going to want to not add the sugar to the frosting.
It's a two part cookie: frosting and cookie.
The recipe never said to put the frosting on top of the cookie but from the picture in the magazine, I could only assume that is what you were suppose to do.
This recipe comes from Taste of Home Best Loved Cookies and Bars 2006 edition.
If you don't know the Taste of Home magazines, they are recipes sent in from various people throughout the country.
The recipes are usually easy stuff to make….nothing fancy.
My mom loves the magazine.
I usually just buy there cookie book each year, there are always some repeats but it's a nice resource to have.
P.S. It's a great day to buy my cookbook Holy Sweet!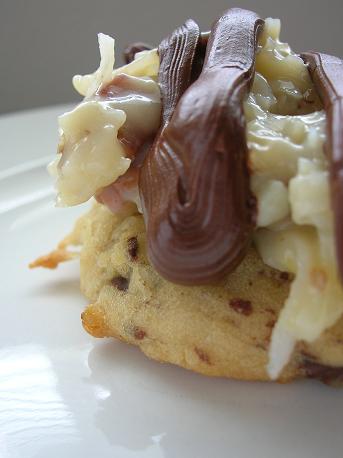 Want More Cookie Recipes?
Vanilla Bean Caramel Thumbprint Cookies
Cranberry Orange Pistachio Cookies
Orange Molasses Spiced Cookies
Double Chocolate Rainbow Chip Cookies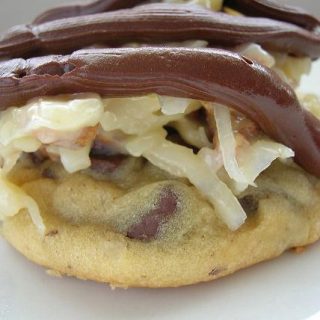 Coconut Pecan Cookies
Ingredients
For the Frosting:
1 egg, slightly beaten
1 can (5oz) evaporated milk
2/3 cup sugar
1 1/4 cup flaked coconut
1/2 cup chopped pecans
For the Cookie:
Cookie Dough
1 cup butter, softened
3/4 cup sugar
3/4 cup packed brown sugar
2 eggs
1 tsp vanilla extract
2 1/4 cups all-purpose flour
1 tsp baking soda
1 tsp salt
4 cups semi-sweet chocolate chips, divided
1/4 cup flaked coconut
Instructions
For frosting:
In a large saucepan, combine the egg, milk, sugar and butter.
Cook and stir over medium-low heat for 10-12 minutes or until slightly thickened and mixture reaches 160F.
Stir in the coconuts and pecans. Set aside.
For Dough:
In a large mixing bowl, cream butter and sugars.
Add eggs, on at a time, beating well after each addition.
Beat in vanilla.
Combine the flour, baking soda and salt; gradually add to the butter mixture. Stir in 2 cups chocolate chips and coconut.
Drop TBSP 2 inches apart onto ungreased baking sheets.
Bake at 350F for 8-10 minutes or until slightly browned.
Cool for 10 minutes before removing to wire racks to cool completely.
In a microwave, melt the remaining 2 cups of chocolate chips;stir until smooth.
Take a TBSP of frosting and place on top of cookie.
Drizzle melted chocolate on top of that.