These Root Beer Float Cupcakes are super easy to make and have root beer in the batter all topped with whipped cream.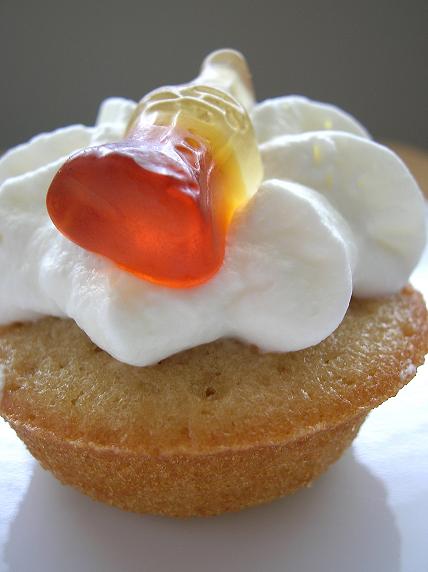 I'm just as addicted to cooking magazines as I am to cookbooks.
From time to time I must go through them all and figure out what to save and what to toss since my magazine collection would run us out of the apartment if I let it.
I bought a Betty Crocker Cakes, Bars, and Cookies one back in February and at the time I said I would make the root beer cake that was featured in there.
Never did of course.
Found it again last night. 
One thing I like about the Betty Crocker food magazine special editions is that they have a photo of every recipe and I appreciate that.
They had cute little root beer flavored candy sticks which I could not find anywhere.
I then tried to find those little root beer barrels I used to eat as a kid, no such luck.
So I used gummy colas, which are not root beer flavored, but they are in the same family.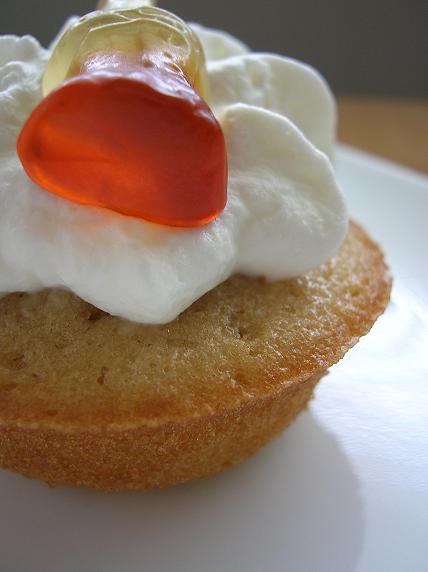 I was picky about the root beer I used(shocking I know).
I chose Sprecher Root Beer Soda.
Because I love that root beer.
It comes from Wisconsin and they use raw honey in the brew and it has a nice creamy flavor.
The original recipe calls for whipped topping(like Cool Whip) but I chose to make real whipped cream with a little sugar.
If I wasn't making the cupcakes, I would have chopped up the cake and made a trifle out of it with the cake whipped cream and I would have boiled down the rest of the root beer to make a syrup to drizzle over it.
I also would have put it in beer mugs(preferably clear ones) to make it extra special.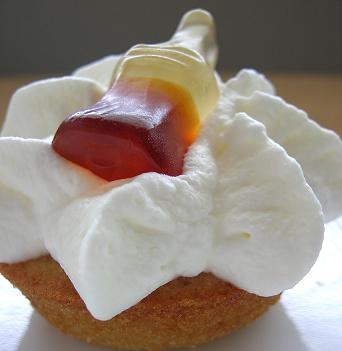 The cupcakes really do have the flavor of root beer but it not over-powering by any means.
I think this would be a fun cake to make for a kids birthday party or if you have a root beer lover in the house, make it for them.
To say these are easy to make is putting it mildly, so if you are not a big baker, these would be a great thing to practice on and build your confidence with.
P.S. It's a great day to buy my cookbook Holy Sweet!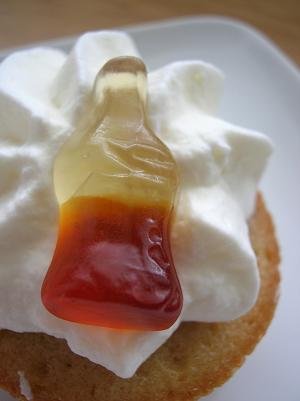 Want More Cupcake Recipes?
Key Lime Toasted Coconut Cupcakes
Strawberry Malted Milk Cupcakes
Strawberry Lemonade Glazed Cupcakes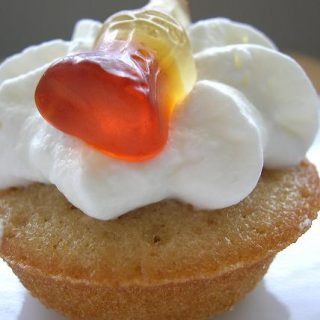 Root Beer Float Cupcakes
Ingredients
For the Cupcakes:
1 1/4 cups all-purpose flour
3/4 cup sugar
1/3 cup butter
3/4 cup rootbeer
3/4 tsp baking powder
1/2 tsp salt
1/4 tsp baking soda
1 egg
For the Whipped Cream:
2 cups heavy cream
1/3 cup powdered sugar
Instructions
For the cupcakes:
Heat oven to 350F.
Grease bottom and side of 8-inch round pan with shortening, lightly floured if making a cake. I chose to make mini cupcakes so you need to grease a mini muffin pan (24 cups).
Beat all the ingredient in a large bowl with electric mixer on low speed 30 seconds, scraping the bowl constantly.
Beat on high speed 2 minutes, scraping bowl occasionally.
Pour into pan.
Bake 30-35 minutes (cupcakes took me 17).
Cool 10 minutes, remove from pan to wire rack.
Cool completely, about 1 1/2 hours…cupcakes cooled within 15 minutes.
For the Whipped Cream:
Using a stand mixer with the whisk attachment beat the cream until soft peaks form.
Add the powdered sugar and beat until stiff peaks form.
For the Cake:
Cut cake horizontally to make 2 layers.
Spread whipped topping(or sweetened whipped cream) over bottom layer of cake.
Add top of cake.
Top remaining whipped topping.
For the mini cupcakes:
Pipe whipped cream onto the cupcake.
Top with a gummy cola or a root beer barrel candy if desired.
Store covered in fridge.