This Orange Cranberry Pound Cake is a simple but tasty orange flavored butter pound cake studded with dried cranberries.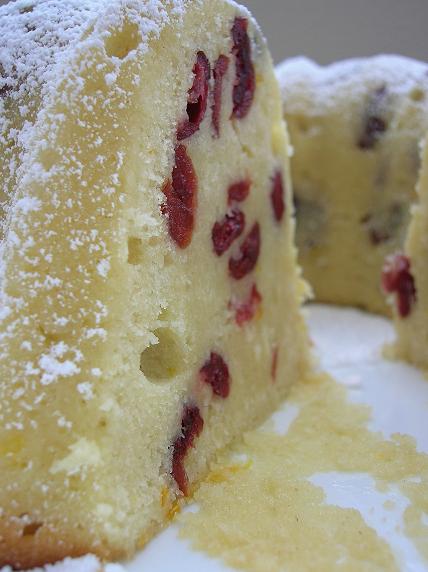 My husband is from the South, a true southern gentleman through and through.
So when we got engaged I started thinking to myself, he is going to want me to make traditional Southern meals.
In my panic I bought more than a few Southern cookbooks.
I took some classes and read up on Southern cooking as much as could.
One problem…my husband doesn't really eat Southern food.
Fried chicken, pecan pie and red velvet cake.
That is about the extent of his Southern food favorites.
So onto the bookshelf they went and sat.
Last week I dragged out one called Mama Dips Kitchen.
Cholesterol is not real a concern in the South.
Lots of frying, lots of cheese, lots of bacon and of course, lots of butter.
Which is actually all fine with me 🙂
I came across a recipe called Six-Flavor Pound Cake, boasting under the title that it was the best pound cake of all.
So I broke out the butter and got busy.
Then I realized that I made a faux pas that I tell others not to do.
I started the recipe without making sure that I had all the ingredients….which I didn't.
I had all the main stuff: butter, eggs, sugar and flour but the rest I would be now winging.
The original recipe asked for lemon extract which I did not have, nor did I have lemons…but I had oranges.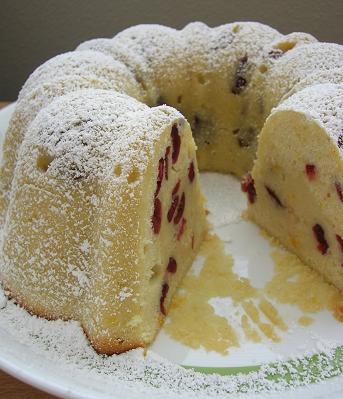 So now it was becoming a orange flavored pound cake.
Then we got to the spices, ground cloves, I'm out of cloves.
Also ginger, which I was out of that too.
So this was quickly becoming a four flavor pound cake.
Earlier in the week I had planned on making orange cranberry muffins so I decided that I would just make the cake into a Orange Cranberry Pound Cake.
Not at all what I intended.
But what I got was a dense, moist, orange scented, cranberry studded pound cake that I had to quickly give away for I was afraid I would eat it all.
I could have made a orange glaze or a orange cranberry compote but I chose to keep it simple just because that is how Mama Dip is.
The cookbook has a wonderful introduction talking about her childhood and how poor she was.
But in all her poverty she was happy for the pure since that she didn't know any better.
Meaning she had in her mind at the time all that she needed.
I really wish more people would adapt this philosophy in life.
So I chose just to sprinkle the cake with powdered sugar because if you didn't have the glaze or compote you would be perfectly happy with the cake.
Last but not least…it's a great time to order my cookbook.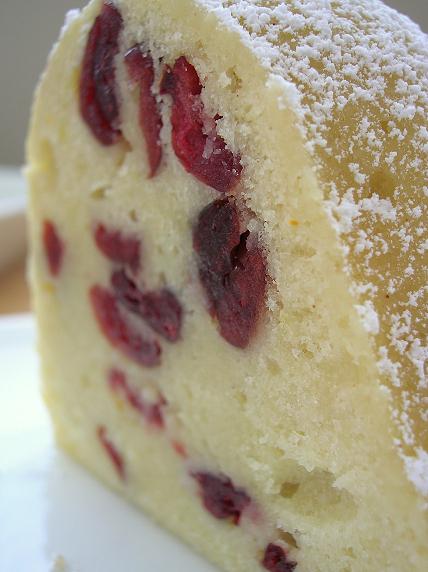 Want More Pound Cake Recipes?
Bourbon Brown Butter Chocolate Chip Cake
Strawberry Lemonade Bundt Cake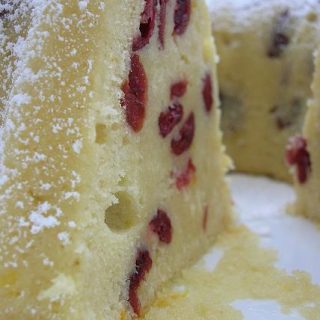 Orange Cranberry Pound Cake
Ingredients
2 sticks of butter, softened
3 cups sugar
5 eggs
1 cup milk
1 tsp vanilla extract
zest of one medium orange
1/4 tsp cinnamon
1/4 tsp fresh nutmeg
3 cups all-purpose flour
1/2 tsp salt
1 cup dried cranberries
powdered sugar for garnish
Instructions
Preheat oven to 350F.
In a mixing bowl, cream the butter and sugar, beating until light and fluffy.
Add the eggs, one at a time, beating well after each addition.
Stir in the milk and the vanilla and orange zest.
Sift together the spices, flour, salt; add them to the wet ingredients, stirring gently just until well combined.
Fold in the dried cranberries.
Pour the batter into a greased and floured 10 inch tube pan and bake for 1 hour and 10 minutes or until a toothpick inserted in the center comes out clean.
Let the cake cool in the panm then turn out onto plate.
Dust with powdered sugar if desired.