These Nutella Ravioli Sugar Cookies are fun to make with kids and can be made even easier with store bought sugar cookie dough.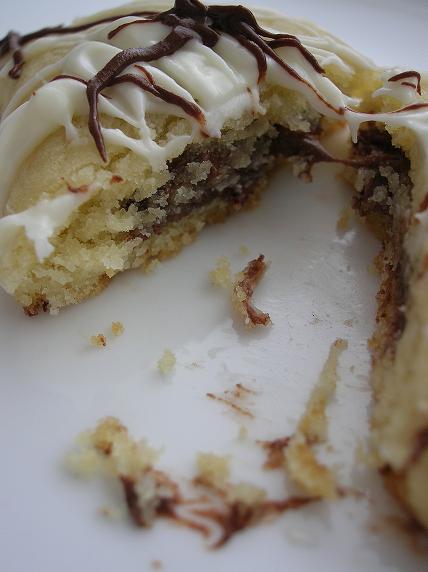 I have sugar cookie dough.
Tons and tons of sugar cookie dough.
I made circus cookies the other day and had a ton of cookie dough left over from that(and that was after making 180 animal cookies).
So I wrapped it up in to 4 balls and stored it in the fridge vowing to do something with it later this week.
Well my dough is multiplying, I am quite sure of it.
I keep going to the fridge to see if I can hear Barry White music in the background because my sugar cookie dough is multiplying.
No lie, I have made two more things using the dough….and yet the same amount seems to still be there. It is never going to go away.
Perhaps my sugar cookie dough is like a lizard's tail, pull some off, and more just grows back.
Anyway, in needing to use up some of my magic, reproducing dough I decided to do something with it for Sugar High Friday.
This month's theme is Surprise, Surprise.
I will admit that I went pretty boring with these Nutella Ravioli Sugar Cookies but they are quite tasty.
Buttery sugar cookie dough with creamy Nutella is definitely a winning combo.
And as always it's a great day to order my cookbook.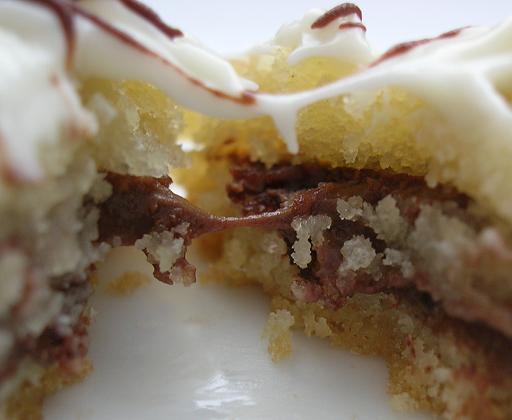 Want More Cookie Recipes?
Roll Out Shortbread Sugar Cookies
White Chocolate Chip Creamsicle Cookies
Vanilla Bean Caramel Thumbprint Cookies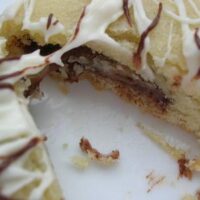 Nutella Ravioli Sugar Cookies
Ingredients
1 (16 ounce) package of refrigerated sugar cookie dough (for the time challenged)
or
16 ounces fresh sugar cookie dough-this is what I used (if you need a recipe look at my circus cookies)
1/2 cup Nutella spread
2 oz white chocolate chips
2 oz chocolate chips
Instructions
Preheat oven to 350F
Roll out cookie dough to about a 1/4 inch thickness.
Using a cookie cutter cut out rounds. The size is up to you. I used a 2 1/2-inch round cutter.
Place Nutella into a piping bag and add about a quarter size on one side of the cookie (you are going to fold them over).
Fold rounds over to create half moon shapes and gently seal edges either with egg wash, water, or crimp with a fork.
Bake for 9 minutes on a baking sheet lined with parchment paper.
Remove and let cool on wire racks.
When cookies are completely cooled, melt chocolate chips in microwave (about 1 minute.).
Remove and using a fork, drizzle chocolate over cookies.
Repeat the process with the white chocolate chips.