These Black Forest Cupcakes have a chocolate cupcake base filled with cherries and kirsch and topped with whipped cream.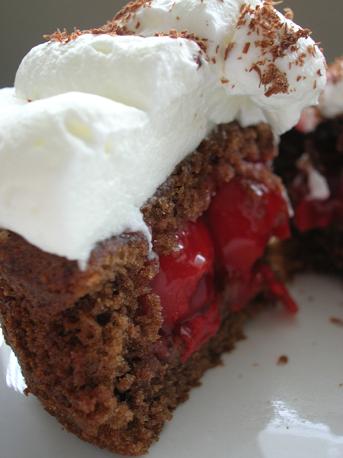 Ah Oktoberfest, yet another US adopted "holiday" with the soul purpose(in the US that is) to get drunk.
Boy we sure do love our excuses to get drunk here in the States.
St. Patrick's Day, Cinco De Mayo and of course, Oktoberfest(which is even better since that lasts for 16 days).
Now if you ask anyone at your local pub what any of these holiday/festivals are for Oktoberfest is the only one that they seem to come close to knowing about…but usually they just say it's about drinking beer.
Which is close enough 🙂 .
So one would assume that my tribute to Oktoberfest would involve beer.
You would be wrong.
I went to my first Oktoberfest when I was 15 years old.
The oh so authentic version of course.
It was a giant tent(with the traditional Budweiser logo on it) in the middle of a parking lot with a really bad polka band playing.
That is Oktoberfest in Phoenix, AZ ladies and gentlemen.
We sat at long picnic tables decorated in spilled beer and I sat  and wondered what was so exciting about Oktoberfest.
We went and got some sausage and sauerkraut, my dad got a beer, and I got a little piece of chocolate looking cake from the German bakery that was there.
My first experience with Black Forest Cake.
It was probably the most authentic version I ever ate in my lifetime so far and their was so much kirsch that if someone would have lit a match at that time I probably would have lost my eyebrows.
And if you are going to lose your eyebrows you should do it in Chemistry class just like everyone else.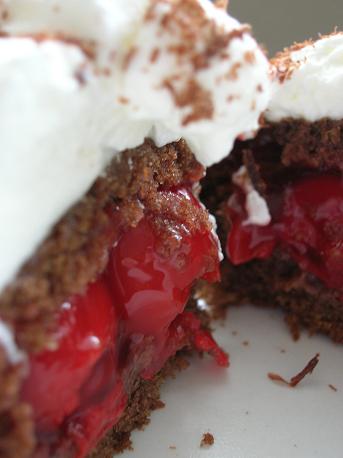 Washington has a little Bavarian town called Leavenworth.
I can only imagine that their Oktoberfest is slightly better than the fine ones in AZ.
While I doubt we will go this year, it is nice to know the option is there.
So for now the only way to celebrate is to make Black Forest Cupcakes.
I chose cupcakes because I had a friend mention that she wanted to see Black Forest Cake up on my site but in a miniature way.
For my birthday, 3 different people bought me 3 different cupcake cookbooks.
What are the odds?
I went through them when I got them but didn't make one cupcake…again, what are the odds?
I did remember seeing that two of the books had Black Forest cupcakes.
So I thought that would be the way to go.
The recipe I chose actually has you dissect the cupcake and frost it more like a cake than a cupcake.
I chose not to do that.
I did the cone method that my other book used as well.
You can see step by step HERE.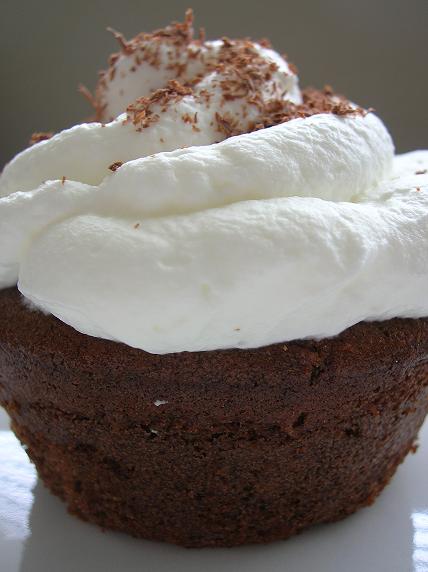 If you are not going to use the kirsch or the cherry brandy then don't bother making these cupcakes.
These are pretty dry and not that sweet on their own.
They need the sprinkling of kirsch to make them happy.
Make your cupcake happy so that it can make you happy.
I used canned cherry pie filling and added the booze.
I was cheating.
You can too.
If I could have found Rainier cherries I would have.
There is a woman every year who sells cherries by the side of the road.
I usually just buy the cherries but I did noticed that she canned her own.
I had never had canned Mt. Rainier Cherries.
Now, I assumed that since Rainier Cherries were pretty sweet as cherries go that my canned cherries would be….not so much.
So I made my frosting a little sweeter since I am a sugar-aholic.
I also realized after making these these would have been good for SHF but that is okay, I am happy with the recipe I submitted for that.
So enjoy your Oktoberfest and maybe this year drink a little less beer and eat a little more cake.
And as always it's a great day to order my cookbook.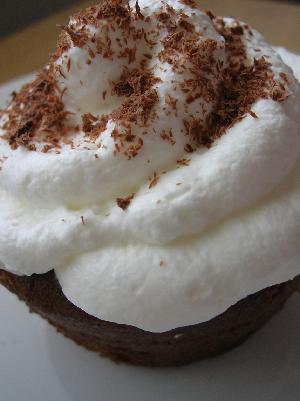 Want More Cupcake Recipes?
Dark Chocolate Butterfinger Cupcakes
Strawberry Buttercream Neapolitan Cupcakes
Key Lime Toasted Coconut Cupcakes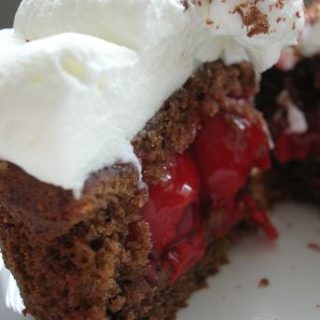 Black Forest Cupcakes
Ingredients
For the Cakes:
1 2/3 cup all-purpose flour
2 tsp baking powder
1 tsp salt
2/3 cup unsweetened cocoa powder
1/2 cup unsalted butter, room temperature
1 1/2 cups sugar
2 eggs
1 1/2 cups milk
1 tsp vanilla extra
1/2 cup Kirsch or cherry brandy
For the Filling:
1 TBSP kirsch or cherry brandy
2 cups cherry pie filling
For the Whipped Cream:
grated dark chocolate for sprinkling
Instructions
For the Cupcakes:

Preheat oven to 350F

Mix flour, baking powder, salt, and cocoa together and set aside.

Cream the butter and sugar until light and fluffy.

Add eggs, one at a time, mixing well after each addition.

Alternately add flour mixture and milk.

Add vanilla a beat well.

Spoon batter into cupcake papers, filling cups about 2/3 full.

Bake for 25 minutes or until a tester inserted into the center comes out clean.

Remove from oven and cool.

When cupcakes are cool, unmold, cut into half or in thirds, and sprinkle with cherry liqueur.

To make the filling:

Add cherry pie filling and kirch.

Using the cone method make a place for the cherry filling to go.

For the Whipped Cream:

In a large bowl, whip the cream until it forms soft peaks.

Beat until stiff.

Put in a piping bag and pipe onto cupcakes.

Sprinkle chocolate if using.