These easy Pumpkin White Chocolate Chip Muffins are loaded with spices and white chocolate chips and make a delicious fall treat.
Ah, my first pumpkin post (one of many I can only assume).
And what a recipe to start with.
I love these Pumpkin White Chocolate Chip Muffins and you will too.
Yesterday I was in a bit of a baking/cooking frenzy I should say.
Much more than usual.
I know in part to the gorgeous (to me) 58F weather we have been having.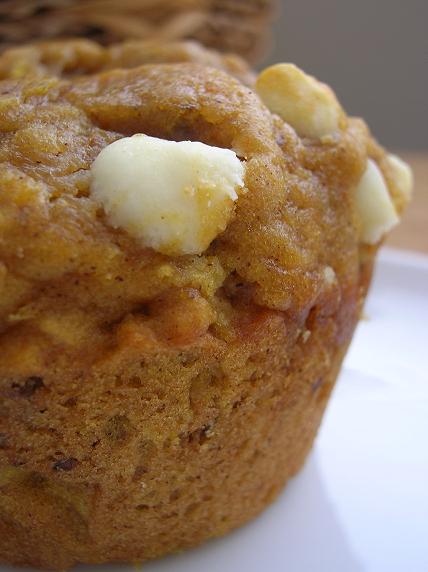 I made muffins (obviously these Pumpkin White Chocolate Chip Muffins), cookies, some sort of apple thing that I still don't know what to call it.
In addition to that I made a cheese torte (to take to a housewarming) and my own Maple Syrup BBQ sauce (to go with pork chops).
It seemed as if I were in a revolving door of make something, clean the kitchen.
Make something, clean the kitchen.
And so on.
Both the dog and my husband were very confused and both probably wondered if I was ever going to make it out of there….obviously I did.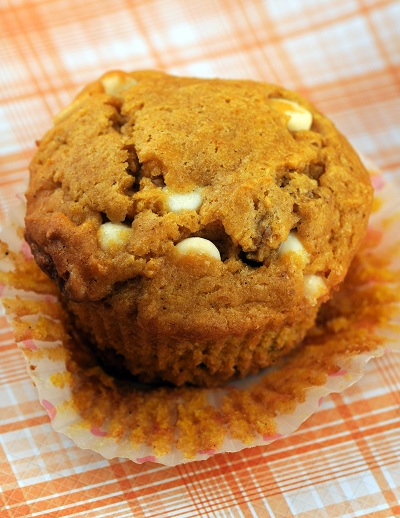 What is it about pumpkin?
I don't know what it is about pumpkin.
For I love the smell, I love the taste (both sweet and savory…but not raw 🙂 ).
I love their color and variety of shapes they are.
And of course going out each year to the pumpkin patch to find just the right one.
Even better is making these Pumpkin White Chocolate Chip Muffins.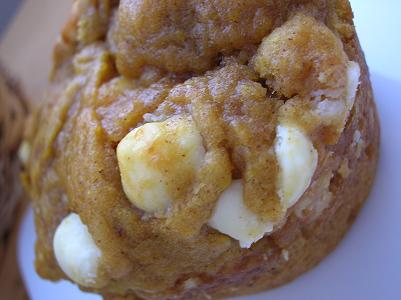 This muffin is about as healthy as I get in my baking…meaning I only used 4 oz of butter, that is a miracle for me.
I usually like to bake sour cream based muffins but with the pumpkin being so moist I had to make a recipe that would put moist with moist and give me a pile of orangish mush.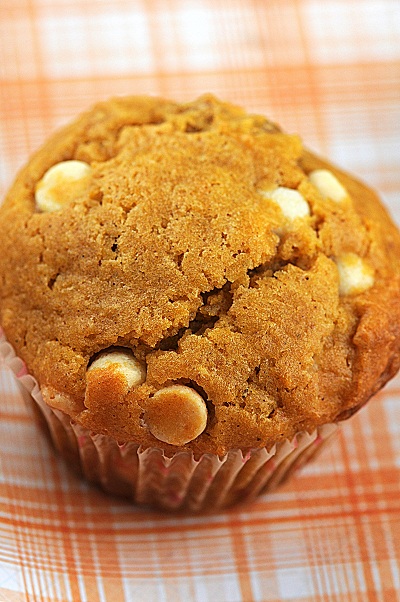 I would have used pecans but we only had walnuts in the house.
If you prefer regular chocolate chips feel free to use those instead (yes they really do taste good with pumpkin).
As always, when making muffins DON'T OVER MIX.
P.S. It's a great day to buy my cookbook.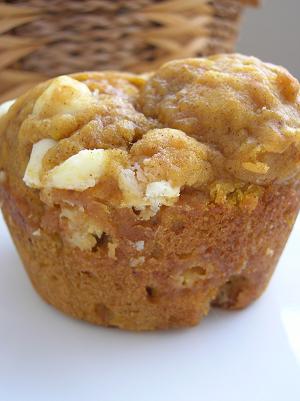 Want more Pumpkin recipes? Try these:
Maple Glazed Pumpkin Pie Cinnamon Roll Loaf
Salted Caramel Frosted Pumpkin Cupcakes
Butterscotch Pumpkin Spice Walnut Fudge
Bourbon Glazed Brown Butter Crumb Topped Pumpkin Cake
Chocolate Cinnamon Frosted Pumpkin Cupcakes
Pumpkin White Chocolate Chip Muffins
Ingredients
1/2 cup of walnuts
1 2/3 cup all-purpose flour
1 cup granulated sugar
1 tsp ground cinnamon
1/2 tsp. ground ginger
1/2 tsp. ground cloves
1 tsp. ground nutmeg
1 tsp. baking soda
1/4 tsp. baking powder
1/4 tsp. salt
2 eggs
1 cup pumpkin
4 oz unsalted butter, melted
6 oz white chocolate chips
Instructions
Preheat oven to 350F.
In a large bowl, mix the flour, sugar, spices, baking soda, baking powder, and salt.
In another bowl, mix together the eggs, pumpkin, and unsalted butter.
Add in the white chocolate chips and nuts.
Combine the wet and dry ingredients and mix until the dry ingredients are moistened. Do not over mix.
Scoop batter into greased or paper cup lined muffin cups.
Bake for about 20 minutes or until puffed and springy to the touch.
Cool then remove from cups.