These Homemade Iced Circus Cookies are a fun treat to make with the kiddos as you guess what animal the pink and white blobs are.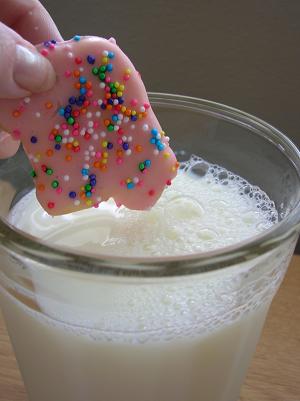 Once again it is time to throw on my party dress and head out to the blog party.
This month's theme is Kid's Party.
And luckily for me one of the ideas I had in my head before this ever came about fit into this category perfectly.
Growing up my mother always made homemade cookies.
There were only two types of cookies that she would usually buy from the store.
Those were Oreos and Circus Animals.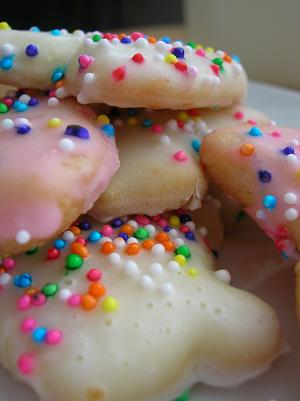 Oh how I loved those little pink and white sprinkled blobs that were supposed to be animals.
I spend half my time eating them and the other half trying to figure out what animal I was eating.
And since when is a hippo a circus animal?
So in my quest to find circus animal cutouts that were small, all of them came with an Ark, and well I didn't want that.
So I stumbled across some mini farm animal cookie cutters and quickly snatched them up knowing that I had wanted to give it a go.
I have actually been working on this idea for the last couple of weeks.
And boy it has stumped me…mostly the frosting that is.
Circus animal frosting has carnauba wax and that is what makes the frosting so unique.
Well getting my hands on some was going to require me to buy a lot of it in bulk.
And though I am dedicated to my blog….I just don't need that much carnauba wax.
I'm not sure who does.
So I pretty much gave up on the idea of replicating the taste of the cookie.
Instead I went for trying to match the aesthetics of the cookies.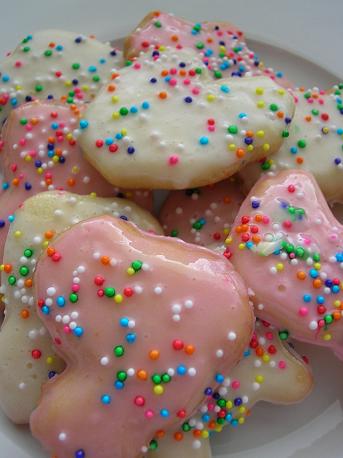 Small cookies lead to big problems.
Tiny little cookie cutters leave room for lots of things like beaks to be ripped off when not being careful in transferring them out of the cutter.
I lost many a tail, leg and head today(moment of silence please).
Small cookies also lead to standing in the kitchen for hours cutting them out.
I originally had more of an actual animal cracker in mind for my "circus" animals.
But changed to a sugar cookie when I figured I could not match the flavor of the icing.
Both my husband and dog love a good sugar cookie, so I knew I would have no problems unloading them.
And as always it's a great day to order my cookbook.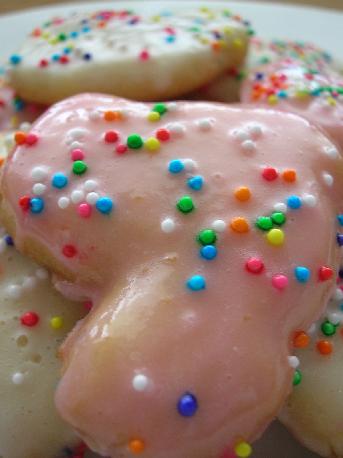 Want More Cookie Recipes?
Roll Out Shortbread Sugar Cookies
White Chocolate Chip Creamsicle Cookies
Vanilla Bean Caramel Thumbprint Cookies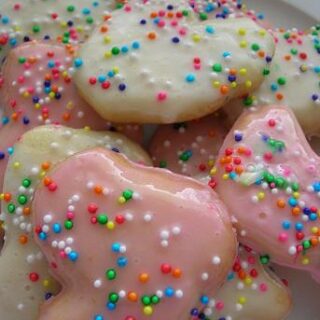 Homemade Iced Circus Cookies
Ingredients
For the Sugar Cookie Dough:
4 1/2 cups powdered sugar
1 lb, 8 oz unsalted butter, softened
3 eggs
1 TBSP vanilla extract
7 1/2 cups all purpose flour
1 TBSP baking soda
1 TBSP cream of tartar
For the Icing:
2 cups powdered sugar
1/4 cup milk
1 TBSP vanilla
pink food coloring
round sprinkles
Instructions
For the Cookies:
Preheat oven to 375F.
1. Cream the powdered sugar and butter for at least 3 minutes.
Add the eggs one at a time and scrape down the bowl after each egg.
Add vanilla and mix for 2 more minutes.
2. Mix in the flour, baking soda and cream of tartar while mixer is on slow speed.
Mix till you have a smooth dough.
Chill for at least 4 hours before rolling out.
Roll out dough and cut using whatever shapes you would like (doesn't really matter once you throw icing on them, it's anyone's guess as to what they are)
This recipe makes A LOT of dough. It's scaled down from my days at a bakery.
For the Icing:
Whisk the sugar, milk and vanilla together until smooth.
Set 1/2 of the icing to the side to remain white.
Add pink food coloring to the second half of icing.
To make the 'Circus" Animals:
Dip on side of cookie into icing.
Before icing sets up sprinkle on multi-colored decoration balls.
Let sit for about an hour to set up.
Once done, enjoy trying to figure out what it is you are eating….that is a cow by the way in the photo below.