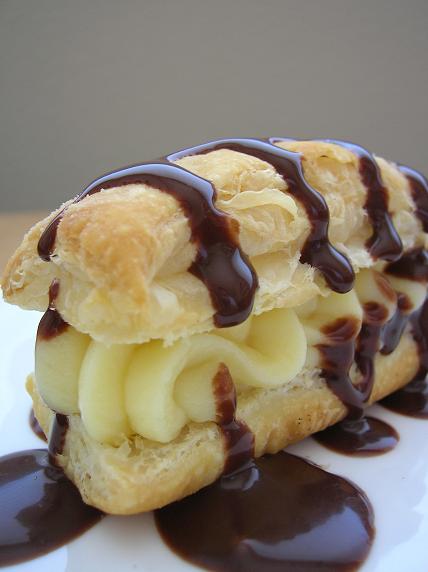 Okay, well usually life hands you lemons and you make lemonade…but it is in the 60's now and hopefully raining all week, so lemonade is not really on my mind. And since I have leftover puff pastry from Hay Hay, It's Donna Day I decided to drown my sorrows in puff pastry. I only had a little bit left so I decided to make mini Napoleons, since I haven't made them for over a year. Many people cower at the idea of making pastry cream, and I'm not really sure why…other than the fact that you are the slave to the stove top for a little bit. I chose to just make a basic pasrty cream spiked with a little bit of Grand Marnier and cover with some dark chocolate sauce(because my jeans were actually fitting this week, and well, we can't have that).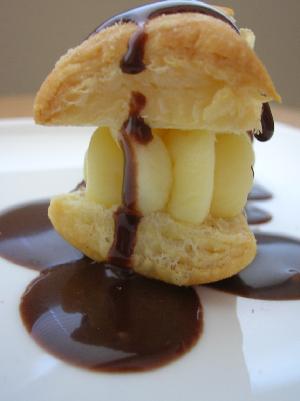 Grand Marnier Napoleons with Dark Chocolate Sauce
1 box of Puff Pastry
Pastry Cream:
4 1/2 cups whole milk
1 1/3 cups sugar
1 cup egg yolks
6 TBSP cornstarch
1 tsp vanilla extract
4 TBSP Grand Marnier
Prepare the Pastry Cream:
Bring milk and 1/2 the sugar to a boil in saucepan. In a large bowl, combine the egg yolks with the other half of the sugar. Add the cornstarch. Add boiling milk slowly into the egg yolk mixture, stirring well to avoid curdling. Return to sacuepan and bring to a boil, stirring constantly, for 2 minutes. Remove from heat and add vanilla. When slightly cooled add liquor. Cover directly with plastic wrap to avoid film from forming. May be prepared up to 2 days in advanced.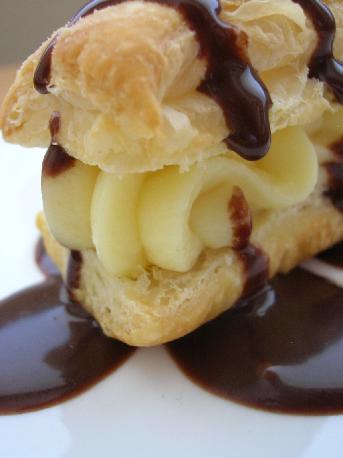 For the Puff Pastry:
Thaw puff pastry. Cut dough into strips, as large as you would like and bake according to the directions on the box. Sometimes I like flat Napoleons and to get that effect you would roll out the dough as thin as possible(put on baking sheet) and refrigerate for 30 minutes. Remove baking sheet from fridge. Cover with another baking sheet to weight down the dough. Place in oven and bake until pastry turns light brown, about 10 minutes. Remove baking sheet and bake, uncovered for about 5 more minutes or until golden brown. While the pastry is still hot, cut into equal size rectangles.
To Assemble Napoleons:
If you just made the regular puff pastry and did not flatten it then you will need to get a bread knife and cut down the middle of your rectange(the length of it…see photos). Pipe or spread pastry cream on top of each rectangle. Place the top of your puff pastry on top of the cream. Drizzle chocolate sauce on top. Clog arteries.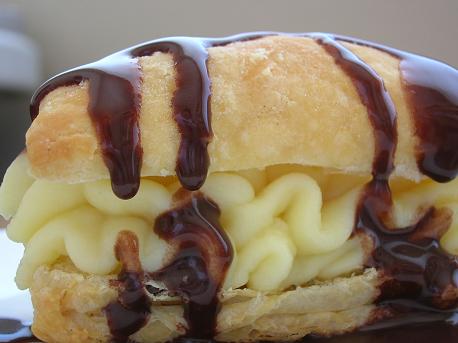 All text and images on this site have ALL RIGHTS RESERVED Copyright (c) 2006 by Peabody Rudd.